Bangor Open Tournament Report
01.04.16 Alex Relyea continues to offer Maine chess players opportunities to compete in professionally run tournaments that attract strong players. The Bangor Open, held at the Hilton Garden Inn in Bangor on January 2-3, was Maine's first tournament of 2016. FM Nelson Casteneda of Connecticut took first in the open section with an unbeaten and untied 4.0 points. Maine State Champion FM Jarod Bryan took clear second with 3.0 points and William Ravn, Phil Lowell, and Darrell Salisbury tied for third with 2.5 points. In the U1750 section, Curt Brock, Tom Sandford, and Nathan Gates finished equal first with 2.5 points. Here are crosstables, images, and games featuring our new ChessBase Game Viewer.
FIDE Master Nelson Castaneda made a clean sweep of the field scoring a perfect 4.0 points to take first place in the open section.
Thanks to Alex Relyea for contributing to this report.
Many interesting games were played in this year's edition of the Bangor Open and we are delighted to bring you many of them courtesy of the players, tournaments directors, and our new ChessBase Game Viewer.
Tournament winner FM Nelson Castaneda had some difficult games. He played masterfully and managed to win the open section with a perfect score. The tournament's other FIDE Master, Jarod Bryan, took second with 3.0 points. William Ravn, Phil Lowell, and Darrell Salisbury finished equal third with 2.5 points apiece. Sergio Mejia, Ed Nevells, Ryan Tripp, and Gabe Borland finished in the next tier with 2.0 points. Cynthia Cui had a mixed bag with a win, a loss and two draws for 1.5 points. Aaron Spencer, Tim Hanke, and Lance Beloungie scored a point each and Brian Hurst put up one draw.
In the U1750 section, Curt Brock, Tom Sandford, and Nathan Gates shared the top spot each garnering 2.5 points. Trailing the leaders were: Bill Hartt (2.0), Paul Kolojeski (1.5), and Wyatt Hendrix (1.0).
Here's how the prize money was distributed:
Open
1st Castaneda $500
2nd Bryan $250
U2250-U2000 Lowell, Ravn, Salisbury $100 each

U1750
1st-2nd Sandford, Brock, Gates $200 each
U1500 Hartt $100
U1250 Hendrix $100

Thanks to all who participated, parents, coaches, tournament directors Alex Relyea and Nita Patel and to the Hilton Garden Inn for providing an elegant venue for the tournament.

Second place finisher Jarod Bryan

William Ravn tied for third with...

Darrell Salisbury and...

Phil Lowell (archival photo) who had an outstanding tournament with a performance rating of 2293 and adding 72 rating points.

Darrell Salisbury.

The 2.0 point getters were: Sergio Mejia...

Ed Nevells

Ryan Tripp and...

Gabe Borland.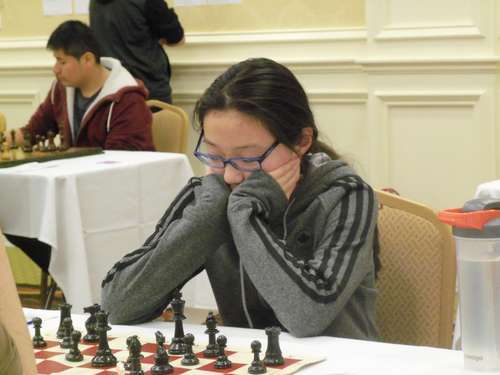 Canadian Chess Federation player Cynthia Cui

Tim Hanke playing the White pieces in round two nearly upset the eventual winner. In an overwhelmingly won position, Hanke was unable to find the correct continuation and the wily Castaneda slipped away and scored the full point.

Lance Beloungie

Brian Hurst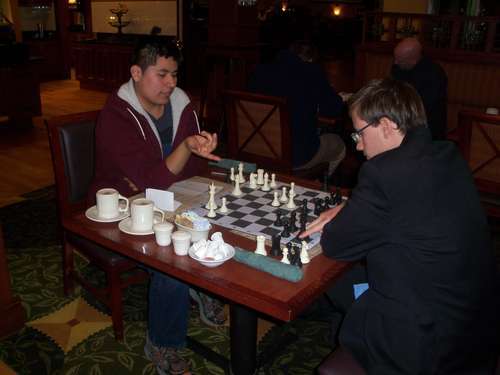 Gabe Borland (left) takes a look at his second round game vs Jarod Bryan with his former John Bapst Memorial High School teammate Aaron Spencer.

Later, Bryan came along to kibbitz the analysis.

In the game Tripp vs Cui, White uncorked a decisive bishop sac on move 11 that brought the game to a quick conclusion. You can view this game below.

Tops in the U1750 section were: Curt Brock...

Tom Sandford, and...

Nathan Gates.

Bill Hartt

Paul Kolojeski

Maine's Junior Grand Prix Leader Wyatt Hendrix

Tournament conditions were superb.

Thanks to the organizers and directors Alex Relyea (left) and Nita Patel.
We hope you enjoy our new easy-to-use ChessBase Game Viewer format. Just click on the link below and use the drop-down menu over the board to select the game you would like to view.
Games from the 2016 Bangor Open
---