Joe Brown Memorial Tournament Report
01.30.12 Thirty-four players participated in the Joe Brown Memorial Tournament held at Deer Isle-Stonington Elementary School on Saturday, January 28th, 2012. The annual, non-rated, scholastic tournament honors the memory of former Deer Isle-Stonington chess team member Joe Brown. Winners of the four sections were: Bethany Humphrey (7-8), Brendan Penfold (5-6), Rylee Eaton (3-4) and Ruby DeLuca Lowell (K-2).
Student artwork adorns the wall outside of the playing room at the Joe Brown Memorial Tournament.
Thanks to Dick Powell for contributing to this report.
The 6th Annual Joe Brown Memorial Chess Tournament took place on Saturday, January 28th at the Deer Isle-Stonington Elementary School cafeteria with thirty-four K-8th grade chess players honoring a former teammate. Joe is remembered as always having a smile on his face and a kind word in his heart. His sisters, Chelsea and Whitney were on hand to award trophies and ribbons to players.
In the Kindergarten-2nd section, Ruby DeLuca Lowell of Aurora came out on top with a perfect score of four wins in four games. Henry Penfold took second, and newcomer to tournament chess Dexter Brown was third. The Martin family took 4th and 5th with McHenna besting her brother Brayden on tie breaks. Trace Brophy and Sean Morey, both in their first competition scored 1.5 and 1.0 respectively to round out the section.
In the 3rd-4th grade division, Rylee Eaton fresh off her victory at the MLK Tournament in Old Town last Monday, batted a perfect 4 for 4 again. Ben Penfold was 2nd, Cole Stewart 3rd, Wyatt Eaton 4th and Ross Stewart took home the 5th place trophy. Cameron Stewart was 6th followed by Ariel Larrabee, Kaylee Morey, Myles Brown, Gifford Proper, Ella Marshall, Tommy Hutchinson, and Peyton Rice.
Another Old Town winner, Brendan Penfold, repeated his 4-0 MLK record and took home the Joe Brown 5th-6th section award. SooZin Cha was 2nd and Orly Vaughn 3rd. Just out of the "money" were Max DeLuca Lowell, (Ruby's brother), Tyson Rice, Colby Haskell and Addie McDonald. In the oldest section, 7th-8th, six very even-strength chess players competed in many games that changed leaders and could have gone to either player before the final gun. When all was said and done, it was Bethany Humphrey in first, followed closely by 2011 Joe Brown Memorial champion Krisford Melanio and Cameron Wendell. Fourth through sixth were: Isaac Vaughn, Paul Zoephel and Alyssa Chesney.
Many thanks to the Deer Isle-Stonington Chess Boosters for the ever-present excellent food and drinks, to parents and players and to ChessMaine.net webmaster Dan DeLuca who kept the pairings coming when it seemed that everyone was finishing at once!
Tournament Results
Kindergarten-2nd Grade
1. Ruby DeLuca Lowell 4.0
2. Henry Penfold 3.0
3. Dexter Brown 3.0
4. McHenna Martin 2.0
5. Braden McHenna 2.0
6. Trace Brophy 1.0
7. Sean Morey 1.0
3rd-4th Grade
1. Rylee Eaton 4.0
2. Ben Penfold 3.0
3. Cole Stewart 2.5
4. Wyatt Eaton 2.5
5. Ross Stewart 2.5
6. Cameron Stewart 2.0
7. Ariel Larrabee 2.0
8. Kaylee Morey 2.0
9. Myles Brown 2.0
10. Gifford Proper 2.0
11. Ella Marshall 1.5
12. Tommy Hutchinson 1.0
13. Peyton Rice 1.0
5th-6th Grade
1. Brendan Penfold 4.0
2. SooZin Cha 3.0
3. Orly Vaughn 3.0
4. Max DeLuca Lowell 2.0
5. Tyson Rice 2.0
6. Colby Haskell 1.0
7. Addie McDonald 1.0
7th-8th Grade
1. Bethany Humphrey 4.0
2. Krisford Melanio
3. Cameron Wendell
4. Isaac Vaughn 2.0
5. Paul Zoephel 1.0
6. Alyssa Chesney 0.0

K-2nd grade section winner Ruby DeLuca Lowell (right) makes a move in her game vs Sean Morey.

McHenna Martin scored 2.0 points and took 4th place in the K-2nd grade section.

Players vie for position in the 3rd-4th and 5th-6th grade sections.

Cole Stewart took third in the 3rd-4th grade section with 2.5 points.

Perfect in four: Brendan Penfold scored 4.0 points to take clear first in the 5th-6th grade section.

Orly Vaughn scored 3.0 points and took home the 3rd place trophy in the 5th-6th grade section.

Bethany Humphrey displays the concentration that helped her win the 7th-8th grade section with an unbeaten and untied 4.0 points.

Cameron Wendell scored 2.0 points and took 3rd in the 7th-8th grade section.

Joe Brown is seen in this archival photo (kneeling to the right of trophy) at a Maine scholastic chess championship.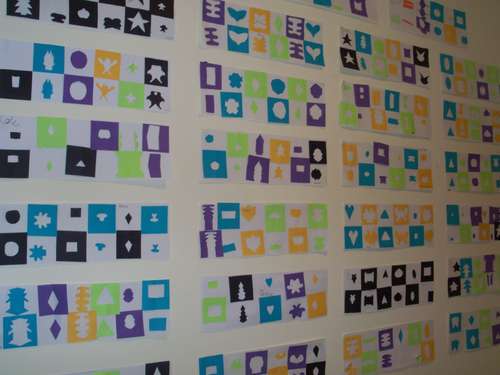 Works of art fill the halls of Deer Isle-Stonington Elementary School.

Stonington Harbor with Arno Day Lobster Boat by Chris Baker was commissioned for Deer Isle-Stonington Elementary School in 2001.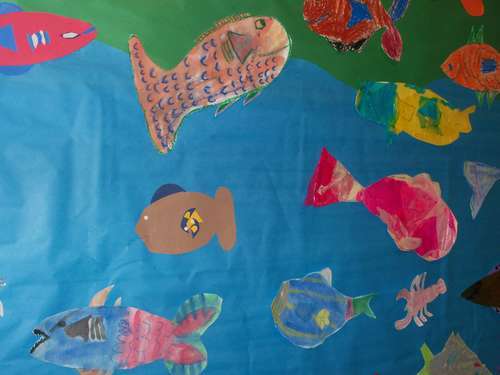 Maritime themes abound

And even some chess art!

Refreshments were plentiful!

Tournament winners (left to right): Bethany Humphrey (7th-8th), Brendan Penfold (5th-6th), Rylee Eaton (3rd-4th) and Ruby DeLuca Lowell (K-2nd).

The K-2 players

The 3rd-4th grade players with Whitney (left) and Chelsea Brown.

The 5th-6th grade group

And the 7th-8th grade players

Tournament organizer Dick Powell at the awards ceremony

Thanks to all who participated and hope to see you at next year's event!
---