All are winners at 2nd Annual Joe Brown Memorial
01.20.08 After observing a moment of silence in memory of Joe Brown, former Deer Isle-Stonington Elementary chess player and Bobby Fischer, former world chess champion, 26 young chess players in kindergarten through 8th grade battled it out in four divisions: K-2nd grade, 3rd-4th grade, 5th-6th grade and 7th-8th grade in the Deer Isle-Stonington Elementary School Cafeteria.
Picturesque Deer Isle, Maine, the site of the 2nd Annual Joe Brown Memorial Chess Tournament
Thanks to Dick Powell for contributing to this report.
In the K-2nd grade division, Max DeLuca Lowell came from behind in a technically lost position to best Soozin Cha of DIS for first place. In the process Max, from the Airline School in Aurora, showed Soozin what a back rank mate was--an important piece of knowledge for any aspiring chess player. Kinsey Bartlett defeated Brendan Penfold (both DIS second graders) in the last round to edge him out for 3rd place.

In the 3rd-4th grade section, 3rd grader Bethany Humphrey from DIS was one of three chess players to record a perfect score for the afternoon. Bethany won all 4 of her matches to claim first place in her division. Laddy DeLuca Lowell, a fourth grader from the Airline School in Aurora, captured second with her only loss being to Humphrey. Rounding out the top three was DIS Elementary school 4th grader Paul Zoephel whose only losses were to the top two players in the division. Caitlyn Morey, a 3rd grader in this division, was awarded the Top New Player Trophy on the strength of scoring a win and a draw in four rounds of chess.
In the 5th-6th grade division, Andrew Jones, also from the Airline School in Aurora, came out on top after all was said and done with a perfect 4-0 score. His final match, with DIS 5th grader Whitney Brown, however, proved to be his most difficult as Brown moved ahead at the beginning of the game and held on until the endgame where Jones prevailed and earned the first place trophy. Brown, who had two other wins beside her valient effort in the final, was awarded the top female trophy for the tournement. Second and third place had to be decided in a five minute sudden death match between Walter Kumiega and Andy Turner, both 6th graders at DIS Elementary. Turner came out on top and Kumiega had to settle for the third place trophy.
In the Junior High (7th-8th grade division), nine DIS middle school students slugged it out with no easy wins being conceeded. Top rated Sam Grindle survived numerous challenges to take first with a 4-0 score. Eighth grader Jacob Starkey was second with a 3-0-1, but his draw with 7th grader Connor Morey left him in second. Morey took third losing only to Grindle in the final match of the day which went down to the wire! The DIS Boosters Club's awesome array of food kept the chess players going through the three hour, four round competition. Thanks everyone!

Let the games begin! The second round gets underway.

Winner of the K-2nd grade division: Max DeLuca Lowell

Soozin Cha had the advantage in the tiebreak game but had to settle for second after overlooking a back rank mate.

Skittles in the K-2nd grade division.

Bethany Humphrey won the 3rd-4th grade division with a perfect 4-0.

Last-minute entry Laddy DeLuca Lowell finished second in the 3rd-4th grade division.

Another perfect score: Andrew Jones went 4-0 in the 5th-6th grade divsion.

Whitney Brown took the top female trophy.

A handshake between Walter Kumiega (left) and Andy Turner begins the tiebreak game to determine 2nd and 3rd place in the 5th-6th grade division.

It's getting interesting.

Another handshake and it's Turner 2nd and Kumiega 3rd.

Another tournament win for Deer Isle-Stonington powerhouse Sam Grindle.

Jacob Starkey took 2nd in the 7th-8th grade division.

Conner Morey placed third.

Janelle Ciomei ponders her position.

Chelsea Brown

Emily Cormier

The award winners

Between rounds it was hoop in the gym.

Deer Isle-Stonington is no stranger to the state championship.

One of the many DIS chess labs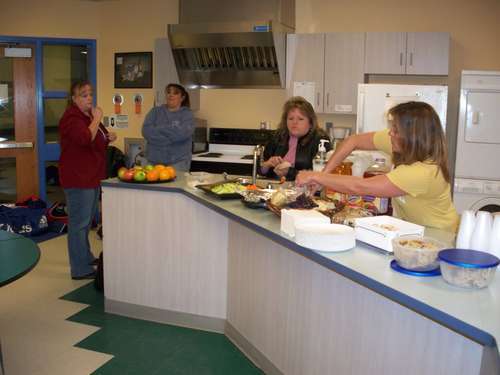 The Deer Isle-Stonington Chess Boosters put on an amazing culinary spread.

DIS Elementary is filled with interesting artwork. This wall hanging depicts the two villages of Deer Isle and Stonington.
This tournament was organized by Dick Powell and directed by Dan DeLuca.
---