ChessMaine Interviews: Renaissance Man Ray Solinger
03.31.06 He plays football, wrestles and runs track. And it just so happens he is also the 2006 Maine State High School Chess Champion. ChessMaine caught up with Ray Solinger and brings you this interview.
ChessMaine: First of all, congratulations on winning the Maine State High School Championship.
Ray Solinger: Thank you.
CM: Can you take us through the tournament, what were you thinking as the rounds progressed?
RS: The first round I wasn't feeling too well really for the first 2 games. Then after I won them and as I was playing Jordan I started to feel better. When I got to Zen I felt like I could actually win.
CM: You weren't feeling confident at the outset?
RS: No, not the first couple. After that I started feeling confident.
CM: Winning helps your confidence.
RS: Yes!
CM: Can you explain your third round draw?
RS: It went well for the most part. I was playing Jordan Trundy and we had a fairly even game. I believe he played the French Defence and I just responded to what he did more or less. Eventually he was a pawn up but the position was just deadlocked. There was no way for either of us to get any more pieces. He had a Bishop and 2 pawns, I had a Bishop and one pawn, my King was in front of his so I was able to protect. It was basically deadlocked.
CM: Sometimes it seems having 2.5 points going into the last round is actually better than being 3-0.
RS: Yes, right.
CM: So going into Round 4 Zening was the only one with 3 points and who was at 2.5?
RS: Jordan and Fritz, they played each other in the last round and they drew.
CM: Can you describe your most memorable game of the tournament?
RS: Probably my first one because I was actually down a minor.
CM: You were down a piece?
RS: Yeah, I thought I was just going to loose it but then I fought back and I ended up getting three pawns and I won because my pawns were in a better position than his pieces.
CM: So he still had the extra piece but you had 3 pawns as compensation and were in a position to Queen?
RS: Yes, and I did eventually.
CM: I would say, based on your rating coming in, you were one of the underdogs. Before the tournament started how did you perceive your chances? Would you have been happy with a lesser finish?
RS: I really didn't think I was going to win, with Zening, Cullen, Vassil and Kevin there; they are so good I didn't think I had a chance.
CM: Yes, they are tough to beat. Did you play Cullen?
RS: No, I didn't.
CM: How did you find the playing conditions at the University of Maine?
RS: They were decent, it's hard to find really good playing conditions in Maine. It was a little crowded but it wasn't bad. People were very respectful.
CM: You are also a member of the Championship High School team, what a year! Congratulations there too.
RS: Thank you.
CM: Are you going to Milwaukee in April?
RS: Yes, April 20th.
CM: Is this your first National?
RS: My sixth.
CW: Wow, I didn't realize you had been going! Have you been State Champion before?
RS: Well Babst was last year and when I was in middle school my team won all 4 years.
CM: Nice, so this is your first individual championship?
RS: Right.
CM: How do you think you will do at the Nationals?
RS: Hopefully pretty well (laughs).
CM: How have your past experiences gone at the Nationals?
RS: I haven't done that well just because the games are so long; I'm not as used to it. But I think I'll do fairly well in the Under 1500 section—I just made it.
CM: Based on this tournament (Maine State Championship) do you think you will be over 1500?
RS: I think I will be but I'm not 100% sure. My rating for the Nationals will still be what it was at the tournament 14-something.
CM: Can you tell us a bit about your high school and the Chess program there?
RS: Babst (John Bapst Memorial High School, Bangor, Maine) has always had a fairly big chess program. The current team, I have heard, is one of the best they have had because we were all in middle school together so we have been playing each other for years. When you play each other you get a lot better.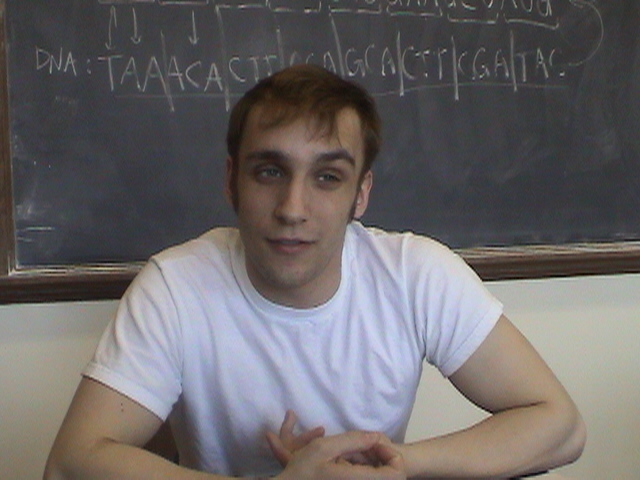 CM: Did you play any team members in the individuals?
RS: Just Jordan and it was a draw.
CM: Who is the coach?
RS: Dr. K, he's also a science teacher.
CM: Do you have particular openings that you favor?
RS: I like the Giuoco Piano with White, that's what I usually always play.
CM: And with Black?
RS: With Black if they play the King pawn, I'll just respond to what they do.
CM: Double King pawn?
RS: Yes, and if they do a Queen pawn opening I do the Nimzo usually, the Nimzo-Indian Defence.
CM: I understand you are involved with lots of other activities.
RS: Mainly sports, I play football, I wrestle and I'm doing track now.
CM: A busy schedule!
RS: Yup!
CM: I heard you and the U1200 State Champion both played football for the same team.
RS: Yes, same position too.
CM: Do you study chess?
RS: I don't really study.
CM: Just play?
RS: Pretty much.
CM: Who do you primarily play with?
RS: Teammates, they are all really good so it helps.
CM: Yes it's always good to have tough competition to play.
RS: Right.
CM: What advice would you give to aspiring players, now that you are a champion? (both laugh)
RS: What I always do is just go with my instinct. Just go with your gut feeling of what you should do.
CM: Less calculation, more intuition would you say?
RS: Right.
CM: Do you have any further goals in chess?
RS: Just to keep playing, nothing spectacular.
CM: Are you going to college next year?
RS: Yes, I'm going to Roger Williams University in Rhode Island right near Providence.
CM: And what will you study?
RS: I'm going undeclared in business.
CM: How did you choose Roger Williams?
RS: It's a really beautiful place, a beautiful campus and a good school.
CM: When did you learn and who taught you how to play chess?
RS: Probably 6 or 7 and my dad taught me how to play. My dad and my sisters, I have 2 older sisters.
CM: Do they play chess?
RS: Yes, they both played chess in high school.
CM: Who is your favorite player?
RS: I don't really know many! (both laugh)
CM: Great talking to you, thanks for the interview.
RS: Thanks.