Chess in NYC: A Photo Essay
06.26.18 There are myriad opportunities to play chess in New York City. Whether you prefer casual, tournament, blitz, classical, indoor or outdoor--you name it--it's all here seven days a week. In this photo essay, we concentrated on the six major locations to gather and play chess in Manhattan: the Chess and Checkers House in Central Park, the Chess Area at Bryant Park, Chess at Union Square Park, the Marshall Chess Club, Chess at Washington Square Park, and the Chess Forum.
A chess player studies his position at the Bryant Park chess area in midtown Manhattan.
We will present the chess venues in Manhattan from north to south. Beginning in midtown at the Chess and Checkers House in Central Park and proceeding south to Bryant Park, Union Square Park, the Marshall Chess Club, Washington Square Park, and concluding our journey at the Chess Forum on Thompson Street in Greenwich Village.
For an out-of-the-way chess Shangri la, you must visit the Chess and Checkers House in Central Park. Tucked away in Mid-Park off the 65th Street transverse, this chess venue has outdoor stone chess tables shaded in flowering wisteria as well as a comfortable playing area inside the well-lit chess house with attending staff, a chess library, and sets, boards, and clocks to lend.
In addition to casual play, the Chess and Checkers House also offers a Chess Lecture and Simul Series. This summer's visiting grandmasters are Lev Alburt, Joel Benjamin, and Susan Polgar.
The venue is open daily from 9:00 a.m. until 7:30 p.m. For more information on the Chess and Checkers House please visit their website >>HERE.<<
The chess area at Bryant Park (officially known as Chess and Backgammon at Bryant Park) has become the most popular place to play outdoor chess in Manhattan. Located on the south side of the park at 40th Street between Fifth and Sixth Avenues, the chess area is open seven days a week from 11:00 a.m. until 8:00 p.m. Friendly park staff set up boards and pieces, keep the place neat and tidy, have clocks to lend, and are available for games, discussion, or to find you an opponent.
Bryant Park also offers lessons and hosts tournaments. The chess area moves to the Fifth Avenue Terrace for the month of October and then indoors to the second floor of the ice skating pavilion for the winter months.
For more information about the Bryant Park Chess and Backgammon area please visit their website >>HERE.<<
Continuing about twenty-six blocks downtown from Bryant Park, one encounters the gritty chess scene on the southwest corner of Union Square Park. Here, chess hustlers playing at stakes of $5 a game on makeshift card tables or milk crates will cajole and entertain you in the midst of the city's cacophony. No official times, lessons, or events just raw street chess!
Just five blocks from Union Square Park at Fifth Avenue and West 10th Street is Manhattan's storied chess club the Marshall. This is the very club where Capablanca gave his last exhibition, Alekhine visited and played speed chess, and where thirteen-year-old Bobby Fischer defeated Donald Byrne in "The Game of the Century." Offering a full schedule of tournaments, lessons, lectures, and simuls, the Marshall Chess Club is the place for tournament chess in Manhattan. To learn more about the Marshall Chess Club please visit their website >>HERE.<<
The recently refurbished chess area in the southwestern corner of Washington Square Park is a very popular place to play outdoor chess in the city. It has elements of the scenes at the Chess and Checkers House, Bryant Park, and Union Square Park rolled into one. Beautiful old-growth trees and flowering plants surround the twenty granite chess tables that trace out a pleasing elliptical shape. There are also some nice street lanterns that shine directly on the chess tables so players can stay until the wee hours of the morning--that is if New York's finest doesn't decide to come in and clear the area for the night. Almost as quiet as the Chess and Checkers House, edgy like Union Square Park, and very popular like Bryant Park, the chess area at Washington Square Park is a must-see for any chess lover visiting New York. IM Josh Waitzkin and GM Fabiano Caruana cut their chess teeth here at the tender age of seven playing blitz chess with park denizens.
Last on our Manhattan chess hit list is the Chess Forum on Thompson Street in the Village. Chess Forum caters to the chess player. That's really the best way to say it. Open from 11:00 a.m. to (at least) midnight seven days a week, Chess Forum has a huge selection of boards, pieces, clocks, and books and offers indoor chess play in their parlor for $5 an hour. As one chess-playing New Yorker said to me, "You can't do anything anymore for $5 an hour in New York!" For more information on the Chess Forum please visit their website >>HERE.<<
With many diversions and sidesteps along the way, we hope you enjoy this photo essay of chess in New York City.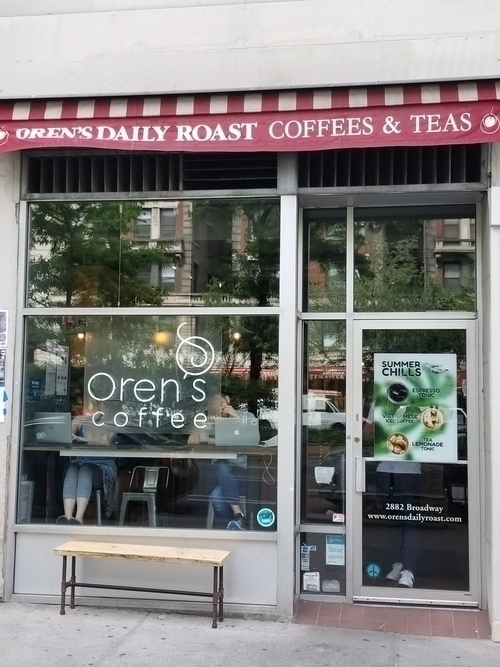 First things first: It's impossible to say for certain who has the best coffee in Manhattan so we give you our three top choices--one uptown, one midtown, and one in the Village. On the Upper West Side at W112th and Broadway is Oren's Daily Roast, a solid albeit small choice for killer joe.

Small but powerful! Oren's has some great java. Check out their website >>HERE.<<

Just across from the Chess and Backgammon area at Bryant Park (how convenient!), you will find the upscale Le Pain Quotidien with an incredible array of fine coffees, breads, pastries, and a full restaurant too. Their website is >>HERE.<<

Our pick in the Village is Stumptown Coffee Roasters at 30 West 8th Street.

This is the kind of place where the likes of Allan Ginsberg, Alan Watts, Jack Kerouac, Neal Cassady, and Ken Kesey would hang out. You can find Stumptown's website >>HERE.<<

After a double dose of coffee, we hit the streets. First stop: Central Park.

Tucked away off the 65th street transverse, is the Central Park Chess and Checkers House.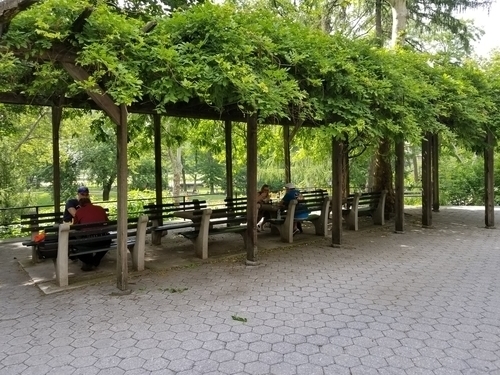 The Chess and Checkers House is a pleasant location to play some chess in a beautiful, outdoor environment.

We met up with Tom, a staff person at the site, who gave us the run-down of the place and entertained us with stories of famous players (one of whom was Fabiano Caruana) and wood pushers who have come through the park over the years.

Outside, there are twelve chess tables in two color combinations.

Inside the "House" is another friendly staff person ready to help in any way.

The indoor digs are quite comfortable and conducive to a good game of chess.

And there is a good amount of space.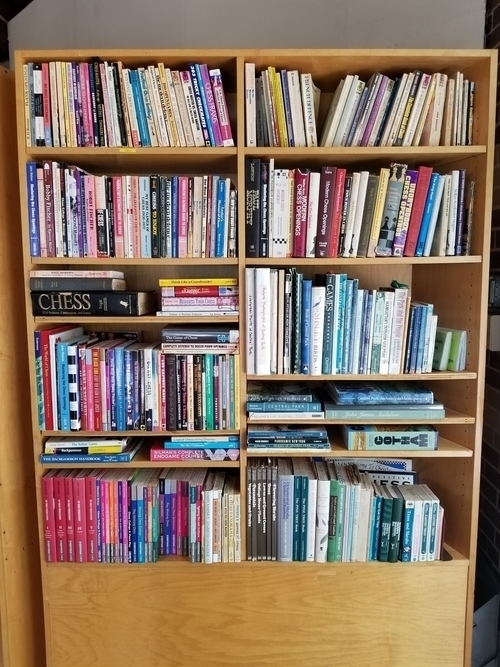 The Chess and Checkers House also has a decent library of chess books.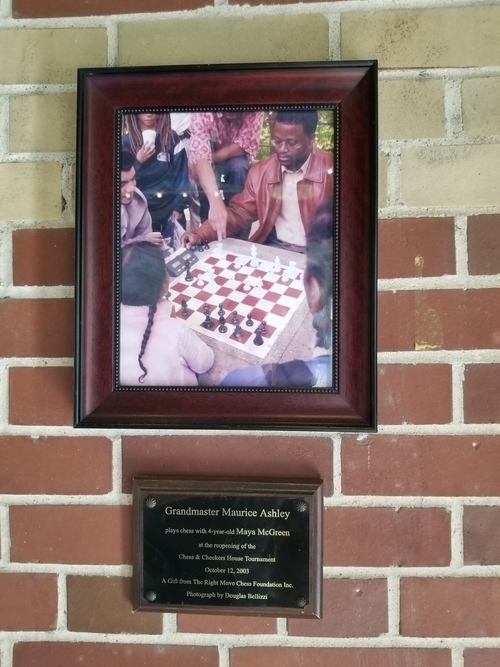 Walls are adorned with New Yorkers who have made it big in chess like Maurice Ashley and

Jennifer Shahade.

Exiting the Park on the east side, the traveler has many choices for transportation: horse and buggy, taxi, Uber, train, bike, or, as was our preferred mode of locomotion, by foot!

Do you geek chess trivia? If so, see if you can answer this one: What famous chess match took place at the New York Athletic Club? (Answer at the end of the article.)

From Central Park to Bryant Park we passed the legendary Radio City Music Hall at 50th and 6th.

Bryant Park is a hotbed of activity. If your are looking for some fun activities in midtown Manhattan, they've got:

bocce,

dance performances,

a carousel ride,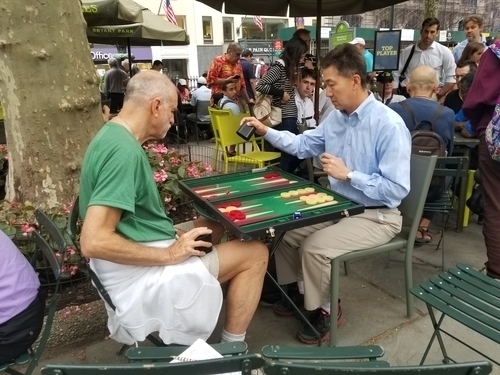 backgammon,

card games,

Connect Four,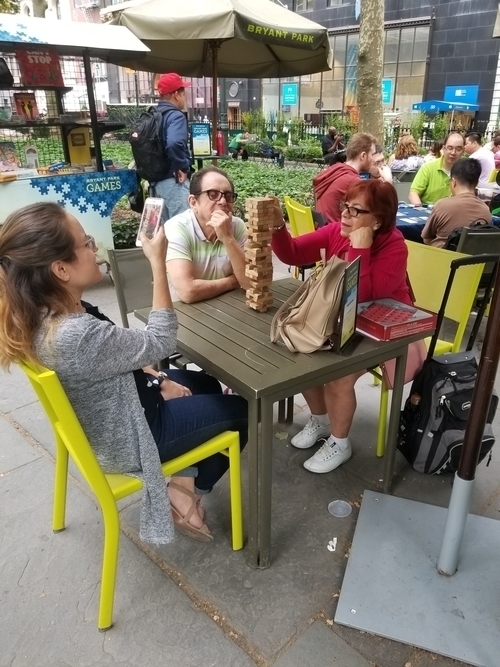 Jenga,

a host of other games available on loan from the staff and, of course,

chess!

The Bryant Park Chess and Backgammon Area is well organized with

tables reserved for beginners and

top players.

Players can enjoy an afternoon of friendly games,

analysis,

and some healthy banter. The back-and-forth between these two players went something like this:
"You're torturing me!"
"You know, I've never done this before."
"Well, do it now! There's always a first time!"
"Oh, that's terrible!"
"Watch out now! That's a tricky move."
"You're right about that!"

Akim, one of the friendly staff at Bryant Park, was on hand for some games,

and to share a laugh.

Just take the MTA to the 42nd Street-Bryant Park Station and the chess area is only steps away.

Speaking of the MTA, you can also hop a train to Union Square Park.

The chess here is rough-and-tumble!

Nevertheless, we played a few games and made some new friends. Carl explained what goes on at Union Square Park this way: "We can't gamble, it's against the law. So what we do is we play two games for $5. I can't gamble even if I wanted to--I'm a Jehovah's Witness!"

Chess in Union Square Park is informal and

portable.

This image gives a sense of the diversity that can be found in Union Square Park. In the foreground a chess game, in the middleground, shoppers go about their business and in the background, a group of Hare Krishnas chant and play a harmonium and drums.

On the day we happened to be in Union Square Park, the Farmers Market was going on.

Picking up a tip from one of our informants, we headed over to Queens to find the Lhasa Fast Food restaurant. This place was put on the map by celebrity chef, author, and travel documentary personality Anthony Bourdain who unexpectedly and tragically passed away on June 8, 2018.

As the Yelp reviews stated: Getting to Lhasa Fast Food is half the fun. Might you miss that sign?

That's not all! Lhasa Fast Food goers have to navigate through a cell phone store to get back to the restaurant. But once you find the place it's all worth it.

Having just been to Bhutan in 2017 (You can check out the Bhutan Travelogue posted on ChessMaine.net >>HERE.<< ) we can vouch for the authenticity of the Nepalese, Tibetan, and Bhutanese food served at Lhasa Fast Food. These traditional momos stuffed with cheese and chives were absolutely delicious. Read the New York Times article on Lhasa Fast Food >>HERE.<<

Spicy vegetable soup with tofu and mushrooms

A variety of spicy sauces and condiments made us feel like we were right back in Thimpu, Bhutan!

We stayed on the Upper West Side at W 110th and Broadway. Just across the street is the Westside Market.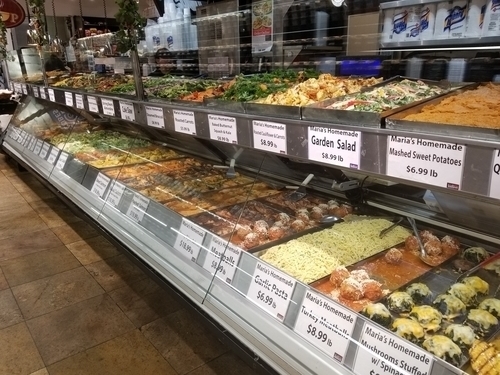 The market has a dizzying array of just about everything edible!

Next, it was off to the Marshall Chess Club on W 10th Street.

Where the 11th New York International tournament was taking place.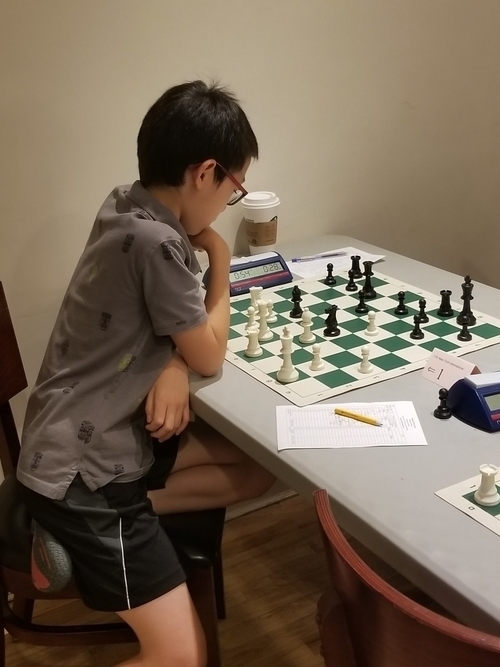 Playing on top board in round three was this young man: Robert Shibata (1981).

Upstairs at the Marshall were the lower-rated boards. Take a look at that black table.

A closer look reveals that the table was used at the Carlsen-Karjakin World Championship Match.

Tournaments at the Marshall Chess Club utilize electronic pairing and results charts. Players can report results and check current standings with a few taps on the touch screen.

Endgame concentration

The history is palpable at the Marshall. This is the club where the great Jose Raul Capablanca gave his last exhibition and

where Bobby Fischer defeated Donald Byrne in "The Game of the Century" on October 17, 1965.

The Marshall is just uptown and a short walk from Washington Square Park.

The Washington Square Arch welcomes visitors.

To find the chess area, head to the southwestern corner of the park.

We happened upon these jazz musicians on our way to the chess area. Click >>HERE<< to watch a video excerpt of their performance.

Young and older players alike make use of the tables at the park.

Not all games are played for stakes.

What better way to spend a sunny afternoon in Manhattan than playing a few friendly games of chess out of doors.

Satchel and I played into the night with the help of a beautiful lantern above us.

With a few hours until midnight, we ventured down Thompson Street to the Chess Forum.

Chess Forum owner Imad Khachan creates a warm and welcoming atmosphere for players looking for a game, a special set, or some lessons.

As I sat down to play a few games with the gentleman with the beard (at the board with the red clock), I couldn't help thinking that he looked familiar. I asked him if I might have run into him earlier in the day at Bryant Park. He responded that he wasn't at Bryant Park earlier in the day and that it must have been his "double." Later in the evening, as we were headed out into the night, Chess Forum owner Imad said to my opponent, "So, you're from Boston?" At that moment it dawned on me where I had previously met Phillip. Just six days before, I was playing chess at Harvard Square (See Outdoor Chess in Boston on ChessMaine.net for a full description of that trip.) and Phillip was playing on the next board over! I confirmed this with him and we had a good muse over it--luck, fate, coincidence, synchronicity?

The next day, on a tip from a chess friend we met at the Central Park Chess and Checkers House, we motored over to the Cornelia Street Café to see a film screening. Both the filmmaker and the subject of the film were local artists.

The film featured the work of local gesturing painter Edward Ching.

After the film, the film maker Michael Jacobshon (left) and painter Edward Ching took questions from the audience.

Edward Ching is a remarkably talented artist who makes gesture paintings of New York scenes.

Here is some of his work: Seated Female Figure pen and ink with gouache on paper,

Decatur Street acrylic on canvas,

Subway Entrance acrylic on canvas, and

Cleaners acrylic on canvas.
For more information about Edward Ching's art please visit his website EdwardVisualArt.com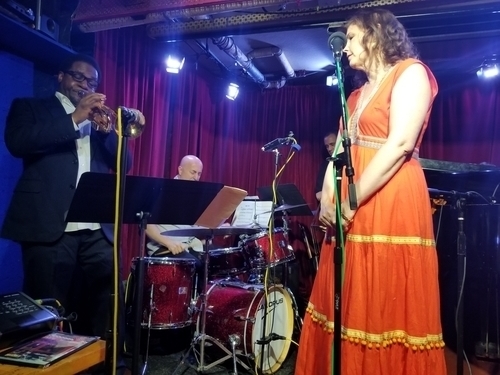 The underground at the Cornelia Street Café also doubles as a stage where we caught the cool jazz sounds of Audrey Silver and her band.

We were in Manhattan during the weekend of the New York Pride March.

At two million plus participants, NYC Pride is the largest LGBTQIA+ march in the United States.

The site of the Stonewall riots in 1969 has been made a National Historic site by the U.S Department of the Interior.

Where it all started: the Stonewall Inn is considered the birthplace of the worldwide gay rights movement.

It was quite a trip to New York with lots of sightseeing,

great food,

and lots of chess!

Until next time New York!

Answer to triva question: The New York Athletic Club hosted the match between Gary Kasparov and computer Deep Junior in February 2003. You can read about the match >>HERE.<<
---