Ivanov Wins Saco Open
07.19.16 Twenty-four players competed in the Saco Open played on July 9-10 in Saco, Maine. Massachusetts resident GM Alexander Ivanov took first place in the open section with 3.5 points in four rounds. Here is the illustrated tournament report with USCF crosstables and selected games.
Open section winner GM Alexander Ivanov makes his first move against a clearly pleased Suraj Ramanathan.
Selected games from this event
GM Alexander Ivanov won the Saco Open scoring 3.5 points. His last round draw with IM David Vigorito clinched the top spot. Vigorito shared second place with FM Jarod Bryan. Vermonter Michael Corrigan edged out Curt Brock to take first in the U1750 section. The U2000 prize was shared by Gert Hilhorst and William Ravn. Bill Hartt and Wyatt Hendrix shared the U1500 prize and Shravani Patil and Aidan Thomas split the U1250 prize. Lawrence Shuler took home the top unrated prize.

David Vigorito (right) drew this game with William Ravn and finished equal second with...

Jarod Bryan (right).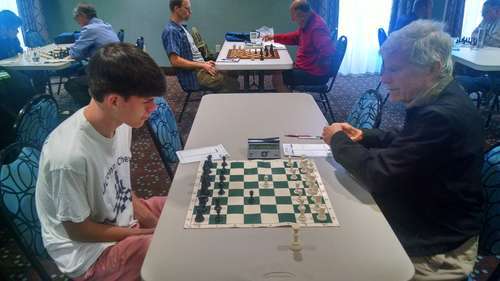 Alex Wallach (right) squares off against Eric Hilhorst.

Curt Brock (right) and Paul Kolojeski tangle in a Petrov.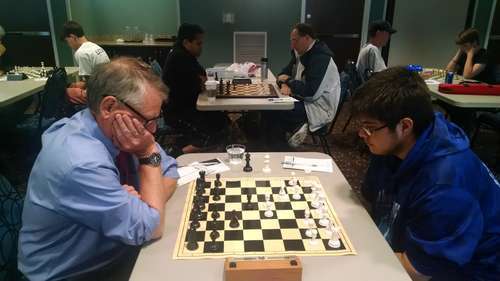 Dale Barkey (left) takes a think in his game with Bill Hartt.

U1750 section winner Michael Corrigan (left) takes on Wyatt Hendrix.

Lawrence Shuler (left) plays Gary Bergeron.

The experience vs youth game: 82-year-old Donald Plummer plays 8-year-old Shravani Patil. The game ended in a draw.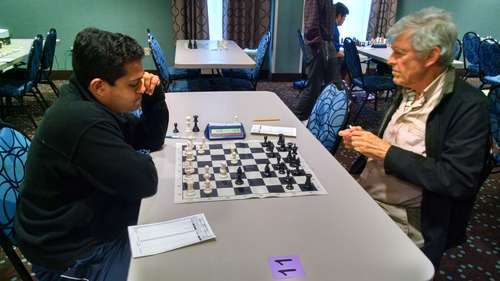 Aarish Patell (left) and Alex Wallach play in round 2.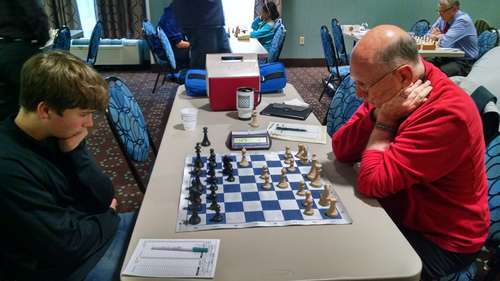 Aidan Thomas (left) and Paul Kolojeski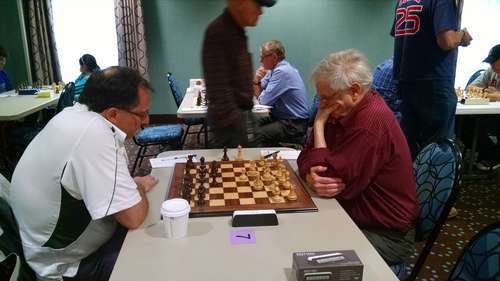 Jon Buxton (left) and Lawrence Shuler go at it in round 2.

William Ravn (left) who scored an impressive draw against IM Vigorito in the first round here takes on Suraj Ramanathan.

David Carter, a master-strength player from Vermont, does his best vs tournament winner Alexander Ivanov.

David Hoyt (left) vs Curt Brock

Dale Barkey (left) and Donald Plummer get into an interesting position in round 2.

The tournament's only female player Shravani Patil plays Bill Hartt to a draw in round 2.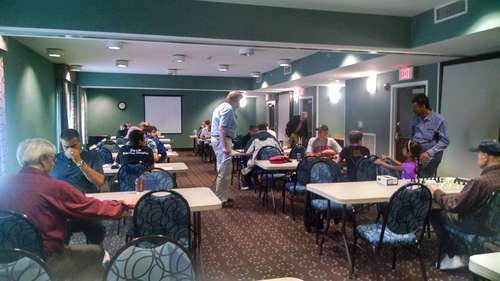 Tournament director Alex Relyea (center) answers a question before the start of a round. Thanks to all who participated for making this event a success.
---