Maine Students Compete in National Junior High School Championship
05.06.11 We bring you two reports from the National Junior High School Championship played in Columbus, Ohio on April 15-17, 2011. The first from Deer Isle-Stonington coach Dick Powell, the second from Cape Elizabeth chess parents Dan and Ilene Fishbein.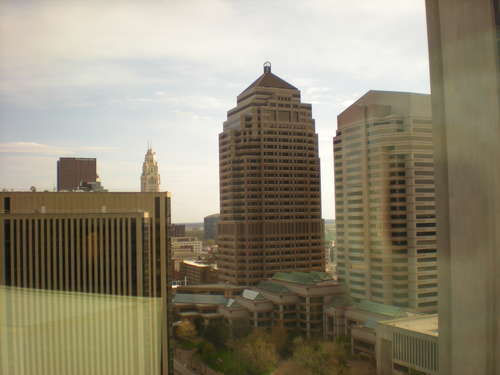 Downtown Columbus, Ohio site of the 2011 National Junior High School Chess Championships.
Thanks to Dick Powell, Burt and Rosa Humphrey and Dan and Ilene Fishbein for contributing to this report.
Deer Isle-Stonington Coach Dick Powell's Report
On Friday, April 15th the National Junior High Chess Tournament took place at the Hyatt Regency Hotel in Columbus, Ohio. The Maine 2011 K-8 team champion Deer Isle-Stonington Mariners sent seven chess players representing Maine to the event. Cody Eaton played in the K-9 unrated section and finished with two wins and a draw to total 2 1/2 points. The other six chess players all competed as a team in the K-8 Under 1000 section.

All players had matches at 1:00 p.m. and 7:00 p.m. on Friday; 9:00 a.m. and 2:00 p.m. and 7:00 p.m. on Saturday; and 9:00 a.m. and 2:00 p.m. on Sunday. State scholastic girls champion, Bethany Humphrey led the Deer Isle-Stonington scoring with 5.0 points on four wins, two draws and only one loss. Humphrey finished tied for 14th out of the 167 participants in her division and took home the 18th place trophy on tie-breaks. Both individual and team trophies are given to the top 25 finishers in this national event. At one point, after the 3d round on Saturday morning, Humphrey had the honor of leading everyone in her section, which is the first time in 20+ nationals that this has happened to a Deer Isle-Stonington chess player. She fought for a draw in Round 4 in the longest match of the tournament for Deer Isle-Stonington--three hours and 15 minutes long! (Each player is allowed two hours for his/her moves so theoretically a match could last four hours!) The second high scorer with four wins was Cameron Wendell who won all four of his matches against players higher rated than himself. Next with 2.5 points was Alyssa Chesney a first-year participant in the nationals. The final scoring member (only the top four scorers of each team count for the championship) was last year's top scorer, Krisford Melanio with 2.0 points (a win and two draws). Isaac Vaughn, moving up to the Under 1000 section, got a win and a draw and Philomena Mattes got a last round well-deserved win to round out the team. All players scored at least one win for DIS which doesn't happen every year.
The K-6 Nationals in Dallas will be taking place on the first weekend of May. The team and coach would like to thank the community for its support in sending us to these events!

Bethany Humphrey

Cameron Wendell

Krisford Melanio

Isaac Vaughn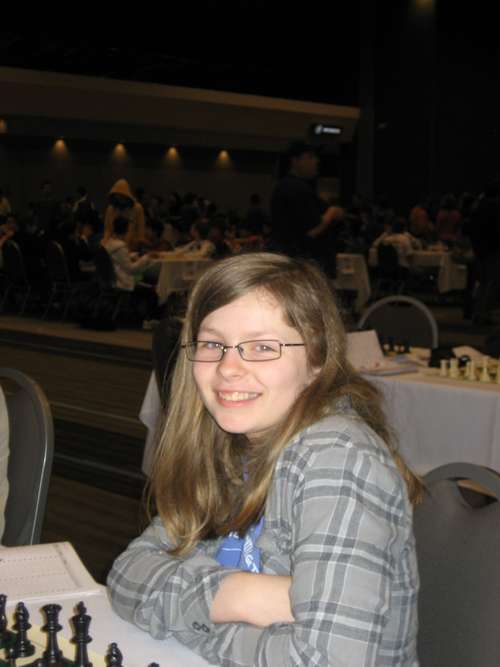 Philomena Mattes

Alyssa Chesney

An important activity for improvement is the review of one's own games. That's what is taking place here with coach Dick Powell and chess dad Andy Vaughn.

After 3 rounds in the K-8 U1000 section Deer Isle-Stonington player Bethany Humphrey enjoys the top spot in the crosstable with 3.0 points and the highest rating of all the three-point getters.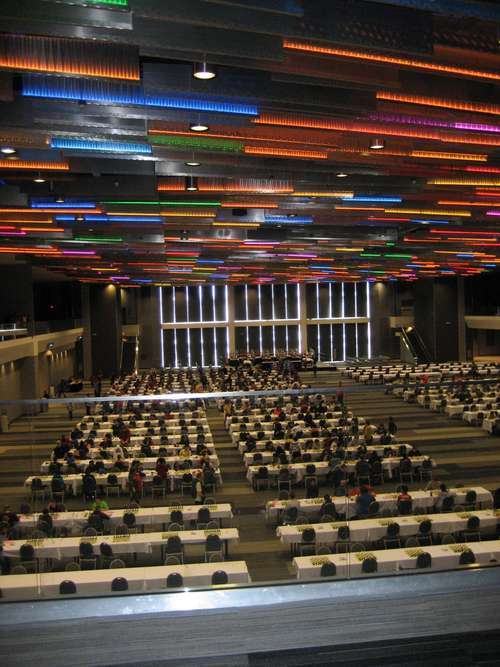 A view of the tournament hall.

Bethany Humphrey tied for 14th place and received the 18th place trophy on tie-breaks.
Cape Elizabeth Chess Parents Dan and Ilene Fishbein's Report
On April 15-18, 953 students from across the country gathered in Columbus, Ohio to compete in the United States Chess Federation's Junior High National Championships. Over the course of three days, the competitors played seven rounds of chess, plus Blitz and Bughouse tournaments on the preliminaries day. Three hundred twenty-six teams attended, with players representing 36 states.

Maine was well represented with seven players from Deer Isle-Stonington's State Champion Middle School team, plus Matthew Fishbein from Cape Elizabeth. The Mainers were also happy to find recent former Mainer John Xiang in attendance. Xiang moved from Scarborough, Maine to Ohio last summer after being a fixture on the Maine tournament scene for several years. Including parents and coaches, the Maine contingent numbered about 20.

The tournament was played in the beautiful and newly-renovated Greater Columbus Convention Center. Rounds were played in The Grand Battelle Hall, with its spectacular ceiling of colored lights. The hall was large enough to accommodate the nearly 1,000 players simultaneously with room to spare. An extra feature was the spacious balcony area that allowed parents and friends with binoculars to watch the games. As one parent announced, "Who said chess isn't a spectator sport?"

Nine Hundred fifty-three competitors square off at once in the Grand Battelle Hall of the Greater Columbus Convention Center--home of the annual Arnold Schwarzenegger Body Building Championship.
Round 1

The tournament began Saturday afternoon at 1:00 p.m. The Deer Isle-Stonington Team, led by coach Dick Powell, fielded a team of 6 in the K-8 U1000 section, one of seven sections. Deer Isle-Stonington High School Freshman Cody Eaton entered the K-9 Unrated section. In Round 1, the DIS team nabbed two points with wins by Bethany Humphrey and Kris Melanio. Humphrey defeated Jasmine Cuello of New York's PS 226, while Melanio bested Cheng Xiong of Minneapolis. Teammates Cam Wendell, Alyssa Chesney, Isaac Vaughan and Philomena Mattes had first round losses to players from Texas, North Carolina, West Virginia and Michigan. Eaton also started with a loss to a West Virginia competitor.

In the K-8 Championship section, Xiang, rated 1182, surprised Maya Mcgreen of Brooklyn's IS 318, rated 1585, with a win.

Matthew Fishbein started the tournament with a listed rating of 1942, which ranked him 12th in the 225 person section. He faced Kevin Dominguez, also of IS 318, and won in a game that lasted 3 hours and 20 minutes.

IS 318 is the math and science magnet middle school for Brooklyn, and boasts one of the best chess programs in the country. Many now-titled players have come through IS 318. This year IS 318 brought 63 players to Columbus, including an astounding 28 players rated over 1400, three experts and two masters--Justus Williams and James Black, who, at 12 years of age, are considered to be amongst the strongest middle school players in the country.

Round 2

In Round 2, Matthew Fishbein had to again face a competitor from IS 318 Jakob Kobajlo. Kabajlo carefully considered his moves and at one point spent 40 minutes on a single move. Despite the generous G120 time control (each player having 2 hours plus a five second increment for each move) after move 32 Kobajlo had five seconds left on his clock. However, he was far from ready to concede. He proceeded to play another 37 moves, most with only a single second on his clock, using the five second delay. A player who had been moving with great care now played bullet chess. However, Fishbein carefully played out the game and won shortly before 11:00 p.m., after nearly four hours of chess.
Xiang faced Marco Lorenzon of Michigan, rated 1715, and while he played a strong game, could not overcome a player rated more than 500 points above him.

The DIS Middle School team captured two and a half points, with Bethany Humphrey winning over Nathaniel Reedus of Ohio to go 2.0, and Cam Wendell grabbing his first win, over Shreyas Papireddy, also of Ohio. Kris Melanio finished Day 1 undefeated, with a draw against Roberto Lores of Florida. In the K-9 Unrated section, Cody Eaton got a point besting another Buckeye Jacob Camp.
Round 3

As severe storms hit much of the Midwest, Day 2 dawned cloudy and very windy. In the playing hall, Round 1 began promptly at 9:00 a.m. In the K-8 Championship section, Matthew Fishbein finally got to face an opponent not from IS 318--Michigan's Marco Lorenzon, the same opponent Xiang faced the evening before. Another long game ensued, this one lasting 3 hours and 30 minutes, with Matthew the victor. Xiang faced another much higher rated opponent, this time Hanson Hao of Illinois, who came away with the point.

The Greater Columbus Convention Center on a very windy Saturday.
In the K-8 U1000 section, Deer Isle-Stonington had its best round yet, with two wins and two draws. The full points went to Bethany Humphrey, who remained perfect with a win over Julius Gingles of Marlyland, and Cam Wendell, who won against Javier Flores of Texas. The half points were earned by Alyssa Chesney and Kris Melanio (who remained unbeaten), with draws against Jamieson Wade of Pennsylvania and Vincent Baker of Ohio. In the K-9 Unrated section, Eaton won over Amin Ahmed of Ohio to go to 2.0.
Round 4

The afternoon round started with Bethany Humphrey sitting at Board 1 in her section. Bethany remained undefeated, via a draw with Dontez Britton of Michigan. Cam Wendell won his third straight, with a victory against Garrett Gould of Ohio. Alyssa Chesney also earned a point in this round.

Board 1! Bethany Humphrey gets ready for her game against Dontez Britton.
In the K-8 Championship section, Matthew Fishbein squared off against Jonathan Cao of Virginia. Matthew had a relatively short game at a mere two hours, and finished the round as one of only eight players with a perfect 4.0 record. John Xiang drew Sidnei Austin (1419) of Detroit's Washington Parks Academy.
Round 5

Saturday, with three rounds, is the longest day of the tournament. Round five started at 7 p.m. For some, (especially parents), by the time this round starts the day has already been long enough. Matthew Fishbein entered this round facing his toughest opponent yet--James Black (2156) of IS 318. Although Black and his teammates have been featured on TV and major newspapers, and often have a movie crew following them, he was a friendly and polite competitor. Matthew gave James what the USCF website the next day in its coverage called a tough game. The three hour game shown below was described by a number of other players who observed it to be in Matthew's favor as of about move 20. However, Black gradually gained the edge and went on to win. The game is featured on the USCF website at this link.

Matthew Fishbein and James Black before their Round 5 game on Board 2.
John Xiang continued his way-above-his-rating run in Round 5 with a strong endgame win over Ricky Lou (1437) of Indiana. In the K-9 U100 section, Alyssa Chesney and Isaac Vaughan picked up their first wins, over opponents from New York, carrying the DIS team for this round.

John Xiang (right, wearing the "1932" shirt) with the edge in his game.
Round 6

The third and final day, Sunday, is when the trophy winners are determined. It's not enough to have won four or five games through this point. It typically takes at least 5 1/2 points to win an individual trophy.

John Xiang found himself at the beginning of the day in serious contention for the U1200 class prize. He virtually cemented that prize in Round 6 with a win over Jonathan Steigerwald (1545) of Ohio. Fishbein was paired against Illinois's Spencer Lehman. Matthew rebounded from his only defeat by winning relatively easily, in less than an hour to reach the 5 point mark.

Bethany Humphrey and Cam Wendell returned to their wining ways, with victories over competitors from Texas and Tennessee.

Round 7

DIS entered the final round in 11th place out of 30 in the K-8 U1000 team competition. Bethany Humphrey led the DIS team with a win over Syeven Ramos of New York, giving her a terrific 5.5 points. That score earned Bethany the 18th place individual trophy. Philomena Mattes helped her team with a win in the final round against Shumar Wells of Minnesota and Isaac Vaughan finished the tournament nicely with a draw against Kyle Bale of Kentucky. Overall, the DIS Middle School team finished with 13.5 points (based on the top four scores) enough to win the very large 13th place team trophy.

Cody Eaton finished with 2.5 points, including a draw in the final round against Kacie Pittman of Michigan.

In the K-8 Championship, John Xiang continued to stun much higher rated opponents. Up by two pawns in the endgame against Siddharth Arun (1831), one of two entrants from Massachusetts, Xiang ultimately agreed to a draw. With 4.0 points, Xiang tied for 57th, and was the clear winner of the U1200 Class Trophy. He also gained 221 rating points, with a new rating of 1403.

Matthew Fishbein entered the final round as one of 13 players with five or more points. He faced Ronald Best of Baltimore, who also had 5.0, including an upset win over New York's Kyle Moon (2045.) At move 25 Matthew found his rook trapped, forced into an exchange for a knight. However, he then discovered that what at first appeared to be a blunder had opened up the chance for a sequence that would ultimately win the game. After a complicated forced exchange, Matthew was in a Queen against two rooks endgame, but with two extra pawns Matthew methodically used the constant threat of forks to win the game. When the dust settled, Matthew's 6.0 placed him in a tie for third, and on tie-breaks he earned the 4th place trophy.
James Black, who was the only person to defeat Matthew, won the K-8 Championship section. This was James's tournament--he won the Blitz Tournament, the Bughouse Tournament with teammate Danny Feng, the K-8 Individual Championship and led his IS 318 team to the Team Championship. It is believed this is the first time one player has won four championships at a single Scholastic Nationals.
Final Reflections

From a parent's perspective, this was a wonderful tournament. The tournament itself was well run, and the venue one of the best we have seen. This was also a great group of parents and coaches, with lots of camaraderie. But the best part is watching the kids. This was a tremendously diverse field, from every background, ethnicity and geography. The kids were all making new friends, and renewing old acquaintances--and making memories. We look forward to more tournaments like this one in the future!

Final Results for the Maine Delegation:

K-8 U1000 Section

Bethany Humphrey: 5.0, 18th, tied for 14th
Rd 1: W Jasmine Cuello, New York
Rd 2: W Nathaniel Reedus, Ohio
Rd 3: W Julius Gingles, Maryland
Rd 4: D Dontez Britton, Michigan
Rd 5: L Pranaz Adavi, Wisconsin
Rd 6: W Summer Roxburgh, Texas
Rd 7: W Syeven Ramos, New York

Cameron Wendell 4.0, 59th, tied for 45th
Rd 1: L John Candelaria, Texas
Rd 2: W Shreyas Papireddy, Ohio
Rd 3: W Javier Flores, Texas
Rd 4: W Garrett Gould, Ohio
Rd 5: L Brian Wilson, Michigan
Rd 6:W Nicholas Waraksa, Tennessee
Rd 7: L Maurice Badgett, Michigan

Alyssa Chesney, 2.5, 133, tied for 123rd
Rd 1: L Aditya Paruchuri, North Carolina
Rd2: L Jazmine Cuello, New York
Rd 3: D Jamieson Wade, Pennsylvania
Rd 4: Forfeit win
Rd 5: W Reagan Lyle, New York
Rd 6: L Mykail Womack, Michigan
Rd 7: L Jaylen Garland, Michigan

Kris Melanio 2.0, 136th
Rd 1: W Cheng Xiong, Minnesota
Rd 2: D Roberto Lores, Florida
Rd 3: D Vincent Baker, Ohio
Rd 4: L Zachary Anderson, Virginia
Rd 5: L Duncan Guthrie, Virginia
Rd 6: L Joey Raymond, Missouri
Rd 7: L Kevin Lyle New York

Isaac Vaughan 1.5, 155th
Rd 1: L Jay Sheth, West Virginia
Rd 2: L Garrett Gould, Ohio
Rd 3: L Abraham Cortez, Texas
Rd 4: L Inigo Rivera, New York
Rd 5: W Edgar Macario, New York
Rd 6: L Andrew Berzolla, Connecticut
Rd 7: D Kyle Bale, Kentucky

Philomena Mattes, 1.0 162. tied for 159th
Rd 1: L Josiah Smith, Michigan
Rd2: L Jaylen Garland, Michigan
Rd 3: L Lamarc Daniels, Michigan
Rd 4: L Samuael Von Lehe, Illinois
Rd 5: L Curtis Chung, New York
Rd 6: L Edgar Macario, New York
Rd 7: W Shumar Wells, Minnesota

K-9 UNR Section

Cody Eaton 2.5, 45th
Rd 1: L Anish Kanuri West Virginia
Rd 2: W Jacob Camp, Ohio
Rd 3: W Amin Ahmed, Ohio
Rd 4: L Tony Vang, Minnesota
Rd 5: L Simon Alonso Olvera, Minnesota
Rd 6: L Mason Sanders, Ohio
Rd 7: D Kacie Pittman, Michigan

K-8 Championship Section

Matthew Fishbein 6.0, 4th, tied for 3rd
Rd 1: W Kevin Dominguez, New York IS 318 (1444)
Rd 2: W Jakob Kobajlo, New York IS 318 (1643)
Rd 3: W Marco Lorenzon, Michigan (1419)
Rd 4: W Jonathan Cao, Virginia (1671)
Rd 5: L James Black, New York IS 318 (2156)
Rd 6: W Spencer Lehman, Illinois (1676)
Rd 7: W Ronald Best, Maryland (1753)

John Xiang 78th, 4.0, tied for 57th, U1200 Class Prize
Rd 1: W Maya Mcgreen, New York I318 (1585)
Rd 2: L Marco Lorenzon, Michigan (1715)
Rd 3: L Hanson Hao, Illinois (1510)
Rd 4: D Sidnei Austin, Michigan (1419)
Rd 5: W Ricky Lou, Indiana (1437)
Rd 6: W Jonathan Steigerwald, Ohio (1545)
Rd 7: D Siddharth Arun, Massachusetts (1831)

What are these people photographing and watching through binoculars? The Indianapolis 500?
The national high school wrestling tournament that was taking place in the Convention Center?

No, a chess tournament!

Bethany Humphrey in action (center).

James Black and Matthew Fishbein in Round 5.

The action took place under the Grand Battelle Hall's unusual lighted ceiling.

Action in the Blitz Tournament the evening before the main tournament. Justus
Williams (2245) of IS 318 plays the white pieces on Board 1, against John Lodger
Hughes of Columbus who went on to win the K-9 Championship in the main tournament.
James Black of IS 318, has the white pieces on Board 2. Black went on to win the K-8
Championship. Matthew Fishbein is on Board 3 on the left.

Who's that famous coach wearing shorts?

The current King and Queen of Maine Middle School Chess: Matthew Fishbein
and Bethany Humphrey.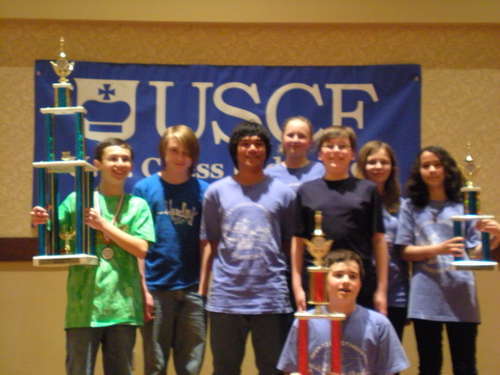 The Maine delegation (left to right): Matthew Fishbein, Cam Wendell, Kris Melanio, Alyssa
Chesney, Isaac Vaughan, Philomena Mattes, Bethany Humphrey and (front) Cody Eaton.

Matthew Fishbein and Scarborough's John Xiang (now an Ohio Buckeye) with his Class trophy.

Matthew Fishbein with Alana Katz, now coach of the Bronx's Middle School 118.
Alana was the teacher of the first USA Chess Camp to come to Maine, four years
ago, in Cape Elizabeth. Alana sends her best wishes and congratulations to all the
students from Maine she taught that year. MS 118 is also one of the schools that
sent a delegation to Maine a few years ago as part of Chess-in-the-Schools' summer
trip that included stops at Featherfoot Farm in Aurora and Deer Isle.

The unique architecture of the Hyatt Regency at the Greater Columbus Convention Center.



The Nationwide Arena next door, home of the Columbus Blue Jackets NHL team.
---