The Most Active Club in Maine?
08.29.08 The most active club? It might just be the Ellsworth Chess Club that meets on Thursday nights from 6:30 p.m. - 9:30 p.m. at Mr. Paperback in Ellsworth. All summer the club has been consistently bringing in big numbers of chess players. As the school year begins, club president Dick Powell hopes this trend continues.
Anna Bryan makes a move in her blitz game during the Labor Day Tournament at the Ellsworth Chess Club on Thursday, Ausust 28, 2008.
Thanks to Dick Powell for contributing to this report.
The Ellsworth Chess Club held a Labor Day Blitz Tournament on Thursday, August 28, 2008 with a record number of entrants! Fourteen chess players competed in two divisions with a five-minute blitz format allowing each player to play everyone in their section. Three new players competed: Joel Knight coming all the way from Belfast while brothers Logan and Alex Speranza of Ellsworth also competed for the first time. In the "B" Division Matt Hall gave notice in the preliminary rounds that this was his night by sweeping the field without a loss. Then in the playoff rounds he disposed of Laddy DeLuca Lowell in the semi-finals and Jeremy Mason in the finals to complete a perfect evening. Mason took second while Haley DeLuca Lowell defeated her younger sister to take third place. In the "A" group Paul Wlodkowski of Ellsworth and Maine Maritime Academy, who has won all but two of the summer tournaments at the Ellsworth Chess Club, continued his winning ways by placing first in the qualifying rounds and then adding another title to his collection by getting by Dan DeLuca of Aurora in the semi-finals and then beating Sean Sullivan in the final match of the evening. Andy Bryan, Joel Knight, and Dick Powell also competed in the "A" group while Alex and Logan Speranza and Anna Bryan participated in the "B" division. No tournament will be held on Thursday, September 4th, but "open chess" will be the format and players can challenge others to games and decide their own time controls. The club meets Thursdays from 6:30 p.m. - 9 p.m. For more information call Dick Powell at (207) 667-3507.

Standing room only at the Ellsworth Chess Club.

Andy Bryan (left) plays Mark Woida.

Haley DeLuca Lowell (right) takes on Jeremy Mason.

Two new patrons of the club: Alex Speranza (left) and Joel Knight.

Laddy DeLuca Lowell has a queen for three minor pieces in her game vs. Matt Hall.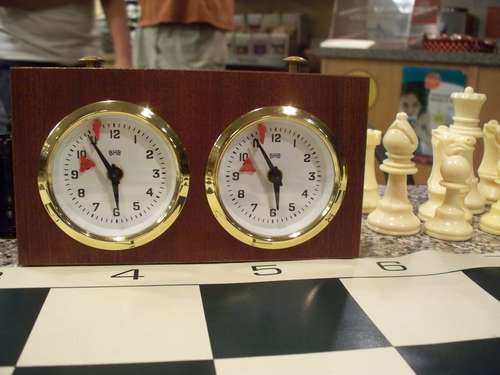 For this meeting of the club clocks were set at five minutes apiece but the format varies depending on the evening.

The man behind it all: Ellworth Chess Club President, The Maestro Dick Powell.

---