Alan Kobernat Wins Second Annual ChessMaine.net Championship
07.01.08 Alan Kobernat, a former master from California on a mission to play a USCF-rated tournament in each of the 50 states, added Maine to his list in winning style. Scoring a perfect 4.0, Kobernat just edged out last year's ChessMaine.net Championship winner Philip Lowell who scored 3.5 points.
Shortly after winning the tournament, Alan Kobernat (right) discusses his decisive fourth round game with Lucas McCain
This tournament was organized and directed by Dan DeLuca and Laddy DeLuca Lowell.
The second annual ChessMaine.net Championship took place on June 28, 2008 at Colby College in Waterville. The tournament attracted 40 players and was played in the Smith, Hurd, Robins room (a high-ceilinged bright space with a long windowed wall overlooking Colby's atheletic fields) on the second floor of Roberts Hall. The room was named in honor of three distinguished members of the Colby College community: George Otis Smith, Chairman of the Board of Trustees (1934-1944), Judge George N. Hurd (Class of 1890) and Henry Ephraim Robins (Hon. 1890) President of the College(1875-1882).
The tournament's format was a four round Swiss at a time control of game in 75 minutes. The last round paired the only two remaining players with 3.0 points, Lucas McCain (1816) and Alan Kobernat (2000). Kobernat played 1.e4 and in response to McCain's Sicilian 1...c4 2. d4 cxd4, he essayed the unusual Smith-Morra gambit 3. c3. The opening progressed roughly evenly until McCain erred with 12...f5 which allowed 13. Bxe6! and swung the pendulum appreciably in White's favor. The final stroke was Kobernat's 34. Qc3+ which prompted McCain's resignation.
ChessMaine.net Championship
June 28, 2008
Colby College
Waterville, Maine
Alan Kobernat (2000) - Lucas McCain (1816) 1-0
Replay
Many more games from this tournament are coming soon.
Hot on Kobernat's heels was the 2007 ChessMaine.net champion Philip Lowell. Lowell scored 3.5 points after drawing an exciting round 2 game with Ruben Babayan. With literally seconds remaining and Babayan's flag hanging, Lowell displaying impeccable sportsmanship, offered a draw in what was objectively a drawn position.
After Lowell, eight players shared 3rd-10th place with 3.0 points each: Lucas McCain, Ruben Babayan, Andrey Savov, Fritz Eyerer, Matthew Fishbein, Adam Schaff, David Wasdahl and Cullen Edes.
In addition to the first place prize of $120, prizes of $60 were awarded to high scorers in Classes A, B, C, D, E and Under 1000. The winners were: Class A Phil Lowell, Class B Fritz Eyerer and Cullen Edes, Class C Nicholas Parsons and Curt Brock, Class D Matthew Fishbein, Class E Kurt Eyerer and Under 1000 Matthew Reale-Hatem and John Kenneway.
One of the players, Steven Miller, graciously donated David Shenk's Book The Immortal Game: A History of Chess and a random drawing was held in which Curt Brock's name was chosen.


The championship game between the eventual winner Alan Kobernat (left) and Lucas McCain. In the background Ruben Babayan (left) plays Fritz Eyerer.

Tournament winner Alan Kobernat

A smiling Lucas McCain

The final position in the game Kobernat - McCain after the crushing 34. Qc3+

The 2007 ChessMaine.net champion Phil Lowell

Here's the thrilling last few moves in the game Lowell - Babayan. Notice Babayan's flag hanging by a thread. Seconds later Lowell offered a draw which was immediately accepted.

Babayan (left) begins his third round game with Matthew Fishbein. The two tied for 3rd - 10th place with 3.0 points. In the background Phil Lowell (left) plays John Engle.

Andrey Savov in his signature high-intensity posture.

Fritz Eyerer went undefeated with two wins and two draws for 3.0 points.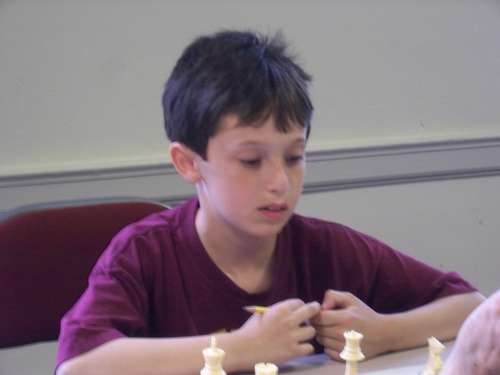 Matthew Fishbein enjoyed a 138-point rating surge in this tournament alone.

The always solid Adam Schaff

David Wasdahl scored 3.0 points his only loss being to current state champion Jason Spector in round 2.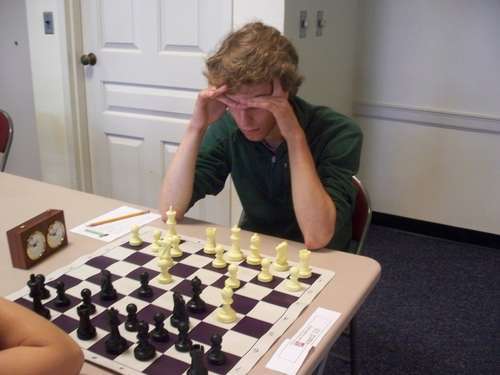 Rounding out the three point getters: Cullen Edes


Nick Parsons sporting the coolest hat seen at the tournament. (That's a ChessCafe.com hat by the way.)

A fine tournament for Tom Sandford, his only loss being to the tournament winner.

John Engle awaits his opponent's response to the Advance Variation of the French Defence.

Equal winner of the Class C prize and recipient of the book prize Curt Brock

Assistant tournament director Laddy DeLuca Lowell presents Curt Brock with The Imortal Game.

After losing his round 3 game to Lucas McCain, current state champion Jason Spector decided to cut his losses and withdraw.

What to do? Nimrod Drizlikh at a moment of decesion.

Class E prize winner Kurt Eyerer

Charles Cannone scored 2.0 points.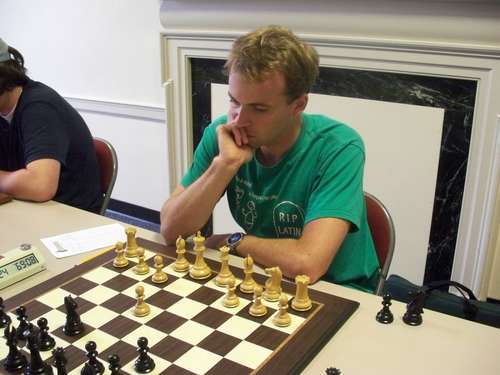 Coach cum player: Ben Johnson

Aaron Spencer taking an interest in his neighbor's game.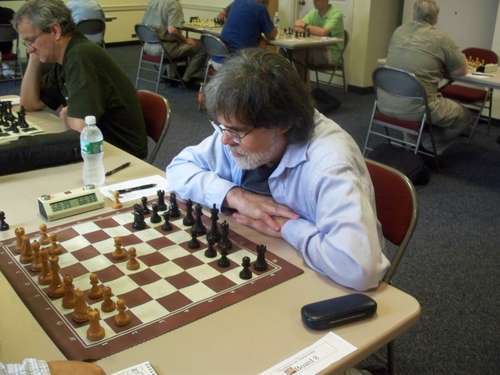 Chessplaying author Steve Miller

Ed Hatch tries an unorthodox opening with black.

Member of the high school state championship team and the tournament's only female participant: Margaret Bryan

Margaret's dad, Andy Bryan

William Burtt

John Ellison

Bruce Sherwood

The indefatigable Dr. Jon Malev

Charles Rotmil

That's Matthew's dad! Dr. Dan Fishbein

Gheorghe Teodorescu

John Kenneway (left) and Matthew Reale-Hatem were the tournament's two youngest competitors.

A player who appreciates a fine wooden board and set: Darrell Salisbury

Waterville Chess Club stalwart Mark McPheters

David Rice

A shoo-in for the tournament's best shirt: Stephen Kaluzynski

At ten-years-old Laddy DeLuca Lowell is the youngest officially certified USCF tournament director we know of.

The assistant TD tries her hand at some 10-minute chess on the Internet Chess Club.

A sampling of the chess library on hand for players' perusal

The 2008 Maine Games Field Hockey Championships were taking place concurrent with the chess tournament.

Summer is a time for new construction and renovation on Colby's campus.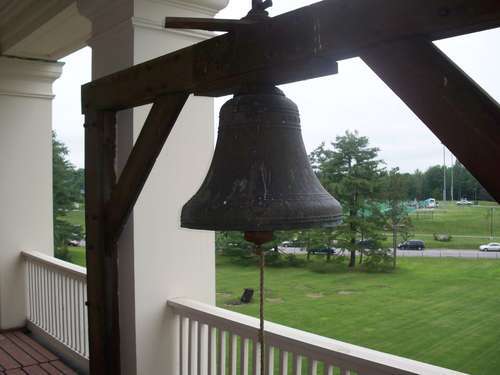 The Revere Bell hung just outside the tournament room in Roberts Hall. (From the inscription): For nearly 150 years on the Old Campus in Waterville, the Revere Bell called students to classes. It played a vital role in the college's day-to-day schedule from 1824 to 1952 when it was transferred from the tower of South College to the Mayflower Hill Campus to be placed over the north porch of this building, Roberts Union.

A closer look at the bell

David Rice entertains Fritz Eyerer and Aaron Spencer with some good chess war stories.
We thank the players, organizers and Colby College for making this year's tournament a great success.
---