Mexico City Round 7: Anand takes sole lead
09.21.07 With a win over Morozevich, the world's number one rated player Viswanathan Anand has taken sole possession of first place as we approach the half way point in the world championship tournament. The darkhorse Boris Gelfand got a draw with current world champion Vladimir Kramnik to hold his position in second. Round eight will be played on Friday then players will have Saturday off to regroup and prepare for the second half and six more rounds of top-level chess.
The 2007 World Chess Championship will be played from September 12 - October 1, 2007 at the Sheraton Centro Histˆ"rico Hotel in Mexico City, Mexico. Eight of the world's strongest players will face each other in a double round robin tournament to determine the new World Champion. All games begin at 3:00 p.m. EST
Official site of the 2007 World Chess Championship
Watch LIVE chess games from the World Championship here.
Round 7: Thursday, Sept. 20th 2007, 15:00h EST
Peter Svidler 1/2-1/2 Levon Aronian
Vladimir Kramnik 1/2-1/2 Boris Gelfand
Alexander Morozevich 1/2-1/2 Peter Leko
Viswanathan Anand 1-0 Alexander Grischuk
Round 7 Games
Standings after Seventh Round

Players chat before the start of round seven: (from left to right) Svidler, Gelfand, Aronian, Leko and Anand.

Morozevich - Leko gets underway.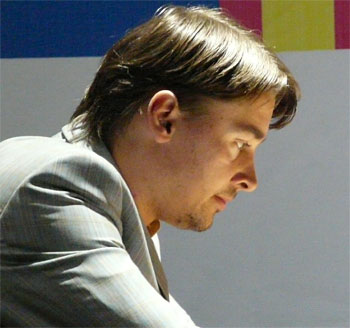 Alexander Morozevich is struggling in last place with three losses.



Somewhat of a surprise, Boris Gelfand is having an outstanding tournament and is currently in sole possession of second place with 4.5 points after seven rounds.

An extremley strong universal style: Anand at work.

Svidler and a melancholic Levon Aronian.

Gelfand and Kramnik over the board and...

...discussing their game with the press.
Full Schedule and Results (first half)
Round 1: Thursday, Sept. 13th 2007, 15:00h EST
Vladimir Kramnik 1/2-1/2 Peter Svidler
Alexander Morozevich 1/2-1/2 Levon Aronian
Viswanathan Anand 1/2-1/2 Boris Gelfand
Alexander Grischuk 1/2-1/2 Peter Leko
Round 1 Games
Round 2: Friday, Sept. 14th 2007, 15:00h EST
Peter Svidler 1/2-1/2 Peter Leko
Boris Gelfand 1/2-1/2 Alexander Grischuk
Levon Aronian 0-1 Viswanathan Anand
Vladimir Kramnik 1-0 Alexander Morozevich
Round 2 Games

Round 3: Saturday, Sept. 15th 2007, 15:00h EST
Alexander Morozevich 1-0 Peter Svidler
Viswanathan Anand 1/2-1/2 Vladimir Kramnik
Alexander Grischuk 1/2-1/2 Levon Aronian
Peter Leko 1/2-1/2 Boris Gelfand
Round 3 Games
Round 4: Sunday, Sept. 16th 2007, 15:00h EST
Peter Svidler 1/2-1/2 Boris Gelfand
Levon Aronian 1-0 Peter Leko
Vladimir Kramnik 1/2-1/2 Alexander Grischuk
Alexander Morozevich 1/2-1/2 Viswanathan Anand
Round 4 Games

Free day: Monday, Sept. 17th 2007
Round 5: Tuesday, Sept. 18th 2007, 15:00h EST
Viswanathan Anand 1-0 Peter Svidler
Alexander Grischuk 1-0 Alexander Morozevich
Peter Leko 1/2-1/2 Vladimir Kramnik
Boris Gelfand 1-0 Levon Aronian
Round 5 Games

Round 6: Wednesday, Sept. 19th 2007, 15:00h EST
Alexander Grischuk 1/2-1/2 Peter Svidler
Peter Leko 1/2-1/2 Viswanathan Anand
Boris Gelfand 1-0 Alexander Morozevich
Levon Aronian 1/2-1/2 Vladimir Kramnik
Round 6 Games
Round 7: Thursday, Sept. 20th 2007, 15:00h EST
Peter Svidler 1/2-1/2 Levon Aronian
Vladimir Kramnik 1/2-1/2 Boris Gelfand
Alexander Morozevich1/2-1/2 Peter Leko
Viswanathan Anand 1/2-1/2 Alexander Grischuk
Round 7 Games
Images courtesy www.chessbase.com
---