Bangor City Championship Tournament Report
11.24.19 A new event on the Maine chess tournament calendar, the Bangor City Championship organized and directed by Maine Chess Association Secretary Wyatt Hendrix, attracted twenty-five players in one section. A four-way tie for first place resulted between Hendrix, Benjamin Mock, Tommy Owen, and Tristan Cousineau. Here are the full results, images from the day and US Chess crosstables.
The coveted Bangor City Championship Mug!
Thanks to Elisabeth Mock for contributing to this report.
US Chess Crosstable of this event
For an inaugural event the Bangor City Championship enjoyed a solid turnout of twenty-five players. The competition was very keen and the championship title was shared four ways. The logjam at the top of the crosstable with 3.5 points in four rounds included Wyatt Hendrix, Benjamin Mock, Tommy Owen, and Tristan Cousineau.
Just off the blistering pace of the leaders were Nathan Gates, Evan Smith, Michael Dudley, and Eli Slaughter who each put up 3.0 points.
Nine players were included in the next tier at 2.0 points: Brian Hurst, Evan Annis, Jeffery Merckens, Prince Wang, Samanthak Thiagarajan, Tobias Coffey, Tony Huang, Andrew Castellano, and Gavin Coakley.
Thanks to all who participated in this event and to the organizers and directors . We hope to see many more Bangor City Championships in years to come!

Bangor City Co-champion Wyatt Hendrix (right) receives his prize from Maine Chess Association president Michael Dudley.

Ben Mock (left) finished equal first and received the second place award on tiebreak.

Tied for first and receiving the third place award on tiebreak Tommy Owen (left).

Rounding out the leaderboard in first place and receiving the forth place award on tiebreaks Tristan Cousineau (left).

This draw between Tristan Cousineau (left) and Benjamin Mock guaranteed at least a tie for first place for both players.

Three players tied for top the U1600 prize: Evan Smith

Michael Dudley (right) and

Eli Slaughter.

Brian Hurst tied for ninth place with 2.0 points.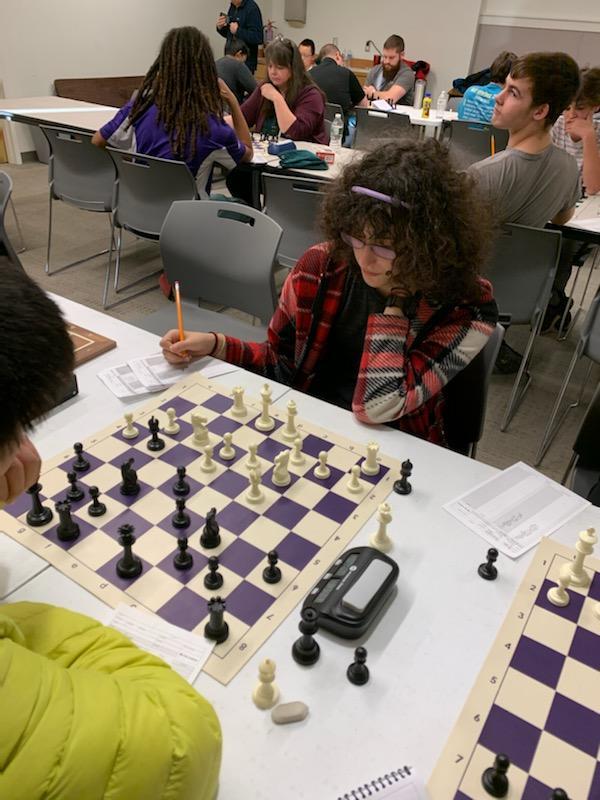 Thanks again to all for making the first Bangor City Championship a great success!
---