Cape Elizabeth Open and Scholastic Tournament Report
10.04.19 The Cape Elizabeth Open and Scholastic was played Saturday September 28th, at the Thomas Memorial Library in Cape Elizabeth. The event offered three sections--Open, U1200, and non-rated novice--and attracted twenty-two players in the rated sections. Here's the illustrated tournament report with US Chess crosstables.

The up-and-coming players! The unrated contingent at the Cape Elizabeth Open and Scholastic.
Thanks to Wyatt Hendrix for contributing to this report.
US Chess Crosstable of this event
Pavel Sluyandziga took first in the Open section with a perfect 3/3, followed closely by Stephen Morse, and three underrated players: Evan Annis, Zach Brislin, and Tyler Rodenberger, each scoring 2.0 points.
The U1200 was won by Jeffrey Merckens and Ambrose McCullough, both with 3/3.
Wyatt Hendrix served as chief tournament director and was helped greatly by Eric (the organizer), and his two kids: Isaac, and Zoe.
Thanks to all who participated in this event.

Evan Annis (1420) (left) scored an upset victory over Barry Magda (1834).

Action in the U1200 section.

Unrated players sharpening their skills in the skittles room.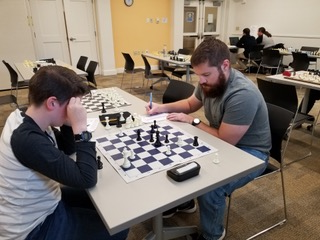 U1200 section co-winner Jeff Merckens (right) played Declan Thomas in the final round.

The U1200 winners, Ambrose McCullough (left) and Jeff Merckens.

Open section winner Dr. Pavel Sulyandziga (left).

Evan Annis (right).

Tristan Cousineau, Maine's #4 rated scholastic player (as a high school freshman)!

Maine Chess Association president Michael Dudley.

Charles Jones

Marco Hansel

Stephen Morse

Tyler Rodenberger

The tournament hall at the Thomas Memorial Library in Cape Elizabeth.

The TD's (relatively messy) workspace.

The open section players with the tournament director Wyatt Hendrix.

We thank greatly the Thomas Memorial Library for hosting.
---