Ju Wenjun Retains Women's World Chess Champion Title
11.23.18 In a dramatic finale at the Women's World Champion Match in Khanty-Mansiysk, Russia, Ju Wenjun won two games in the G/10 +10 tiebreak phase of the Match and retained her title. The players were still tied after the first two games of the tiebreak which necessitated the exciting G/10 speed games. Congratulations to Ju Wenjun!
Chinese Women's World Champion Ju Wenjun (left) and Katarina Lagno of Russia play in the tiebreak portion of the Women's World Chess Championship Match in Khanty-Mansiysk, Russia on November 23, 2018.
images: fide.com
The first two tiebreak games played at G/25 +10 were drawn. The Champion struck first in Game 1 of the G/10 +10 mini-match when Lagno erred with 23.Bf1 allowing Wenjun to play 23...Nd1 with a double attack on white's f-pawn. Lagno was unable to hold the pawn-down endgame and dropped the game. At this point, Wenjun needed only a draw with white in tiebreak Game 4 to retain the title.
Playing cautiously in the forth tiebreak game, Wenjun looked on course to at least land a draw when, under tremendous pressure, Lango placed her queen on a square guarded by Wenjun's knight. The World Champion instantly snapped up the queen and the players shook hands to end the Match.
The knockout system will no longer be used to determine the Challenger for the Women's World Championship, instead, similar to the system used for the overall World Championship, players will compete in a candidates tournament to determine who will play the current Women's Champion in a Match for the title. You can view the details of the 2019-2020 Women's World Championship Cycle >>HERE.<<

Tiebreak Game 1, G/25 +10
Tiebreak Game 2, G/25 +10
Tiebreak Game 3, G/10 +10
Tiebreak Game 4, G/10 +10

The fateful moment in the last tiebreak game. Lagno plays 34...Qg6 and loses her queen. With that, the Championship was decided.

Ju Wenjun receives congratulations at the post-Match press conference.

Congratulations to Ju Wenjun of China.

Katarina Lagno of Russia played a wonderful Match and came very close.

Viewers of the online broadcast were treated to expert commentary by Alexander Morozevich and Alexandra Kosteniuk.

Ju Wenjun's road to the final match.

Katerina Lagno's road to the final match.

The players at the board during the tiebreak.

Katerina Lagno was honored as the ceremonial puck dropper at a professional hockey game in Khanty-Mansiysk, Russia.

Newly elected FIDE president Arkady Dvorkovich (right) watches the Women's World Championship Tiebreak games onsite.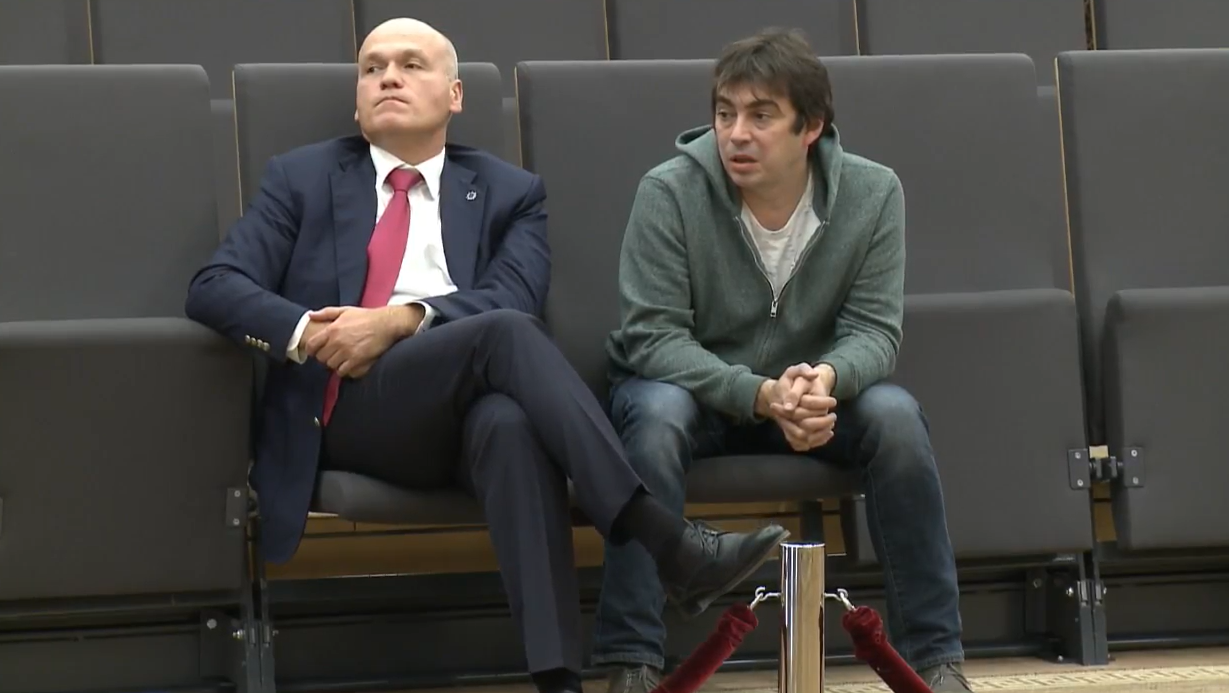 The President of the Russian Chess Federation Andrey Filatov(left) was also in attendance watching the games live.

Ju Wenjun enjoyed chocolate cookies during the tense match!
---