WCC R12: It's on to Tiebreaks
11.26.18 Game 12 of the World Chess Championship Match in London between current World Champion Magnus Carlsen and Challenger Fabiano Caruana ended in an unprecedented twelfth draw. This is the first match in the history of World Chess Championships in which all games were drawn. The Match now moves on to the Playoff portion--and the schedule has changed as tomorrow is a rest day--which will begin at 10:00 a.m. eastern U.S. on Wednesday, November 28th.
Fabiano Caruana (left) and Magnus Carlsen speak with Danny King during the post Game 12 press conference. images: worldchess.com
Game 12 began, as did Games 8 and 10, as a Sveshnikov Sicilian. The World Champion deviated from Game 10 on move eight with 8...Ne7 rather than 8...Nb8.
On move 18 Caruana went for a super-sharp continuation with f3. A move that elicited much controversy and disagreement amongst the commentators. Judit Polgar thought it was the beginning of Caruana's demise while Yasser Seirawan and Garry Kasparov heralded the move as one announcing that a real fight was on. It was a move that Kasparov himself said that he would not have played.
After 18.f3, white had an issue of king safely which a trade of queens would have mitigated.
Kasparov further commented that there was no need for Caruana to play too risky for an all-out win as would have been the case with the old World Championship rule that the Champion would retain the title in the event of a draw.
The move 21.Rh2 caught Judit Polgar off guard. She called the move, "a very nice idea." Kasparov commented, "His [Caruana's] plan is now clear to play Rc2 and long castles. He is playing the game and he is willing to take chances." Maurice Ashley called 21.Rh2 "a baller move!" When asked if the move involved too much risk Kasparov responded with, "Look, the game of chess is risky!"
Long castles happened which placed white's king directly into the teeth of black's forces on the twenty-second move--an amazing moment in World Championship chess. The position was rich and double-edged with dizzying possibilities accross the board. Carlsen was playing quite quickly choosing not necessarily the strongest continuations but those that seemed good enough. After 25...a5 the position looked like it was black for choice although white's queen was not happy on b4 anyway.
White looked planless after black's twenty-eighth and the threat of black's b5 was looming. Carlsen's play in this game was compared to Karpov and Petrosian--cautious and python-like.
Just four moves later, after black's thirty-first move, Carlsen offered a draw in a better position with more time on the clock. Judit Polgar, commenting for World Chess, opined after the game that Carlsen's decision to offer a draw in a position with virtually no risk may end up costing him the crown. Caruana thought about the draw offer for a moment (He later said that he was surprised by it.) then offered his hand.
Carlsen clearly did not have winning this game on his radar. His Match strategy for Game 12 was to get to the Playoff and win there. We shall see on Wednesday if that strategy was the correct one.
Rules for the Tiebreak Portion of the Match
In the initial round of the Playoffs, four tie-break games will be played. These are rapid games with 25 minutes for each player with an increment of 10 seconds after each move. If it's still equal, two blitz games will be played (5 minutes plus 3 seconds increment). If it's still equal, a second pair of two blitz games will be played. If there is still no winner after five such matches, one sudden-death game will be played. The player who wins the drawing of lots may choose the color. The player with the white pieces shall receive 5 minutes, the player with the black pieces shall receive 4 minutes whereupon, after the 60th move, both players shall receive an increment of 3 seconds starting from move 61. In case of a draw the player with the black pieces is declared the winner.
The first tiebreak game will begin at 10:00 a.m. eastern U.S. on Wednesday, November 28th.

World Champion Magnus Carlsen

Challenger Fabiano Caruana

Carlsen thinks while his opponent take a short walkabout.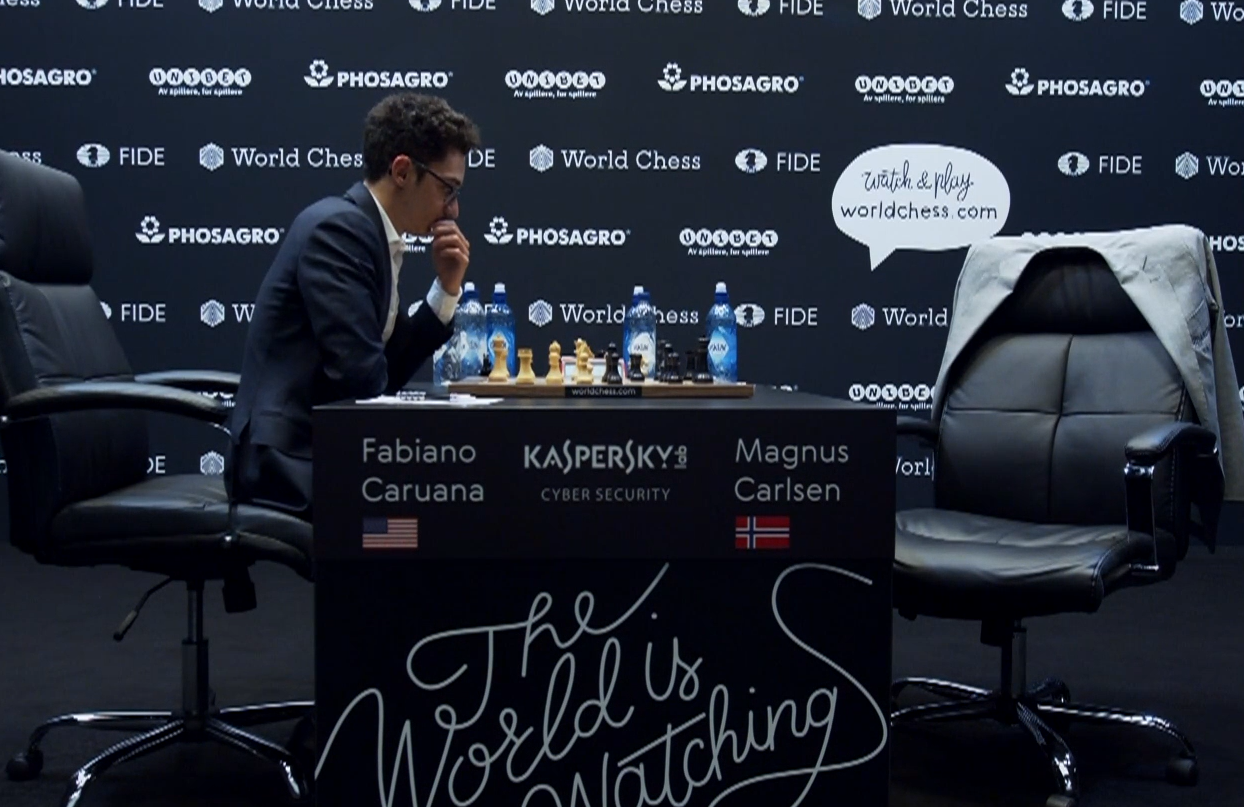 The Challenger has his turn playing an absent opponent.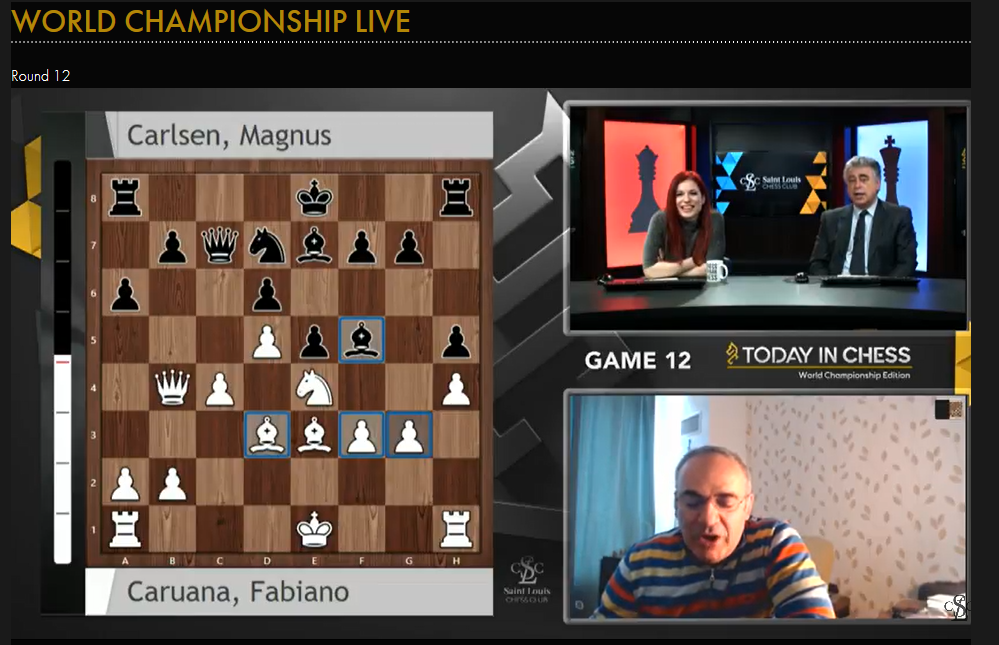 Former World Champion Garry Kasparov comments for the St. Louis Chess Club's live online broadcast.

As does former World Champion Vladimir Kramnik.

FIDE President Arkady Dvorkovich speaks with Judit Polgar and Anna Rudolph during Game 12 at the World Chess broadcast studio in London.

Magnus Carlsen selects the white king indicating that he will have the white pieces in the first tiebreak game.
Official Site of the FIDE World Chess Championship Match 2018

---