Magnus Carlsen Wins World Championship Match
11.28.18 Magnus Carlsen has won the World Chess Championship Match contested in London in a dramatic rapid chess playoff. Dominating Fabiano Caruana by winning Games 1 and 2 of the rapid playoff, Carlsen needed only a draw in Game 3 to retain his title. Caruana, needing to win, artificially prolonged Game 3 which left the door open for Carlsen to press and win the game and the Match.
World Champion Magnus Carlsen was all business during the rapid playoff portion of the World Chess Championship Match played in London on November 28, 2018. images: worldchess.com
.
We see clearly now why in Game 12 of the classical portion of the Match Carlsen offered a draw in a better position. The reason? Magnus Carlsen is, by far, the strongest rapid and blitz player on the planet bar none. He knew very well that Caruana was his equal in classical chess and did not want to incur the slightest risk in playing on in Game 12. His strategy paid off beautifully in the playoff games where he dominated his opponent on all fronts: on the board with both colors, on the clock, and psychologically.
This marks the forth time Carlsen has played and won a World Championship Match--twice against Vishy Anand and once apiece vs. Sergey Karjakin and Fabiano Caruana
His ruthless pragmatism, making decisions during the game to mitigate risk and keep control of the positions, proved to be too much for the Challenger.
Caruana, for his part, can hold his head high as he showed that he was quite equal to the Champion in classical chess. This Match recollects what David Bronstein did in 1951 when he played Mikhail Botvinnik to a 12-12 draw in their World Championship Match. After that Match, Max Euwe a former World Champion himself and former president of FIDE, called the two players co-champions. The Match rule in 1951 was that in the event of a tie the Champion would retain the title. The current Match rules, which remain quite controversial, require a rapid and blitz playoff. Many feel the classical World Champion should be decided with classical chess. On the other hand, Carlsen is the highest-rated player not only in classical chess but also in rapid and blitz and therefore deserves the overall title of World Champion. We welcome your comments on this issue in our comments section.
Congratulations to Magnus Carlsen! He has proven himself to be one of the greatest chess World Champions of all time.
Game 1 Rapid: Carlsen 1-0 Caruana
At one point, black was up a pawn but white was never worse. Maurice Ashley, commenting for the St. Louis Chess Club's online broadcast, indicated 34...Rc1 was the beginning of black's problems as this move, in his opinion, was heading in the wrong direction. Black was down a pawn and was looking to regain it. Ashley quoted former World Champion Petrosian when he said, "When you are a pawn down in a rook and pawn endgame, don't play like you are a pawn down. Activity is everything." Black did not regain the pawn, lost additional material, and had to throw in the towel on move fifty-five.
Game 2 Rapid: Caruana 0-1 Carlsen
Caruana played 21.c5 in Game 2, a move the engines did not like and one that Yasser Seirawan called triple-edged--either great or premature. Carlsen just castled on move twenty-one tacitly calling the c5 bluff. At this point white found himself having to deal with black's attacking potential in the move Nf4. On move twenty-four, the c-pawn became a serious liability for white, in addition, white was not yet castled and down at least two tempi. In rapid chess, the players don't have the time to evaluate as many of the possibilities and potential outcomes of the position as they do in a classical time control game so the swings in advantages and disadvantages are much more pronounced.
After Caruana played 28.Nd5, Carlsen calmly played 28...Kh7 and the game was over. A beautiful brilliant game for Carlsen.
Game 3 Rapid Carlsen: 1-0 Caruana
Carlsen had a harmonious position in Game 3. Caruana, needing nothing short of a win, had to accept a slightly inferior position in an attempt to induce Carlsen to overstep. The Champion was on guard and played 26.e5 to go for mass liquidation. After 29...Ba8 Caruana was playing with a pawn-down in a sharp position. At move thirty-one, the position looked sterile with engines evaluating any of a half-dozen continuations as triple zeros. The players continued their dance but when Caruana played 45...Ne6 his position was lost. On move fifty Carlsen played c8=Q and two queens appeared on the board. On the next move Caruana resigned. Another incredible performance by the World Champion.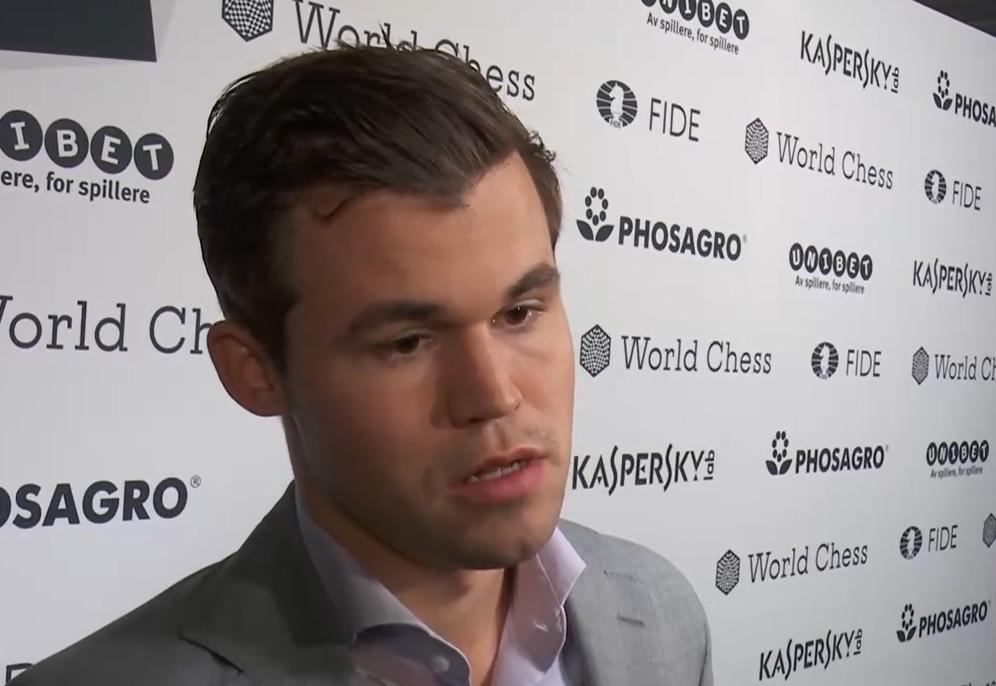 Magnus Carlsen receives congratulations from the press after the Match. Carlsen said that Caruana was very tough, his toughest world championship opponent to date, and that he made his decision before Game 12 to play for a draw and enter the playoff tiebreak based on what he thought was his advantage in rapid chess.

A disappointed Fabiano Caruana speaks with the press after the Match with Carlsen in the background.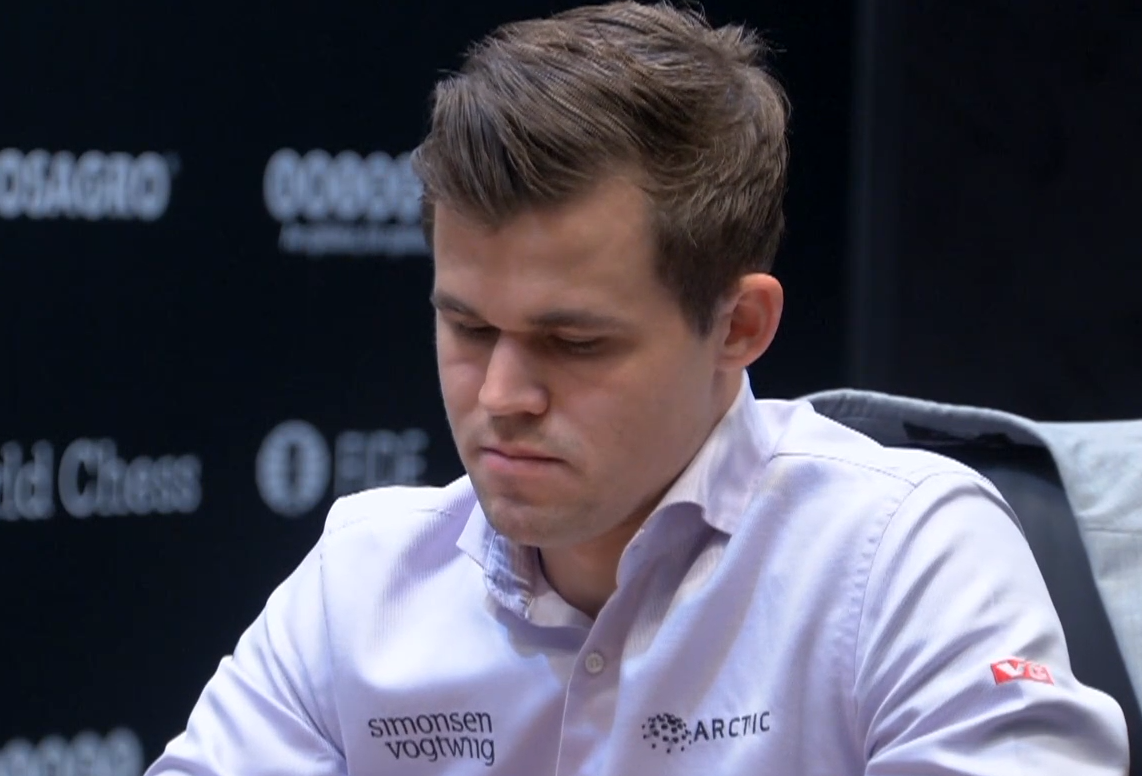 Magnus Carlsen at the board in Game 2 of the rapid playoff.

Fabiano Caruana had to fight for his life in the playoff.

Maurice Ashley speaks about Caruana's 34...Rc1 as the beginning of the end of the Challenger's chances in Game 1 of the rapid playoff.

Maurice Ashley shows one of the critical positions in Game 2 of the rapids. At this point Caruana played 22.c6 and his position collapsed shorthly thereafter.

Caruana plays 37...Nd4 in Game 3 of the World Championship Rapid Playoff Match.

The tyranny of the clock!

A visual of the World Championship Matches since 2006 and including Fischer-Spassky 1972. Carlsen is the highest-rated player in the history of chess.
---