Happy 75th Birthday Dick Powell!
09.22.18 Former Deer Isle-Stonington chess organizer and coach Dick Powell celebrated his
75th birthday ay Flexit Café and Bakery in Ellsworth on Saturday, September 22, 2018. What better way for a chess coaching legend to mark this three-quarter century milestone than with a blitz chess tournament? We were there--with a camera!
Flexit Café and Bakery in Ellsworth was the site of the Dick Powell 75th Birthday Blitz Tournament.
In the midst of hugs, well wishes, lobster rolls, birthday cake, and live music, one could see pieces being moved and chess clocks being pushed as a ten-player, four-round, G/5 blitz tournament was being contested.
To celebrate the 75th birthday of Dick Powell, friends, family, and chess players came out to Flexit Café and Bakery in Ellsworth, Maine. The lobster rolls and coffee were outstanding and the friendly staff made for one joyous party.
As players were registering for the tournament, Coach Powell shared the following Maine chess trivia tidbit: In the twenty-year span from 1993 through 2013, Deer Isle-Stonington schools amassed a total of thirty-six Maine state scholastic championship wins. For that same time period, all other scholastic chess teams across the state combined won thirty-five championships. To call the Deer Isle-Stonington Mariners Chess Program a mere dynasty doesn't do the teams justice! The Mariners two-decade dominance of scholastic chess in Maine was due largely to one man: Dick Powell.
Happy birthday to one of the finest chess coaches Maine has ever known and an even finer friend!
The ten-player, four-round blitz tournament had some stiff competition with five players finishing within half a point of each other. Stephen Tucker went undefeated with two wins and two draws to take clear first with 3.0 points.
Following Tucker and tying for second with 2.5 points were Mark Woida, Isaiah Fallon, Dan DeLuca and Seth Smith. Mike Dudley and Peter Goebel put up two points, Dick Powell scored 1.5 and Gilda Garcia and Jeff Olson rounded out the crosstable with 1.0 and 0.5 points respectively.
First prize was a glass coffee cup from Dick and Gilda's recent trip to Russia. Other prizes included some vintage Deer Isle-Stonington chess t-shirts.
Thanks to Flexit Café and Bakery for hosting and to all who attended.
Once again, our warmest wishes to Dick Powell on his 75th birthday!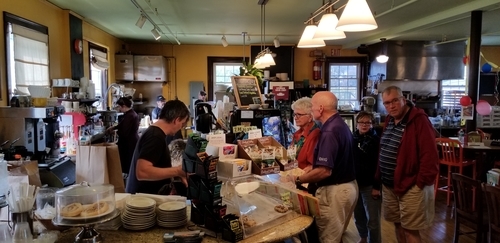 The place was bustling on this busy Saturday in September.

Partners in life: Gilda Garcia and Dick Powell

Photo op's with the birthday boy abounded.

Dick Powell chats with one of his former students Isaac Marnik.

Tournament winner Stephen Tucker (right) plays Maine Chess Association president Michael Dudley.

Gilda Garcia takes on Dr. Peter Goebel in round 4.

The special of the day was lobster rolls.

Then it was time for cake!

Flexit owner Paul Markosian cuts the birthday cake.

The band from Mainely Music delighted us with the cool sounds of Johnny Cash, The Traveling Wilburys, The Lovin' Spoonful and others.

Dick's grandson cashed in on the Pinata goodies.

Winners with their prizes supplied by Dick himself.

Here's to another 75 years!

---