Matthew Fishbein is 2018 Maine State Champion!
04.15.18 The final round of the Maine State Closed Chess Championship came down to a dramatic showdown between the tournament's two top-rated players. After four rounds, the tournament leader Matthew Fishbein with 4.0 points played the black pieces vs Jarod Bryan with 3.5 points. The game ended in a draw and secured the championship for Fishbein. Bryan and Ben Amar tied for second. Ben Mock took first in Class B, Joseph Astumian was first in Class C and Andy Bryan claimed the U1400 prize.
Matthew Fishbein: 2018 Maine State Champion.
US Chess crosstable of this event
Thanks to Andy Bryan for contributing to this report.
Wyatt Hendrix has graciously offered to annotate any games played at the Maine Championship. Players are asked to send a pgn file of their games to him at: igmwhendrix@gmail.com.
Congratulations to Matthew Fishbein for winning the 2018 Maine State Championship. He won his first four games and held second seed Jarod Bryan to a draw in the final round for a tournament total of 4.5 points. This victory marks Fishbein's forth Maine Championship title.
The victor was closely pursued by Jarod Bryan and Ben Amar who finished the tournament with 4.0 points.
Congratulations also to Ben Mock for finishing first in Class B, Joseph Astumian for first in Class C and Andy Bryan for top U1400 player. If there were an upset prize it would have surely gone to Elisabeth Mock (273) for her second-round win over Daniel Michaud (1667).
Thanks to all who participated and thanks to tournament director Phil Lowell and tournament organizer Andy Bryan.

Matthew Fishbein receives the C. Stewart Laughlin trophy from tournament director Phil Lowell.

Jarod Bryan (left) and Ben Amar finished equal second.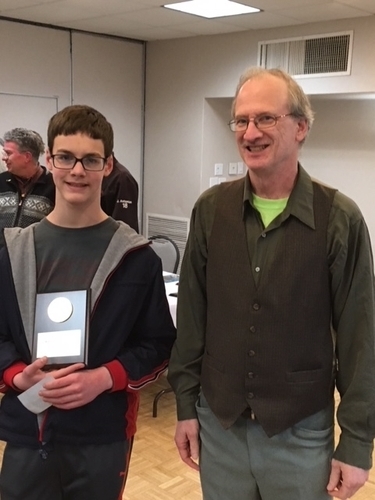 Class B winner Ben Mock

Class C winner Joseph Astumian

The newly minted champ with the C. Stuart Laughlin trophy
---