John Bapst New Year's Tournament Report
01.07.18 Maine's first chess event of 2018 was held at John Bapst Memorial High School in Bangor Maine on the frigid Saturday, January 6th. Braving the cold temperatures and biting wind, thirty-six players competed in four sections: Open, U1600, U1200 and U800. Here is the illustrated tournament report with US Chess crosstables.
The U800 group poses for a photo op at the conclusion of the 2018 edition of the John Bapst New Year's Tournament.
US Chess crosstable of this event
Thanks to Michael Dudley for contributing to this report.
In the Open section, Ben Amar and Nathan Gates shared first place with 3.0 points in four rounds. Amar had two draws (a first-round draw with Dan Robbins and a last-round draw with Wyatt Hendrix) and Gates had one loss to Amar in the third round and a first-round bye. Hendrix and Robbins each put up 2.5 points to tie for third-fourth in the Open section. Trailing the leaders were Brian Hurst (1.5 points), Stephen Morse (1.0 points) and Roger Morin (0.5 points).
A three-way tie ensued in the U1600 section between Shrikrishna Parab, Dan Deschner, and Aaron Wilson-MacFarlane all scoring 3.0 points. The 2.0 point score group included Ben Mock, Liam Farrell, and Jonathan McLeod. Chance Rollins and Andrew Brenneman closed out the group with 1.0 point apiece.
Zachary Grindal won the U1200 section with a perfect four for four. Catherine Rudnicki and Tommy Owen were just off the lead with 3.0 points. Atticus Foster put up 2.5 for sole forth place. Evan Smith and William Xu tied for fifth with 2.0 points.
Joshua Batstone swept the U800 section with 4.0 points for clear first. Tristan Cousineau and Kenneth Park shared equal second with 3.0 points and five players shared fourth place: Lois Morin, Jakob McPhee, Colby Allen, Noah Abbott, and Jordan Fowler.
Thanks to Michael Dudley for organizing and directing this tournament and to John Bapst Memorial High School for hosting. We would also like to express much gratitude to all the players, parents, coaches, drivers, and volunteers for making this event a success.

Open section co-champion Ben Amar (right) battles with Wyatt Hendrix in the final round. This exciting game ended in a draw with two seconds remaining on Hendrix's clock.

Open section co-champion Nathan Gates (right) plays Brian Hurst in round two.

The calm before the storm. Sekera auditorium at John Bapst High School before the start of the first round.

U1200 champion Zachary Grindal (right) plays Evan Smith on his way to a perfect 4.0 performance.

Dan Deschner (left) and Shrikrishna Parab celebrate the spoils of victory in the U1600 section.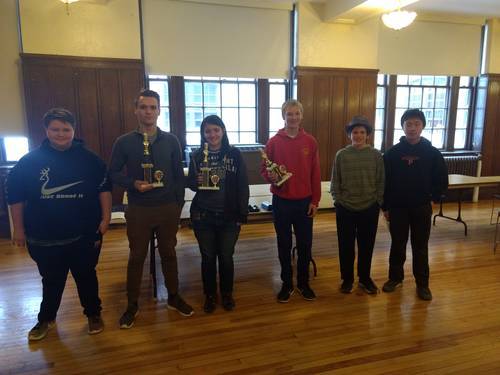 The U1200 contingent
Shrikrishna Parab (unr) - Chance Rollins (unr)
Round 2



---