13th Annual Aurora Winter Solstice Tournament Report
12.09.17 The Aurora Winter Solstice Tournament, now in its 13th year, has historically attracted big numbers of chess players to the blueberry-barrened, sleepy hamlet of Aurora, Maine. This year fifty-five competitors turned up to play chess in five sections including a large contingent from Maine Maritime Academy. Here's the illustrated tournament report with US Chess crosstables.
The main playing room at the Aurora Winter Solstice Tournament played at the Airline Community School in Aurora, Maine on Saturday, December 2, 2017.
US Chess crosstable of this event
The six-player Open section welcomed top seed Matthew Fishbein back to Aurora. Fishbein tied for first in what was not a walkover by any means as Wyatt Hendrix (1788) managed a draw in round two to make it a horse race. Both players scored 2.5 points. The remaining four players in this section each scored 1.0 point: Paul Wlodkowski, Dan Robbins, Nathan Gates, and Ben Mock.
In the U1600 section, Tony Freudig went three and zero to take clear first. If not for his last-round, half-point bye, Michael Dudley may have shared first with Freudig. As it happened, Dudley finished in sole second with 2.5 points. Stephen Morse wrapped up third with 2.0 points and Dan Fishbein, John Ellison, and Andrew Brenneman rounded out this section.
Minh Nguyen and hometown favorite Cyrus Grindal tied for first in the U1200 section with 2.0 points apiece. Trailing the leaders in this section were Henry Abrahamsen and Kaleb Pendleton.
Sean Adams rose to the top of the twenty-eight player U800 section with a perfect 4.0 points in four games. Robert Pfeiff took sole second with 3.5 points and third was shared between Alexandra Allen, Hunter Giacomuzzi, Jacob McPhee, Simon Skyka-Brown, Kenneth Park, and Jordan Fowler.
Ruby DeLuca Lowell blanked the competition in the U400 section with an unbeaten and untied 4.0 points. Eli Beber and Gabriel Hall shared equal second with 3.0 points and Andrew Hipsky and Jacob van de Sande trailed the leaders with 2.5 points each.
The organizers would like to thank all the players, coaches, parents, drivers, and volunteers who helped make this tournament possible. Also, much gratitude to the Airline Community School for continuing to host this event for thirteen consecutive years!

Wyatt Hendrix's star shone brightly in the Open section. Wyatt put up 2.5 points, which included a draw with the tournament's highest-rated player Matthew Fishbein, to finish equal first.

Matthew Fishbein back in Maine and back in Aurora from his home away from home Bentley University in Waltham, Massachusetts.

Professor of Engineering at Maine Maritime Academy Paul Wlodkowski brought students from the MMA Honors Seminar Chess as Metaphor and competed himself in the Open section.

Matthew Fishbein and Paul Wlodkowski take a look at their game after the fact in a first round post-mortem.

Dan Robbins seems to always be in the hunt in the Open section.

The same can be said of Nathan Gates!

Ben Mock consistently adds points to his rating tournament by tournament.

The Open and U1600 sections

Atop the U1600 section: Tony Freudig

John Bapst Physics instructor, tournament director, and chess organizer extraordinaire Michael Dudley

Stephen Morse finished with 2.0 points. That was good for sole third in the U1600 section.

Better known as Matthew's Dad: Dan Fishbein

It was great to see John Ellison back on the squares.

This young man has a bright future. Andrew Brenneman contemplates his options in the U1600 section.

Minh Nguyen tied with Cyrus Grindal for the top spot in the U1200 section.

Now veteran Airline School player: Cryus Grindal

Henry Abrahamsen and

Kaleb Pendleton finished equal third in the U1200 section.

Sean Adams over the board and

with the bling for winning the U800 section.

Robert Pfeiff finished second in the U800 section with 3.5 points.

Alexandra Allen

Hunter Giacomuzzi

Jakob McPhee

A regular at the Aurora Winter Solstice: Simon Skyka-Brown

Maine Maritime English professor Tom Batt doing his best to plumb the depths of his position.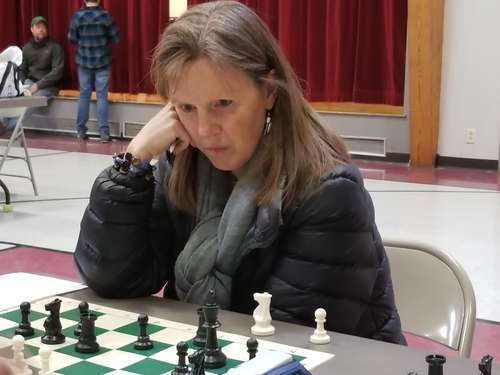 Co-Instructor of the Chess as Metaphor Honors Seminar Amy Gutow

The long view of the U800 section

What other sport can players with single-digit-ages play college professors on equal footing?

Winners in the U800 section

The Aurora Winter Solstice would not be complete without the hard work and dedication of the kitchen crew! Thanks croo!

Ruby DeLuca Lowell dominated the U400 section with four straight wins.

Sarah Means put up 2.0 points in the U400 section.

Eli Beber

Jacob van de Sande

Andy Hipsky

Colby Lacasse

Hannah Wells ready for battle!

Much to her coach's delight she found the mate in one!

Abigail Spott

Winners all in the U400 section!

Maine Maritime Academy was well represented!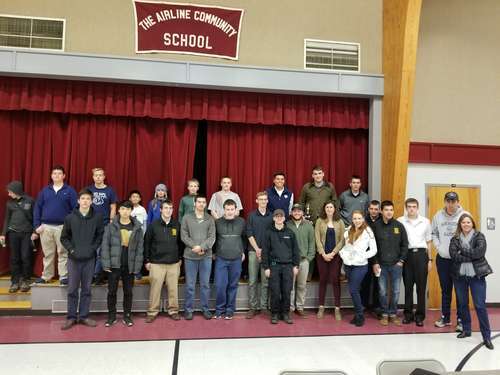 The U800 players
---