11th Annual ChessMaine.net Championship Tournament Report
10.22.17 The 11th Annual ChessMaine.net Championship was played at John Bapst Memorial High School on Saturday, October 22, 2017. The tournament was won by Jarod Bryan with a perfect 4.0 points in four games. Andrew Brenneman took the top spot amongst the U1200 field. Here is the illustrated tournament report with US Chess crosstables.
This African-themed chess set was on display in the John Bapst High School Library during the 2017 ChessMaine.net Championship tournament.
This tournament was organized and directed by Dan DeLuca. Thanks to Bapst chess coach Mike Dudley and John Bapst Memorial High School for providing the venue.
Fourteen players competed in the 11th annual edition of the ChessMaine.net Championship. The tournament was comprised of four rounds of chess at a time control of game in 75 minutes plus a five-second delay from move one.
Jarod Bryan played true to form as the first seed and won four consecutive games to take clear first. Jim DuBois, Roger Morin, and Nathan Gates put up 3.0 points to share second. A fine performance of two wins and a draw for Andrew Brenneman netted him the title of first U1200 player. Ben Mock also scored 2.5 points including an 1800 scalp with a nice last round win over Curt Brock.
Wyatt Hendrix, Brian Hurst, and Mike Dudley scored 2.0 points to tie for equal seventh.
Prize recipients were: Jarod Bryan (Open 1st), Jim DuBois and Roger Morin (Open 2nd), Nathan Gates (Class B) and Ben Mock (Class C).
Thanks to all players for participating and big thanks again to John Bapst High School for hosting.

2017 ChessMaine.net Champion Jarod Bryan

Back to his native Maine from southern California: Jim DuBois

Roger Morin always seems to work his way into the top tiers of finishers.

Nathan Gates took home the Class B prize for his efforts. In tournament chess, it's pretty rare to see a checkmate on the board as players usually will resign in a losing position. Nathan ended not one but two (!) games in this tournament with checkmate.

U1200 winner Andrew Brenneman (left) takes a look at his game with Wyatt Hendrix in the skittles area.

Ben Mock padded his rating with another 27 points.

ChessMaine.net contributing game editor Wyatt Hendrix

Brain Hurst went two for four.

Our host: Mike Dudley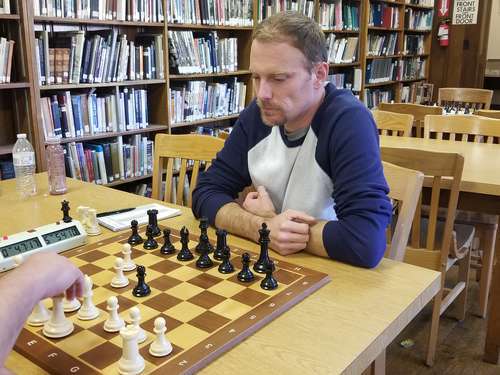 You can't win 'em all. Curt Brock had a tough outing with 1.0 point.

Andrew Nevells

Damien Sullivan played in his first US Chess rated tournament.

Minh Nguyen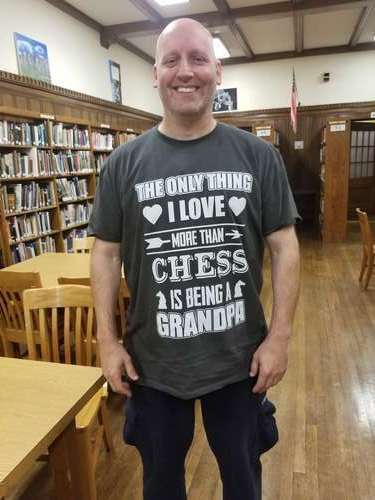 Proud grandpa Brian Hurst shows off his cool T.

Here's another view of the African-themed set.

This rook and pawn endgame between Nathan Gates and Curt Brock looked like it was headed for a draw when suddenly Brock's king found itself rudely mated.

The tournament room--thanks to all for making this event a great success.

---