Faces of the World Chess Championship
12.11.16 World Champion Magnus Carlsen and his challenger Sergey Karjakin certainly have garnered lots of media attention over the course of their nearly three-week epic battle for the title. Here are some other faces that were seen at the Fulton Market Building in the Seaport District of Manhattan, on both sides of the camera, while the Match was in progress.
An artist's rendition of Magnus Carlsen and Sergey Karjakin in clay on display at the final day of the FIDE World Championship Match.

Vladimir Potkin (left) is a Russian chess Grandmaster and a former European champion. In addition to serving as Karjakin's manager during the Match, he is also Ian Nepomniachtchi's trainer and one of the coaches of the Russian national team. Russian Chess Federation President Andrey Filatov (right) is a Russian entrepreneur. Filatov is Chairman of the Board of Directors of Tuloma investment company, a co-owner of the Global Ports and Globaltrans companies. Andrey Filatov is vice president of the International Chess Federation (FIDE). He is Honorary Academician of the Russian Academy of Arts.
photo: Anastasia Karlovich, FIDE

Magnus Carlsen's Dad, Henrik, is a key member of the World Champion's team. He travels with Magnus, supports him in myriad ways and obviously has had a very special role in Magnus's success.

Maurice Ashley is a Jamaican American chess Grandmaster, author, commentator, app designer, puzzle inventor, and motivational speaker. In 1992, Ashley shared the United States Game/10 chess championship with Maxim Dlugy. The World Chess Federation (FIDE) awarded him the grandmaster title in 1999, making him the world's first Jamaican chess International Grandmaster. Ashley is well known as a commentator for high-profile chess events. He also spent many years teaching chess. On April 13, 2016, GM Ashley was inducted officially into the US Hall of Fame along with Chess Grandmaster Gata Kamsky.

Judit Polgár is a Hungarian chess Grandmaster. She is generally considered the strongest female chess player of all time. In 1991, Polgár achieved the title of Grandmaster at the age of 15 years and 4 months, at the time the youngest to have done so, breaking the record previously held by former World Champion Bobby Fischer. She was the youngest ever player to break into the FIDE Top 100 players rating list, ranking No. 55 in the January 1989 rating list, at the age of 12. She is the only woman to qualify for a World Championship tournament, having done so in 2005. She is the first, and to date, only woman to have surpassed the 2700 Elo rating barrier, reaching a career peak rating of 2735 and peak world ranking of No. 8, both achieved in 2005.

Irina Krush is an American chess International Grandmaster who has won the U.S. Women's Chess Championship in 1998, 2007, 2010, 2012, 2013, 2014, and 2015. Krush is also an author, who frequently contributes articles to Chess Life magazine and uschess.org. Her article on earning her grandmaster norm in 2013 was honored as "Best of US Chess" in 2013. Krush graduated from New York University in International Relations in 2006.

Maxim Dlugy ia a Grandmaster born in Moscow, USSR. He arrived with his family in the United States in 1977. He was only an average player for his age until he shot up in strength in the early 1980s. He was awarded the International Master title in 1982. He won the World Junior Chess Championship in 1985. He was awarded the Grandmaster title in 1986 for his result at the World Chess Olympiad in Dubai, United Arab Emirates, where he played on the U.S. team that was in first place going into the last round. Always a strong speed chess player, Dlugy was formerly ranked number one in the world by the World Blitz Chess Association

Peter Doggers joined a chess club a month before turning fifteen and still plays for it. He used to be an active tournament player and holds two IM norms, but now only plays about two tournaments a year. Peter has a Master of Art degree in Dutch Language & Literature. He briefly worked at New in Chess, then as a Dutch teacher and then in a project for improving safety and security in Amsterdam schools. Between 2007 and 2013 Peter was running ChessVibes, a major source for chess news and videos. In October 2013 Chess.com acquired ChessVibes.
Now Director of Content at Chess.com, Peter writes most of their news reports, and travels around the world to cover events for the news section, but also produces live broadcast shows regularly. 

If there is such a thing as a chess traveler or chess nomad, then FIDE Master Mike Klein is one of them. He is a popular chess writer, coach, and journalist. He comments on big tournaments live, and he is responsible for keeping ChessKid.com running smoothly.

Takis Nikolopoulos served as Chief Arbiter for the Match. In addition to his role as an International Arbiter he is also Chair of the FIDE Arbiters' Commission.

Francisco Guadalupe was Assistant to the Chief Arbiter. He is also holds the International Organizer title and was Interim Executive Director of the UCSF from June - October 2013.

Anastasiya Karlovich is best known as the FIDE Press Secretary who hosts the press conferences at FIDE World Championship events but she is also an accomplished player in her own right. She has held the Women's GM title since 2003.

Kaja Snare is a Norwegian sports reporter who was selected to interview the players after each game, conduct reports from the spectators rooms and provide commentary for the live Match broadcast.

Knut Skeie Solberg anchored the coverage of the Match from the main studio. He is a sports journalist and commentator for Norwegian Broadcasting.

Giorgi Kacheishvili is a Georgian Grandmaster who lives in New York City. He gave a lecture on the games of the Match and was seen on site discussing the games with some of his students.

Ian Nepomniachtchi was on hand for expert analysis and commentary in the booth and played a few blitz games in the VIP lounge. At FIDE 2767 he is currently ranked 11th in the world.

Bruce Pandolfini came to public consciousness as a commentator with Shelby Lyman during the Fischer-Spassky Match in 1972. He is an author, teacher, prolific coach, and a USCF National Master. He has taught Fabiano Caruana (currently number 2 in the world), Josh Waitzkin, Joel Benjamin, and Max Dlugy. Pandolfini is also know for his "Pandolfinisms" including: "The biggest mistake is to think you can't make one." and "Solve it yourself and it's yours for life."

Father of Hikaru Nakamura, chess teacher, coach, and author Sunil Weeramantry.

Frank Brady was the founding editor of Chess Life magazine. He chronicled the life of Bobby Fischer in his brilliant biography Endgame: Bobby Fischer's Remarkable Rise and Fall - from America's Brightest Prodigy to the Edge of Madness. Elected President of the Marshall Chess Club in 2007, Brady is chairman of the Department of Mass Communications, Journalism, Television and Film at St. John's University, New York.

Josh Waitzkin provided commentary of the Match in his field of expertise, namely, the psychology of optimal performance. An International Master, Waitzkin is also a World Champion in Tai Chi Push Hands and has written a fascinating book entitled The Art of Learning.

Fabiano Caruana was a hot commodity for fans and interviewers during the match. Having a rating second only to Magnus Carlsen himself, his opinion holds some weight.

Alisa Melekhina is one of the top woman players in the US. She has competed in many US Women's Championships and holds a law degree from The University of Pennsylvania School of Law.

Grandmaster Ken Rogoff was in the studio sharing his unique experiences during the broadcasts. He is a economist with degrees from MIT and Yale and is currently a Professor of Economics at Harvard University.

Ken Regan could be called a chess detective. He has developed computer algorithms that can detect, in certain position, the likelihood that a person is making moves that correspond to a chess engine. In addition to being an International Master Regan is also a Professor of Computer Science at SUNY Buffalo.

GM Peter Heine Nielsen was Carlsen's only second in New York. In public statements, Carlsen thanked Nielsen for being not only his coach but also a close friend especially after Carlsen's losing effort in Game 8 of the Match.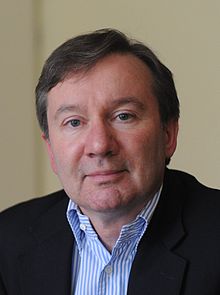 Dirk Jan ten Geuzendam is Editor-in-Chief at New In Chess magazine. He provided live commentary on the 2012 Anand - Gelfand World Championship Match and also comments live on many super GM tournaments. He was tournament director of the final four editions of the prestigious Amber Rapid and Blindfold Chess Tournament.
It was an honor and a privilege meeting and speaking with many of these icons of the chess world. We hope to see them again on another stop on the tournament and match circuit.
---