WCC R10: Carlsen Wins Make-or-Break Game
11.24.16 Magnus Carlsen won Game 10 and has tied the World Championship Match at 5 points apiece. The Match goes into its final two regulation games with the possibility of tie breaks looming on the horizon. From here on in there will be a change in the schedule, namely the players will enjoy a rest day tomorrow and after each of the remaining games. Tie breaks, if necessary, will happen on Wednesday, November 30th.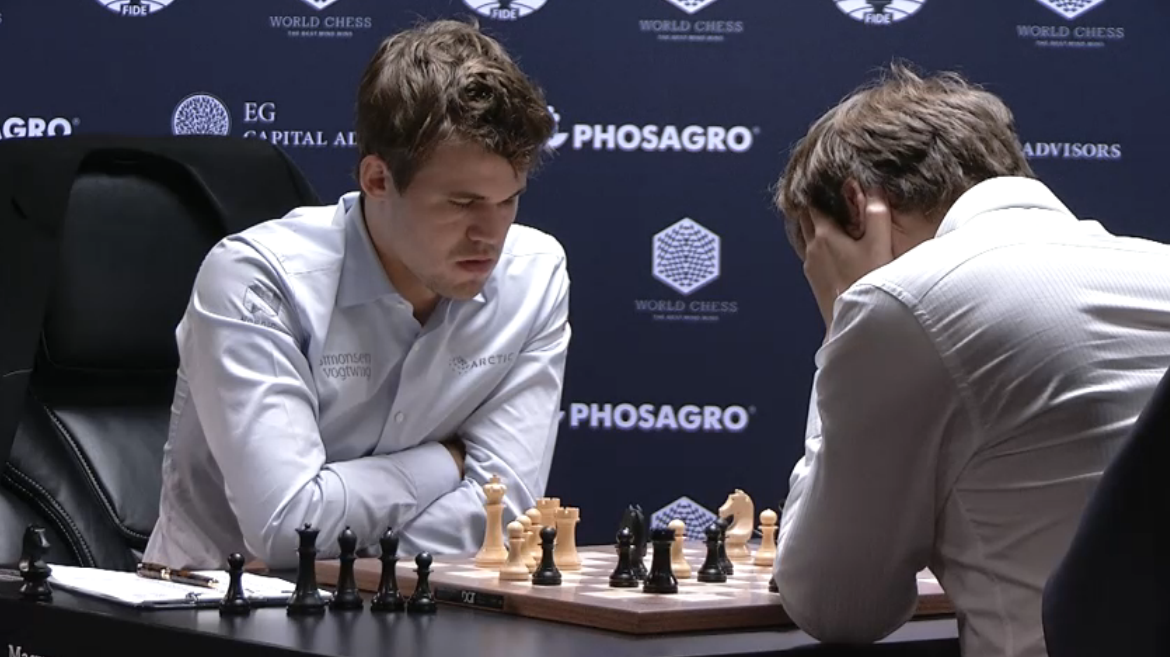 After Carlsen's win today the Match is all tied at 5.0 points with two games remaining.
images courtesy worldchess.com
In Game 10 it was Karjakin's turn to spurn the draw, albeit unintentionally. On move 20, Karjakin missed Nxf2 with an easy draw and instead played d5. GM Nepomniachtchi commented that the move was "the most shocking move of the match." Carlsen admitted after the game that when he played his 20th move and saw the forced draw he had "given up."
After getting a second life, Carlsen was able to increase the pressure, win a pawn and make a number of accurate moves to bring the point home. According to IM Lawrence Trent, at around moves 50-56 Carlsen was doing nothing but doing nothing very well. He was waiting for the optimal time to break through with the move b5 and he got his opportunity when Karjakin played 56...Rhh7. This moved dropped a pawn by force and was an indication that after defending with all he had for the previous several moves Karjakin had finally made a serious mistake. Although the computer evaluation skyrocketed to over +12.0 for White, GM commentators were not convinced until much later because Carlen had to find accurate moves. He did and tied the Match.
Tomorrow is a rest day. The Match continues with Game 11 on Saturday. ChessMaine will be reporting on the final two games from the venue--the Fulton Market Building--in New York City.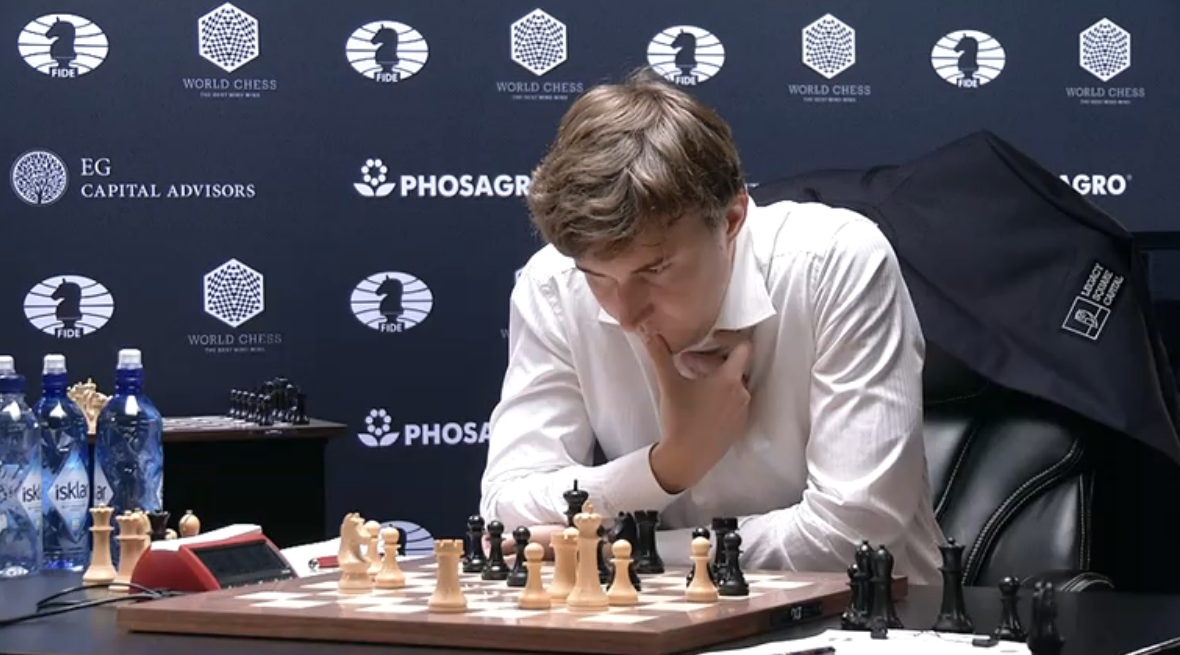 Karjakin has defended like Houdini during this Match. In this game however, Carlsen was able to expose a crack in his armor.

Carlsen gets a new lease on life with this win.

Tune in Saturday for Game 11.
The match will consist of 12 games. The first player to reach 6.5 points will be declared winner and World Champion. If, after 12 rounds, the score is even, the Match will be decided by a series of tie break games.
Official site of the World Chess Championship
Tickets to attend the Match in person

Schedule
All games begin at 2:00 p.m. New York City time
Thursday, November 10 Opening Ceremony
Friday, November 11 Game 1
Saturday, November 12 Game 2
Sunday, November 13 Rest Day
Monday, November 14 Game 3
Tuesday, November 15 Game 4
Wednesday, November 16 Rest Day
Thursday, November 17 Game 5
Friday, November 18 Game 6
Saturday, November 19 Rest Day
Sunday, November 20 Game 7
Monday, November 21 Game 8
Tuesday, November 22 Rest Day
Wednesday, November 23 Game 9
Thursday, November 24 Game 10
Friday, November 25 Rest Day
Saturday, November 26 Game 11
Sunday, November 27 Rest Day
Monday, November 28 Game 12
Tuesday, November 29 Rest Day
Wednesday, November 30 Tie Breaks/Closing Ceremony
---