17th Annual MLK Tournament Report
01.24.16 Fifty-nine players turned out on January 18, 2016 to compete in the 17th Annual (!) MLK Chess Tournament hosted by the Stillwater Montessori School and played in Orono, Maine. Chester Young and Ryan Tripp topped the four-player Open section, Joseph Astumian and Aaron Ben Wilson-McFarlane won the K-12 section, Liam Farrell was perfect in the K-8 section and Ben Mock finished first in the K-6 Non-Rated section.
The 17th Annual MLK Tournament hosted by the Stillwater Montessori School was played on January 18th at the Church of Universal Fellowship in Orono.
Crosstable of the Non-Rated Section
Thanks to Joe Alex for organizing this tournament and to Steve Wong for directing.
This MLK tournament is becoming one of the longest, continuously-run tournaments in the state. Now celebrating its 17th year, the tournament has been organized by Stillwater Montessori School Director Joe Alex since day one. Kudos to Joe and his team for consistently running this tournament and providing scholastic players, and, in its more recent iterations, adult players, opportunities to play the game.

Top in the Open section: Chester Young and...

Ryan Tripp.

Dean Astumian put up 1.5 points.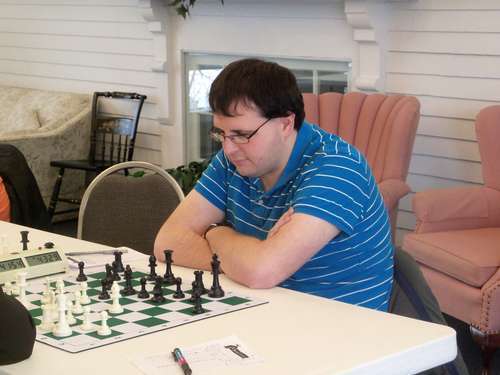 Dan Robbins, just off a fine win at the John Bapst New Year's Tournament, was unable to give a repeat performance.

The Open section was played in the very pleasant and well-lit common room of the Church of Universal Fellowship in Orono.

Joseph Astunian shared equal first in the K-12 section with...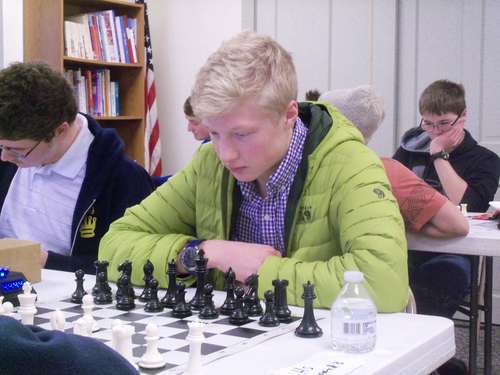 Aaron Ben Wilson-McFarlane.

Kyle Blum was just off the lead with 3.0 points.

Nathan Shemwell

Brendan Penfold

Zachary Grindal

Catherine Rudnicki was the sole female player in the K-12 section.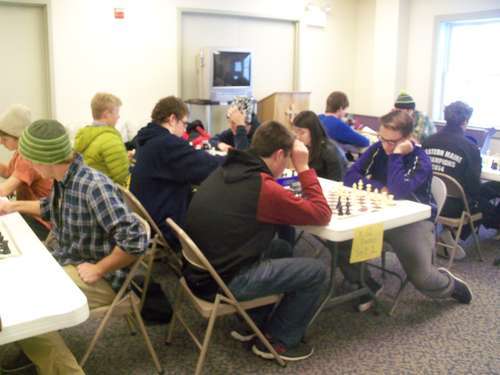 The K-12 section

In the K-8 section, Liam Farrell won all his games for a perfect score of 4.0 points.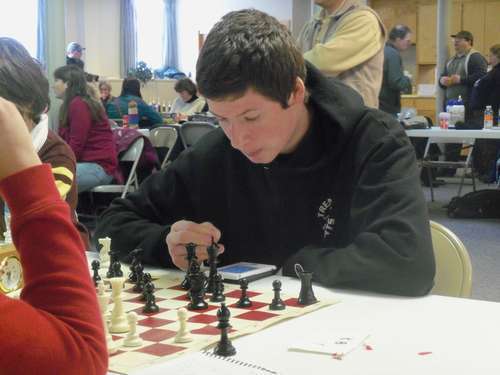 A logjam of six player tied for second including: Colyn Rich

Ben Penfold

Cam Stewart

Henry Penfold, and Cole Stewart and Evan Chapman (not pictured).

The K-8 section

Ben Mock won the Non-Rated K-6 section with 4.0 points.

Levi Woodward shared second with five other players including: Tommy Owen, Atticus Foster, Liam Hillery, and Zachariah Brown.

The K-6 section

Winners in the K-6 Non-Rated section with Tournament Director Steve Wong (left) and Tournament Organizer Joe Alex (right).

Tournament Director Steve Wong makes a few announcements before the start of the round...

and then heads back to his laptop to pair the next section.

A wide variety of concessions were offered.

Players enjoy a bit of down time between rounds.

Thanks to all who made this tournament a great success and we hope to see you next year at the 18th Annual MLK tournament!

---