State Scholastic Individual Championships Tournament Report
03.24.14 Seventy-two scholastic chess players gathered at the University of Maine Memorial Union in Orono on March 22nd to duel for individual honors in K-3, K-6, K-8, and K-12 championship and Under 1200 sections. The hard-fought games often went down to the last moment of the allotted time. Here's the illustrated tournament report with USCF crosstables.
Seventy-two scholastic players competed in the 2014 State Scholastic Chess Individual Championships at the University of Maine Orono on March 22ndth.
Thanks to Ron Lewis, Kathy Richards, Phil Lowell and Steve Wong for contributing to this report.
USCF crosstable Sidekick Quads
Individual Scholastic Chess Titles Decided
Winners of the K-6, K-8 and K-12 championship sections become the 2013-14 State Elementary, Junior High and High School Champions. Trophies are awarded to the top three finishers in each section. In cases of ties, the top players become co-champions or share that tied position, and the awarding of trophies is done based on how well the players score in the early rounds and/or how well their opponents do. Younger players may play higher than their current grade level in the Individuals, as skill and rating levels are more important than age.
In the K-3 section, William Xu of Fruit Street Elementary in Bangor scored a perfect 4.0 (four wins, no losses) to take top honors. Second place went to Milo Sanokklis of Levey Day School with 3 points. Tied for third were Saima Ahmed of Orono and Eion McCloskey of Piscataquis each with 2.5 points. On tie-breaks, the third place trophy went to Saima.
In the K-6 section, Oliver Brown Patricio of Lamoine scored a perfect four points and is the 2013-14 Maine Elementary School champion. Two players scored 3 points to tie for second place: Vetri Vel of Veazie and Benjamin Freudig of Bernard. On tie-breaks, Vetri took home the second place trophy and Benjamin, the third place trophy.
In the 27 player K-8 Junior High section, Ian Youth of Breakwater in Scarborough posted four straight wins to become this year's Maine Junior High Champion. Ian qualified as the Maine representative to the Barber National Tournament for Junior High players. Nothing seemed easy and many games were close right down to the wire. Nathan Shemwell of Orono Middle school scored 3.5 (three wins and a draw) to take second place honors. Six players tied with three points. These were Saahd Amed and Ben Amar of Orono, Catherine Rudnicki of All-Saints, Brendan Penfold of Old Town, Oliver Sullivan of Westbrook, and Hannah Sha'afi of Caravel Middle School. On tie-breaks, the third place trophy went to Saahd Ahmed of Orono.
Seventeen players competed in the K-12 Under 1200 section (referring to the players' US Chess Federation ratings). Emerging with 3.5 points each were Haley DeLuca Lowell and Matthew Spear of John Bapst Memorial High School in Bangor. On tiebreaks, the first place trophy went to Haley while Matt took home the second place award. In third place, tied with 3 points each were Nicholas Shedd (Cape Elizabeth) and Greg Wadsworth (Medomak Valley). On tie-breaks, Nicholas received the third place trophy and Gregg received the fourth place medallion.
In the K-12 High School Championship section, hard-fought games were the rule. With a limited field of eight players, the third round match paired off Cape Elizabeth team mates and the two top seeds, Matthew Fishbein and Wesley Parker, with Matthew emerging the winner. Matthew, the State's top ranked scholastic player, went on to win his fourth round game against Maine School of Science and Mathematics student George Spahn, finishing with four points and his third High School Championship. This win makes Fishbein eligible for the National Denker Tournament of High School Champions held later this year. Wesley Parker garnered second place with 3 points. Four players tied for third with 2 points each. These were George Spahn, Cameron Wendell of Deer Isle-Stonington, Joseph Powell of Medomak Valley, and Nick Charalambous of Brewer. On tie breaks, George won the third place trophy.
In the Sidekick quads event held for adults and proceeds benefitting scholastic chess through the Maine Association of Chess Coaches, eight players competed in two quads. In the upper quad, Max Berube won his three games, edging out Bangor High coach Jon Dearing. In the second quad, there was a three way tie with John Ellison, Dan Fishbein, and Tony Freudig each winning two games and losing one. The Sidekick event was led and directed by Maine Chess Association president Andy Bryan.
The leader for the Individuals Tournament was Ron Lewis. Andy Bryan coordinated trophies for the event. Tournament Directors, organized by the Maine Chess Association, were Dan DeLuca for the K-3 and K-6, Philip Lowell for the K-8, and Steve Wong for the two K-12 sections. Kathy Richards serves as Treasurer for the Maine Association of Chess Coaches. Thanks to the parents and coaches for their support, and thanks to the University of Maine for again hosting this event.

Winners in the high school section (left to right): Matthew Fishbein (first), Wesley Parker (second), Cameron Wendell and Joseph Powell (equal third).

Winners in the high school U1200 section (left to right): Matt Spear (equal first), Haley DeLuca Lowell (equal first), Nicholas Shedd and Greg Wadsworth (equal third).

High School Champion Matthew Fishbein and High School U1200 Co-Champion Haley DeLuca Lowell.

High School U1200 Co-Champion Matt Spear

What's so funny about the Sicilian (1.e4 c5)? The story behind the smile is that White only played 1.e4 after feigning 1.b4.

And Black, in turn, feigned 1...b5 himself before playing 1...c5 hence the smirk. Chess humor!

George Spahn

Cameron Wendell just two weeks earlier coached Blue Hill Consolidated School to their first state chess K-6 team title.

Nick Charalambou

Logan Severance

John Jewell

Greg Wadsworth

Nicholas Shedd

Grant Bodine

Haley DeLuca Lowell

Rick Perry

Ben Bolstridge

Cody Queen

Carter Brock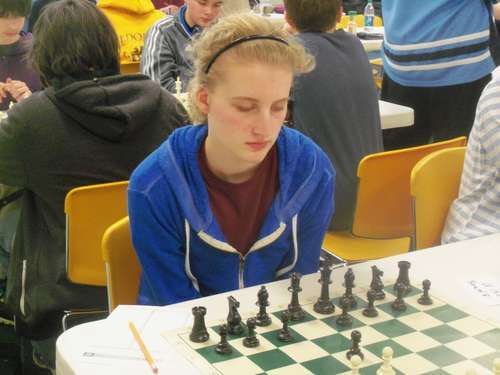 Lily Jordan

Lilianna Stewart

Harrison Blake

Former Maine State Champion Roger Morin holds and analysis session with high school players and coaches.

K-12 tournament director Steve Wong with UMaine mascot Bananas the Bear who came down to check out the action.

Max Berube won the adult Sidekick Quad 1

In Quad 2 John Ellison tied for first with...

Dan Fishbein (left) and...

Tony Freudig

Jon Dearing (left) and Chester Young watch an interesting game played between Tom Sandford (left) and Max Berube

Winners in the K-8 section (left to right): Ben Amar, Oliver Sullivan and Catherine Rudnicki (equal third), Ian Youth (first), Saahd Amed (equal third) and Nathan Shemwell (second). Not pictured are Brendan Penfold and Hannah Sha'afi (equal third).

The last round game between the two leaders in the K-8 section Ben Amar (left) and Ian Youth.

Zachary Grindal

Catherine Rudnicki

Eric Youth

Saahd Amed

Nathan Shemwell

A. Wilson-McFarland

Brendan Penfold

Jakob McPhee

Oliver Sullivan

SooZin Cha

Colby Tuffley

Brendan Parlee

Omar Khan

Wyatt Hendrix

Elijah McGill

Andrew Bubar

Sam Fournier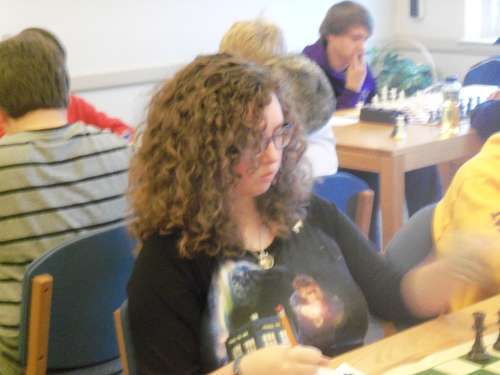 Hannah Sha'afi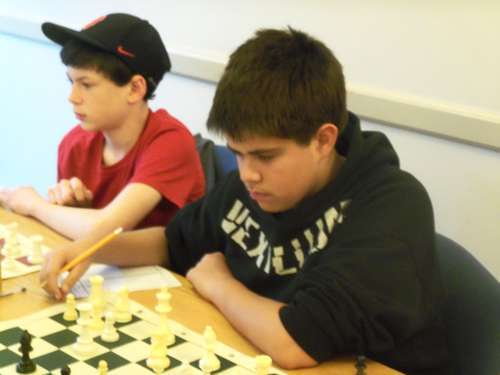 Bill Hartt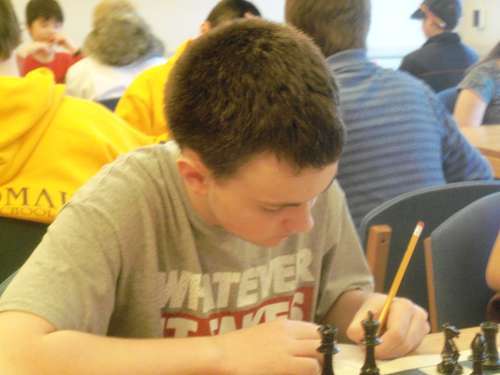 Desmen Drinkwater

Nicholas Kawamura

Kaleb Pendleton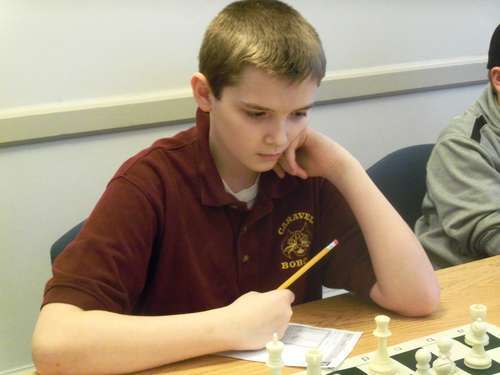 Ian Kelly

Osage Crie

K-8 section tournament director Phil Lowell

Winners in the K-6 section

Oliver Brown Patricio took first in the K-6 section with a perfect 4.0 points in four games.

Vetri Vel tied for second place with...

Ben Freudig

Cyrus Grindal

Brent Roberts

Ben Penfold

Henry Penfold

Joshua Watson

Clara Parker

Cody Jones

Ben McIntire

Ryan Baker

Nathan Dichard

Tommaso Wheeler

Overall tournament organizer Ron Lewis pores over paperwork to prepare copy for this report. Thanks Ron!

Ben Freudig gets creative with the pieces.

The game Ben Penfold (right) vs Oliver Brown Patricio was even right to the endgame with a rook and two pawns apiece. Oliver was able to convert the advantage of an outside passed pawn to win the game and the K-6 title.

Winners in the K-3 section

William Xu went 4-0 to take the top spot in the K-3 section.

Milo Sanokklis took clear second in the K-3 section.

Saima Ahmed tied for third with...

Eion McCloskey

Sofia Brown Patricio

Macey Brown

This is what spring looks like in Maine!

Thanks to all who made this event a great success: organizers, directors, parents, coaches and players!
Here's an exciting game played in the Sidekick Quad 1 between Jon Dearing and Chester Young
---