Former DISES Chess Player Takes Blue Hill Team to State Championships
03.18.14 Former Deer Isle-Stonington chess player Cameron Wendell took the Blue Hill Consolidated School K-6 team to first place at the state team chess championships. The following article by Anne Berleant was originally published in the (Blue Hill, Maine) Weekly Packet on March 13, 2014.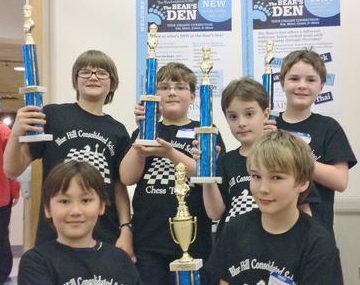 The winning K-6 Blue Hill Consolidated School chess team took home the championship in its first top state tournament, the Maine State Scholastic Chess Championships: (front row, from left) Kai Diel and Aidan Stearns; (back row, from left) Sam Parrott, Cole Stewart, Ross Stewart and Cameron Stewart. Photo courtesy of Rey Kim
Blue Hill
Originally published in The Weekly Packet, March 13, 2014
Former DISES chess player takes Blue Hill team to state championships
Blue Hill students win state chess championship
Blue Hill Consolidated School takes home Maine state chess championship
by Anne Berleant
A former Deer Isle-Stonington chess player helped launch the recent victory by the Blue Hill Consolidated School at the state chess championships in Orono on March 8.
"It's made me very proud. I take personal pride in the fact that they succeeded," Coach Cameron Wendell, a Blue Hill Harbor School sophomore, said in a recent telephone call.
"He's the coach. He's definitely in charge," faculty adviser Maryanne Lewandowski said of Wendell. "He told the kids they could do well. And they believed him."
Wendell started as coach in December, using his experience as a former member of the Deer Isle-Stonington Elementary School team.
"For the most part, I took my personal instruction I got from the coaches I had through Deer Isle," he said.
That included remembering what held his focus as a young chess player and what did not.
"Being in middle school and elementary school, kids don't have the longest attention span for a low-key game like chess," he said.
He attributes much of his coaching success to "the fact that I'm younger than most chess coaches. I can explain things on a level they understand."
What helped to motivate the students, he said, was the presence of former members of the DISES team, Cameron, Ross and Cole Stewart, who transferred to BHCS this year.
"They were really inspired by what they saw from the kids from Deer Isle," Wendell said. "They didn't know how they lost to them. [The Stewarts] inspired the other kids by showing them chess is a real strategic battle.
"And a lot of it has to do with [the fact that] Blue Hill kids are very, very motivated."
Around 30 students showed up for the first chess club meetings, which competed with a number of extra curricular choices, Wendell said.
"At that point, it was just a chess club. Whether or not it would become a team had not yet been decided by the school," he added.
Wendell spoke with parents and Lewandowski, who secured a grant to fund the program, and in January, the club became a team. A few weeks later, their K-6 team won the state championship, beating defending champions Deer Isle-Stonington.
"I'm so thrilled and so proud of them," Lewandowski said. "They worked very seriously and they worked very hard."
The team is now trying to raise funds for a trip to the nationals in Atlanta, Georgia on April 25 to 27.
"We're training as if we're going to nationals," Wendell said. "We're assuming we'll come up with the funds."
---