Aaron Spencer Wins U2000 Section at 2014 Foxwoods Open
02.07.14 Maine's own Aaron Spencer went undefeated in the U2000 section of the 12th Foxwoods Open played on January 22-26, 2014 in Mashantucket, Conn. to take clear first with a score of 6.0 points in seven rounds. With a performance rating of 2234, he rolled over a number of A-class players and stoked his rating to an expert-level 2057. Five other Mainers competed in the tournament as well: Matthew Fishbein, Dmitry Albin, Gabe Borland, Brian Hurst and Ian Youth. Here's the illustrated tournament report with games hopefully coming soon.
Aaron Spencer (right) plays Olayemi Ogungabe in round six on his way to a win in this game and a win in the U2000 section.
Thanks to Brian Hurst for contributing to this report.
It was an incredible performance by Aaron Spencer to score 6.0 points in seven rounds against some of the top A-class players in the nation. With five wins and two draws Spencer claimed clear first in the U2000 section and claimed the $2,500 winners purse.
Other Mainers at the tournament included Matthew Fishbein 4.0 points (U2200 section), Dmitry Albin 2.5 points (U2000 section), Gabe Borland 4.0 points (U1800) section, Brian Hurst 3.5 points (U1600 section) and Ian Youth 2.5 points in the U1600 section.

Aaron Spencer (right) plays New Jersey's Andrew Ardito to a draw in round three.

Matthew Fishbein put up 4.0 points in the U2200 section tying for 10th place.

Dmitry Albin scored 2.5 points and tied for 41st place in the U2000 section.

Gabe Borland chalked up 4.0 points in the U1800 section. That was good for equal 14th place.

Brian Hurst tied for 14th place in the U1600 section with 3.5 points.

Ian Youth scored 2.5 points in the U1600 section which gave him a tie for 27th place.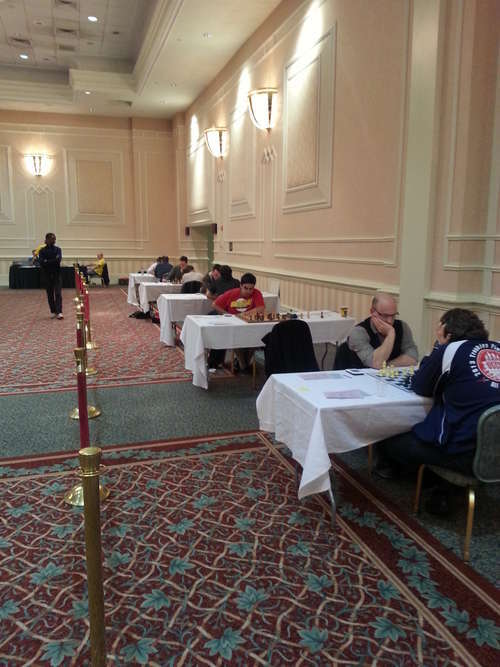 Top rated players, including several GM's, WGM's and IM's, competed in the Open section which was won by USCF 2715 rated GM Anton Kovalyov of Texas.

The main tournament room at the 2014 Foxwoods Open.

Two hundred seventy-one players participated in the tournament.

Aaron Spencer is all smiles after his championship performance.
---