Mainers at the 2014 Boston Chess Congress
01.14.14 Ten Maine chess players participated in the 2014 Boston Chess Congress at the Hyatt Boston Harbor hotel from January 10th-12th. This is the tournament's third year and each year it increases in popularity. Truly a top-flight tournament, the BCC attracted a number of GM's, IM's and FM's, offered superior playing conditions and was impeccably organized and directed by the Continental Chess Association.
The Boston skyline from the Hyatt Boston Harbor, site of the 2014 Boston Chess Congress.
Of the 173 players who participated in the five-round tournament, the ten Maine players in order of their post-tournament rating, their section and their final score is as follows:
Matthew Fishbein (2135) Premier (2.5)
Zachary Bence (2005) U2100 (3.5)
Troy Franklin (1837) U2100 (2.5)
John Pythyon (1901) U1900 (4.0)
James DuBois (1839) U1900 (4.0)
William Ravn (1756) U1900 (1.5)
Dan DeLuca (1529) U1700 (2.5)
Ian Youth (1425) U1500 (3.5)
Thomas Allen (1238) U1300 (2.5)
Dan Fishbein (1226) U1300 (3.5)

Matthew Fishbein (right) prepares to play his fourth-round game with New Hampshire Chess Association master Hal Terrie.

Bangor's Zachary Bence shakes hands to begin the final round. Bence had a strong performance pushing his USCF rating to the expert level (2005).

Waterville's Troy Franklin

John Pythyon

Certified FIDE National Instructor Jim Dubois

William Ravn

Your ChessMaine.net web editor Dan DeLuca (left) during his game with Hew Hampshire player Robert Kaminsky.

Scarborough's boy wonder Ian Youth

Thomas Allen

Cape Elizabeth's Dan Fishbein

Fresh off a second place finish in the U10 Girls section of the 2013 World Youth Chess Championships held last month in Dubai, Carissa Yip.

Grandmaster, current Massachusetts state champion and participant in the upcoming 2014 U.S. Championship Alexander Ivanov (right) plays Lawyer Times in round 2.

Assistant tournament director Christopher Bird gives players last-minute instructions before the final round. The tournament was professionally run from start to finish.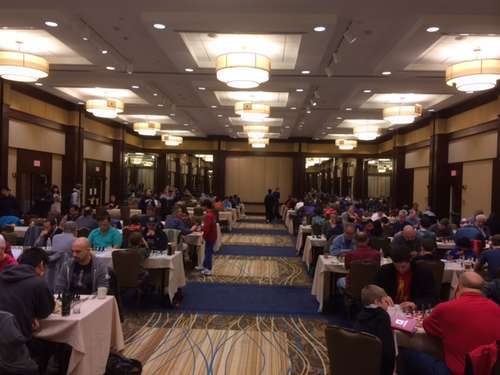 The tournament room

In addition to the main tournament there were an number of interesting side events. Here former Woman's Chess Champion Sharon Burtman gives a lecture on chess, children and education.

Massachusetts Chess Association's George Mirijanian assists Carissa Yip during a lecture featuring one of her games from the 2013 World Youth Chess Championships.

A bookstore showcasing publications from Boston's own Mongoose Press was available to players each day of the tournament.

And if players hadn't had enough chess after three days and five rounds under classical time control there was an eight-round blitz tournament on the evening of the last day.

The lovely in-house restaurant offered striking views of Boston from the ocean and a fine menu.

To top it off players were treated to coffee, tea, snacks and fruit throughout the tournament. (The $39/day parking waiver and rooms rates of just $79/day were great bennies as well.)
---