The Best of ChessMaine.net 2013
12.31.13 Since our inception in 2006, ChessMaine.net has been visited nearly 400,000 times by chess fans from all over the world. We thank our readership for their support over the years. It's the end of what was another great year for chess in Maine. Enjoy this look back at the movers, shakers, and record breakers of 2013!
Join us as we play through the year's tournaments, games, players and stories in this all-things-chess-in-Maine-2013 retrospective.
Players and directors in Maine participated in thirty-nine USCF-rated events in 2013. To see crosstables of all USCF-rated tournaments played in Maine this year please click here.
Winningest Players
The winningest players in Maine for 2013 were: Roger Morin, Jarod Bryan and William Ravn. For our purposes winning a section is considered a tournament win and credit is given to all players involved in a tie. Click on a player's name to view their USCF Member Detail page.



1. Roger Morin: 13 event wins
Roger Morin

2. Jarod Bryan: 4 event wins
Jarod Bryan

3. William Ravn: 4 event wins
William Ravn
Most Active Players
Here's the top three of Maine's most active players in 2013. Activity is defined as participation in USCF-rated tournaments both over-the-board and online. Click on the player's name to view their USCF Member Detail page.
1. William Ravn 28 events
2. Roger Morin 20 events
3. Aaron Spencer 19 events
State Champions
Congratulations to all of our 2013 Maine State Chess Champions! To see the names of all Maine state champions since 1942 please click here.
Maine State Champions

High School Champion: Matthew Fishbein

High School U1200: Krisford Melanio
Girls Co-Champions:

SooZin Cha shares the title of 2013 Maine Girls Champion with...

2013 K-8 Champion Wesley Parker

Winners in the K-6 section (left to right): Omar Khan (equal second), Nathan Shemwell (first), Vetri Vel (equal second), Oliver Brown Patricio (equal second), Brendan Parlee (equal second) and Brent Roberts (equal second)
K-6 Champion: Nathan Shemwell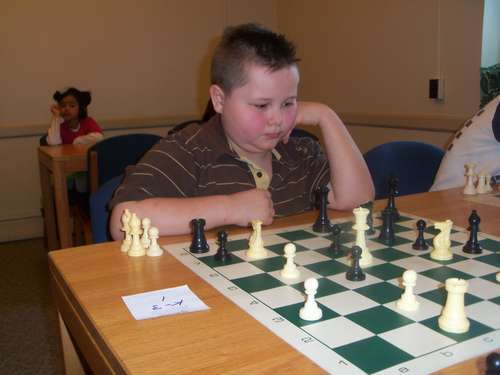 K-3 Champion: Cyrus Gridal

2013 High School Champions: Cape Elizabeth (left to right): Matthew Reale-Hatem, Ben Hansel, Brett Parker, Matthew Fishbein, coach Dan Fishbein and Colin Smith.

Co-Champions High School Reserve: Van Buren (left to right): Nicholas Lajoie, coach Steven Giangiordano, Richard Michaud, Devin Berry, Derek Grivios and Cody Maldonado.

Co-Champions in the High School Reserve: Deer Isle Stonington (left to right): Nick Siebert, Krisford Melanio, Nathan Davis, Nick Eaton, Noah Davis and Noah Gillen (not pictured Cody Eaton).

High School Novice Champions: Deering High School (left to right): Orkhan Nadirli, Shervin Sabetti, Hilal Ahmed, Qutaiba Hassoon, Thoalfakar Alsaady (highest scoring player in the section with 4.0 points), Risopheak Rodriguez and coach Jeff Borland. Coach Borland informs us that all of these players are new to the US having been here for less than three years.

Jr. High School Champions: Deer Isle-Stonington (left to right): Kinsey Bartlett, Tyson Rice, SooZin Cha, Orly Vaughn, Avery Reynolds, Brendan Penfold, Ennis Marshall and coach Dick Powell.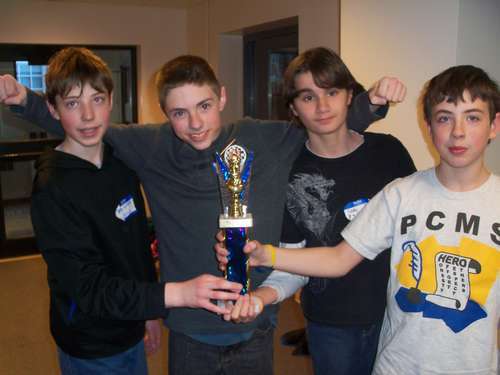 Jr. High School Novice Champions: Piscatiquis Community Secondary School (left to right): Billy Griffith, Bradyn Fellows, Cody Randall and David Hession. Hesson and Griffith tied for highest scorer in the section.

2013 Elementary Team Champions: Deer Isle Stonington

First place in the Elementary Novice section: Deer Isle-Stonington (left to right): coach Tasha Brown, Nathan Thompson, Kobe Nevells, Dakota Emrick (section high scorer with 4.0 points), Tom Hutchinson, Jacob Gell and Zachary Billings (not pictured: Annie Reynolds and Liam Bishop).

Winners in the Primary Championship section: Breakwater School (left to right): Sampson Pfeffer, Davis Drown, Vivian Rallis, Oliver Chase, Max Hogenauer and Dax Penney.
Maine Chess Player of the Year
Congratulations to 2013 Maine Chess Player of the Year Roger Morin and to all who participated in this year-long event.
Roger Morin Wins 2013 Maine Chess Player of the Year Competition
Most Popular ChessMaine.net Stories of 2013
ChessMaine.net has surpassed 380,000 hits since its inception on March 11, 2006-- Based on web traffic to the site this year we've determined the following stories as the most popular of 2013. Take a second look, they're worth the read!
1. Scholastic Teams State Championship Report
2. All Saints Winter Warm-Up Tournament Report
3. Cha and Serban Share Title at Girls Championship
4. Jarod Bryan Wins Maine Player of the Year
5. Joe Brown Memorial Tournament Report
Biggest Upsets
Congratulations to the winners of the biggest upset games played in Maine in 2013. Losers take heart! You win some and you learn some.
Here are the top five biggest upsets in USCF-rated play in Maine for 2013:
1. Noah Munn (460) defeats M Lizotte (1276 P3) = 816 points, Fall Chess @ UMA
2. John Jones (1029) defeats Jon Buxton (1739) = 710 points, Maine Open
3. Caleb Marston (275) defeats Orly Vaughn (961) = 686 points, K-8 Individual Championship
4. Oliver James Brown Patricio (311) defeats Eric Youth (909) = 598 points, K-6 Individual Championship
5. Natalie Sheehan (121) defeats Vetri Vel (670) = 549, MLK Tournament
Tournament Directors
Maine had fourteen active tournament directors in 2013. To determine the most active tournament directors, we used a summation of three factors: number of tournaments directed, number of sections directed and number of players served. Based on this criteria the following tournament directors are listed based on their directing activity in Maine for 2013. Thanks to all TDs in Maine for their hard work, dedication and service to the Maine chess community.

1. (tie) Steve Wong: 5 events, 14 sections, 184 players = 203
1. (tie) Dan DeLuca: 7 events, 16 sections, 180 players = 203
3. Phil Lowell: 5 events, 6 sections, 183 players = 183
4. Roger Morin: 9 events, 13 sections, 63 players = 85
5. Barry Magda: 2 events, 2 sections, 80 players = 84
6. Alex Relyea: 2 events, 6 sections, 50 players = 58
7. Andy Bryan: 2 events, 6 sections, 44 players = 53
8. Lee Doucette: 2 events, 9 sections, 29 players = 40
9. Tom Sandford: 2 events, 5 sections, 31 players = 38
10. Jim DuBois: 2 events, 4 sections, 30 players = 36
11. Nita Patel: 1 event, 3 sections, 18 players = 22
12. Brian Roderick: 1 event, 4 sections, 16 players = 21
13. Akagi Kayashima: 1 event, 2 sections, 10 players = 13
14. Aaron Spencer: 1 event, 1 section, 2 players = 4
MECA Officers and Board
We thank the following individuals for volunteering their time and energy to MECA.
Maine Chess Association Officers
President Andy Bryan bvbryan@aol.com
Vice President Dan DeLuca dcdeluca@yahoo.com
Secretary Lee Doucette lfdoucet@maine.rr.com
Treasurer Andrey Savov bagercheto@yahoo.com
Maine Chess Association Policy Board
Dan Keliher dpkeliher@gmail.com
Ron Lewis raltiger@aol.com
Phil Lowell lowellphilip@yahoo.com
Barry Magda bajmagda@juno.com

Thanks to all who have made 2013 a great year for chess in Maine!

---