Outdoor Chess Set Installed at Rockport's Marine Park
10.06.12 Thanks to the hard work and dedication of chess enthusiast and Rockport, Maine resident James Lea, the Rockport waterfront now has a beautiful 10 foot by 10 foot chessboard and pieces overlooking Marine Park. After seeing large, public chess sets during his travels in Europe, Lea decided Rockport should have one as well. A few calls and meetings with town officials ensued and--viola!--the chess set was installed.
Maine Chess Association Vice President Dan DeLuca cuts the ribbon to celebrate the new public outdoor chess set at Rockland's Marine Park.

James Lea plays 1.d4 to start the first official game on the new board.

His granddaughter responds with 1...d5.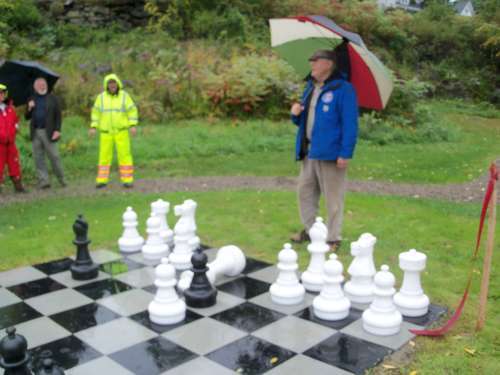 After a few moves, Jim hung his queen as was forced to resign!

This view inspired Jim to call this location the Pebble Beach of outdoor chess sets!
---