Maine Intercollegiate Chess League
04.13.10 Maine Maritime Academy and the University of Maine Orono played a two-round, four-board, G/35 match in Barrows Hall on the UMaine Orono campus on April 6, 2010 as part of the fledgling Maine Interscholastic Chess League. UMaine's team showed their dominance by shutting out MMA 8-0. For more information on the Maine Interscholastic Chess League or to get involved contact Paul Wlodkowski at MMA (paul.wlodkowski@mma.edu) or Tom Sandford at UMO (sandford@umit.maine.edu).
UMaine's Dan Robbins (left) plays MMA's Cory Byrnes on Board 1 in the first round.
The University of Maine Orono brought their "A" team to the Maine Intercollegiate Chess League match on April 6, 2010 and handily defeated Maine Maritime Academy 8-0. UMaine's guns in board order: Dan Robbins, Dan Hayes, Collin Calhoun and Sam Green each went 2-0 in this G/35 match. Congratulations to the UMO team and coach Tom Sandford and to the MMA team and their coach Paul Wlodkowski. Getting Unity, Bowdoin, Bates, and Colby, as well as other UMS campuses on board will be the future goal of the MICL.

The match took place in Barrows Hall on the University of Maine's Orono campus.

Maine Maritime Academy Chess Coach and Associate Professor of Engineering Paul Wlodkowski puts up the pairings for the first round.

The tournament's top-rated player Dan Robbins playing Board 1 for UMO.

Robbins's worthy opponent: MMA's Corey Byrnes

Board 2 for MMA: Bryce Lynn

Dan Hayes played Board 2 for UMO.

Colin Calhoun considers his position under the watchful eye of MMA Coach Paul Wlodkowski.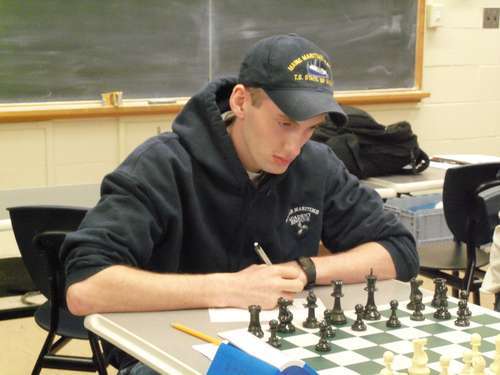 Board 3 for MMA: Josh Coleman

Playing Board 4 for MMA: Ben Wright

Black Bear Sam Green played Board 4 for UMO.

Gordon Smith rotates into the MMA lineup on Board 4.

MMA players warming up with some skittles: Ben Wright (forground left) takes on Ethan Dublin while Peter Lindberg (background left) plays Dale Thomas.

MMA Professor Christiopher Pilot (left) makes a move in an off-hand game vs Gordan Smith.
Thanks to all players and coaches for organizing and participating in this event and thanks to University of Maine Orono for hosting. Please pass the word on the Maine Intecollegiate Chess League--get involved!
---