Printable ChessMaine.net Scoresheets
12.17.09 You've seen them at tournaments around the state: on the TD table, in skittles and tournament rooms and in players' bags--now you can print your very own ChessMaine.net Scoresheets with their distinctive large-space format, analysis board and ChessMaine logo.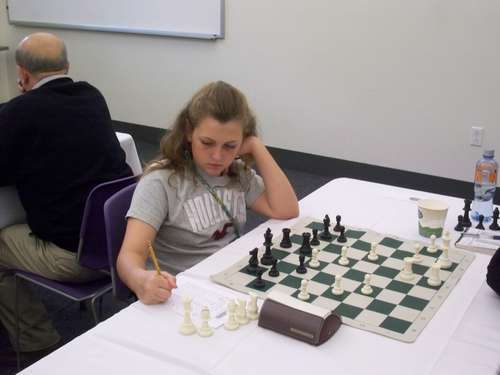 Brinna Bartlett notates her move on a ChessMaine.net scoresheet at this year's ChessMaine.net Championship at Colby College.
You can find the link to our printable scoresheets at the top of the left-hand margin on any ChessMaine.net page or you can click here.
A few viewing and printing tips:
The scoresheets are in .pdf format which means that you will need a .pdf reader (like Adobe) to open them. If you don't have Adobe Reader, you may download it here.
You may choose to print the scoresheets in large (8.5 in. x 11 in.) format by printing on a single side. If you would prefer, you can print the scoresheet on both sides of a single piece of paper and then cut it in half to get the more traditional (4.25 in. x 5.5 in.) size.
On some printers you may need to enable background printing in order to get a quality image of the analysis board.
We hope you find these scoresheets helpful. Use them with good skill and let us know what you think.

---