MECA Vice Presidential Candidates
10.14.09 As part of our ongoing coverage of the Maine Chess Association's upcoming elections we bring you statements from the two vice presidential candidates, Maggie Bryan and Jim DuBois. You can read their statements and post your comments here.
2009 MECA Vice Presidential Candidates' Statements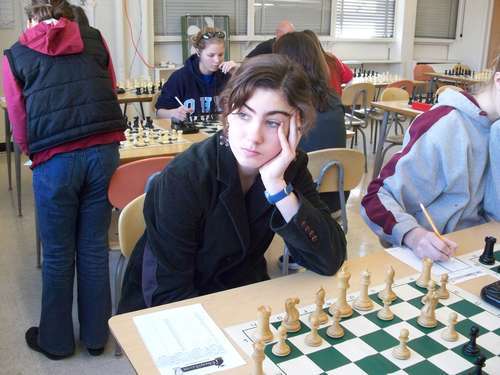 Maggie Bryan
At the enthusiastic urging of several prominent members of the chess community, I announce my candidacy for vice president of the MECA. As V.P., I will strive to be as adept as possible in picking up the slack when the president is unavailable (esp. if the president in question is my father, Andy Bryan, seeing as we live under the same roof).
However, my primary mission, first and foremost will be to liaise and form beneficial relationships with various chess organizations around the globe, particularly in the scholastic arena. I am adequately familiar with the national chess scene, having participated in tournaments in Nashville, Chicago, Atlanta, and Lubbock, Texas. Through these experiences I have formed valuable connections that could prove to be highly beneficial to Maine chess in the near future. The marketing of the one of my favorite pastimes is very important to me, and I look forward to reaching out to the public in an attempt to make chess an even more widespread activity, both competitively and recreationally.
What have I accomplished that commends me for this position, and what skills do I possess that will enable me to help the chess community attain such lofty goals? I believe that determination is an important aspect of leadership, and I am under the impression that I possess both qualities in abundance. Through my determination to succeed, I have held various leadership positions (captain of the John Bapst cross country team for the past two years and co-president of the JB Student Environmental Action Committee), have achieved high honors in academic standing my previous two years in high school, and have received numerous accolades in competition (5 state chess title- 2 team and 3 individual, and track and field state champion in 4 events). I will bring this sense of resolve and purpose to the MECA as vice president, and will ensure that every voice in the Maine chess world is heard.
I would also like to take this time to endorse my father, Andy Bryan, in his candidacy for president. He is an excellent leader and has been passionate about improving Maine chess for the past 20+ years. Vote for him.
Maggie Bryan
Bryan/Bryan '09 (The bumper stickers are currently in progress!)
Jim Dubois
Maine chess has the opportunity to elect a president representing a change that I believe will be for the better. With this statement I announce my candidature for a position I previously held. It is my sincere hope that the New Year will bring our Maine chess community closer together in an effort to restructure an organization in need of forward thinking.
Besides offering my wholehearted support to the new president there are two areas of Maine chess that I want to address. It is without question that statewide we have many dedicated volunteers to nurture players and direct events; however our support system needs to be realigned to maximize the efforts of such individuals that give freely of themselves for the love of the game. Secondly the standards for tournament play need to be fruitful in terms of increasing attendance and exposure.
As with any worthwhile endeavor that involves a passion it stands to reason there will be conflicts. I ask that before you vote to reflect on what is needed for chess in Maine to realize its potential. Thank you for your consideration.
Yours in Chess,
Jim DuBois

---