Stillwater Montessori Tournament Report
01.25.08 The 9th Annual Martin Luther King Jr. Chess Tournament, hosted by Stillwater Montessori School, was held on Monday, January 21, 2008 in Old Town. There were 48 participants in four sections, three of which were USCF rated. Fritz Eyerer and Aaron Spencer, each with three points, played in the championship round for the title. Eyerer came out on top to score a perfect 4-0 and Spencer tied for second with Charles Clark each scoring 3-1. Bangor High School student Henry Chai received the top K-12 trophy.
The Stillwater Montessori School is housed in this beautiful building in Old Town, Maine.
In the K-12 section, Bangor High School student Keji Xu topped the field with four straight wins outpacing second place finishers Avery Cole and Ryan Vienneau by a full 1.5 points. The top 8th Grade and Under tropy went to Paul Rudnicki and Top Female was taken by Haley DeLuca Lowell.
The K-8 section finished with a five way logjam at the top. Reid Horton, Jiawei Zou, George Spahn, Isaac McKillen Godfried and Nathan Dee all scored three points to share first place. Top under 5th grade honors went to John Kenneway and Deer Isle's Bethany Humphrey took top female.
In the non USCF rated K-6 section, Jessica Chen blanked the field with four wins. Chen was trailed by Garrett Field with 3.5 and Brendan Parlee and Conner Millard both with 3.0 points. Top 3rd grade and under honors went to Stuart MacKay.
This tournament was organized by Joe Alex and directed by Dan DeLuca and Andy Bryan.

Aaron Spencer (left) and Fritz Eyerer chat before the start of their last round game.

A handshake begins the game that would give Eyerer four points in four rounds, clear first and his first USCF 1700 rating.

Fritz in full concentration mode.

Aaron doing the same.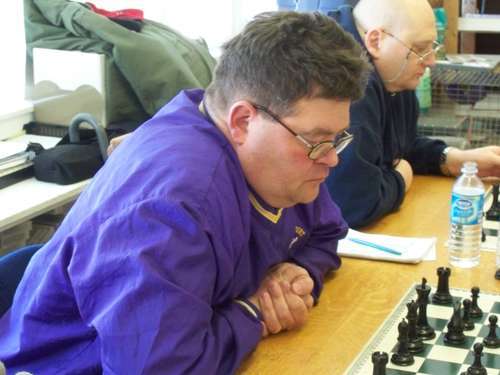 Charles Clark returing to tournament chess after nearly 15 years tied for second--no moss on this rolling stone.

Palermo's Ed Hatch turned in a strong performance with 2.5 points.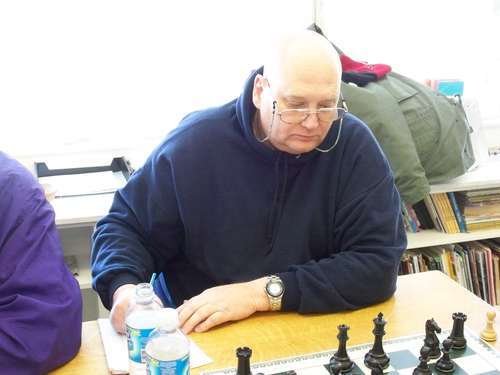 Roger Peterson scored two points and tied with

Cullen Edes and

new USCF member Don MacKay.

Top K-12 player in the open: Henry Chai

Tournament stalwart Fred Irons

UMaine Farmington's own Murray Bridges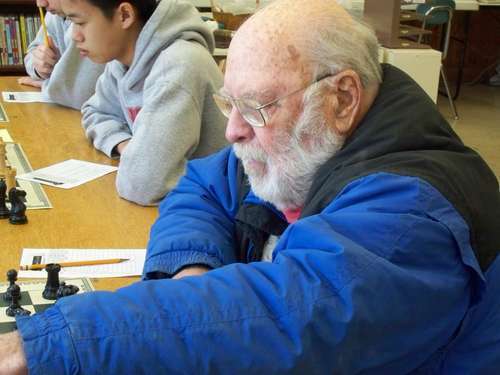 Chess and Texas Hold 'em player Bill Gallagher

John Bapst student Zachary Smith had an off day in the open and was unable to score.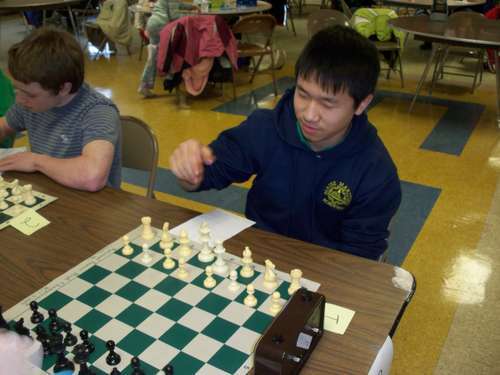 Keji Xu is quickly making his presence felt in Maine scholastic chess. He scored 4 points and easily took first in the K-12 section.

Orono High School student Avery Cole and his teammate

Ryan Vienneau tied for second in the K-12 section each scoring 2.5 points.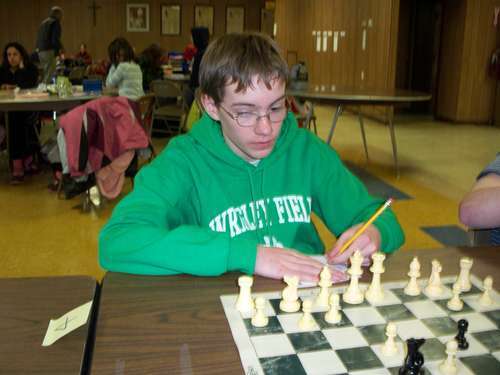 Top K-8 player in the K-12 section: Paul Rudnicki

Top female player in the K-12 section: Haley DeLuca Lowell

Kurt Eyerer

Winners in the K-8 section (left to right): Reid Horton, Jiawei Zou, George Spahn (who celebrated his 10th birthday), Bethany Humphrey and John Kenneway.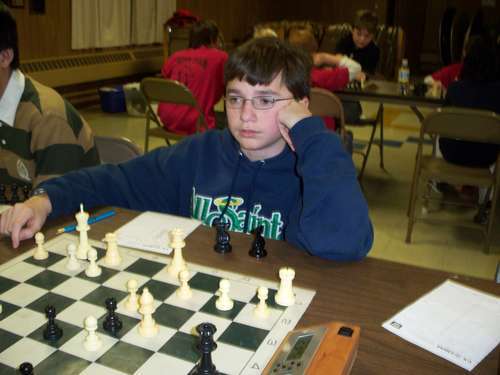 Also tieing for first in the K-8 section: Nathan Dee and

Isaac McKillen Godfried

Yuval Boss

Andrew Turner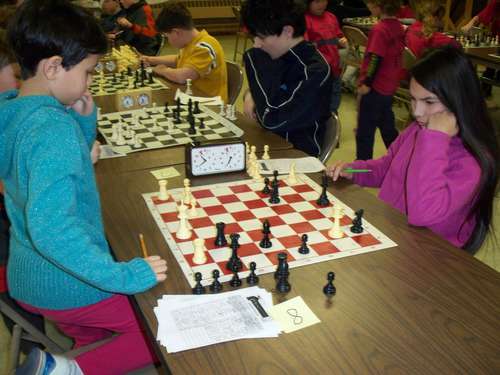 Bethany Humphrey (left) plays Danielle Wong-Achorn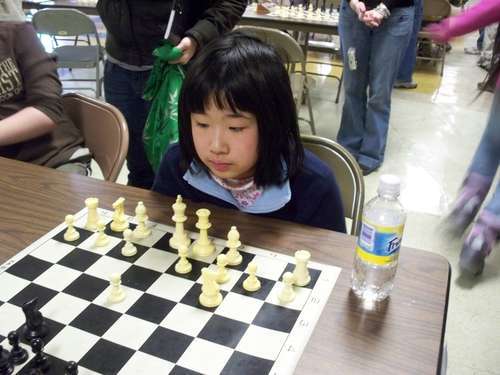 Winner of the non USCF Rated K-6 section and sister of former Maine High School State Champion and current Stanford University student Zenning Chen: Jessica Chen

Winners in the K-6 section (left to right): Conner Millard, Garrett Field, Jessica Chen, and Brendan Parlee

Airline Community School student Oliver Sheehan assessing his position.

Just befor the start of round two in the K-6 section. In the foreground Eli Spahn (left) prepares to play Conner Millard.

Tournament coordinator Joe Alex provided some stunning trophies for the tournament winners.

While kids play chess, parents chat, catch up on some work and get a bite to eat.
---