Dan Hayes is 2007-2008 UMaine Chess Champion
01.20.08 Dan Hayes, a first year undergraduate student at the University of Maine (UM) in Orono, is the new UM Chess Champion for 2007-2008. The UM Chess Championship, played from October 17 - November 16, 2007, was open to all full-time undergraduate and graduate students. At the end of the regulation four rounds (with a time control of G/45), Hayes was tied for the lead at 3.0 with Brian Chick. Hayes won the well-fought rapid playoff game (with a time control of G/10) to take the title. Charles Jones took third place with a score of 2.5.

The new University of Maine Champion Dan Hayes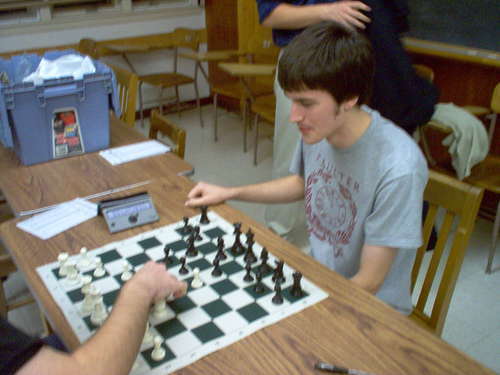 Runner-up Brian Chick

Chuck Jones took third in this year's UMaine Championship.
Thanks to Tom Sandford for contributing to this report.
The new champion is from Buckfield, Maine and attended and the Maine School for Science and Mathematics. He is currently an undecided major but is leaning toward civil engineering. Brian Chick is a junior majoring in English and hails from Bangor and Bangor High School. He played on the Bangor High School chess team and was the third-place finisher in the 2006-2007 UM championship. Charles Jones is a graduate student in electrical engineering and is from Palmyra. He was the 2001-2002 UM Chess Champion. Other participants were Dan Bourgeois-Capozzi (the 2006-2007 UM Chess Champion), Dan Robbins and Mike Chan.
---