PVC League Match 5: Orono remains undefeated
12.14.07 Because of a snow cancellation on December 3rd, (this is Maine after all) the fifth match of the PVC League season was played on December 13th, at Hampton Academy. The Orono High School team continued their winning ways with a 9 - 5 win over Bangor. Meanwhile, John Bapst beat Hampden 10 - 4 and is now tied for second with Bangor. Match scores thus far are Orono: 10, John Bapst and Bangor: 5, Hampden: 0.
Student artwork adorns a wall in the Hampden Academy Library, the site of the PVC League Match 5.
Thanks to all the PVC League coaches for contributing to this report.
You'll find Team Standings on sheet 1, Match Results on sheet 2 and Individual Standings on sheet 3 on the Individual and Team Results page in Microsoft Excel. If you don't have Excel you can download a free version of Excel Viewer here.
This week's Game of The Week was a very well-played contest. An interesting move on White's twenty-sixth resulted in Kickert going up the exchange and pushing on to score the full point.
Germaine Kickert (Orono) - Henry Chai (Bangor) 1-0
PVC Match 5
Hampden, Maine
December 13, 2007
Replay

Top boards in the Orono - Bangor match (left to right): Andrew Audibert, Henry Chai, Germaine Kickert and Gabe Borland. Both of these games split 1-1.

Top boards in the John Bapst - Hampden Academy match (left to right): Fritz Eyerer, Aaron Spencer, Nick Dunn and Jacob Cravens. Eyerer took two points from Cravens while Spencer and Dunn split 1-1.

Henry Chai bearing down against Germaine Kickert in game one.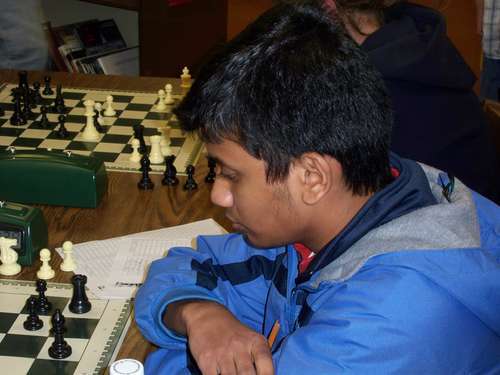 Bangor's Shashank Samala during his game with Emmett Harrity and...

analyzing with coach Jon Dearing.

Keji Xu (left) plays Orono's Avery Cole.

Nick McKenney

Zach Malloy

Games continue while coaches Ben Johnson (left) and Bob Solinger confer.

The position after 1. e4 e5 2. d4 exd4 3. c3 in the game Max Winter - Scott Dennis.

Wesley Woods plays teammate Kaila Smith in a reserve game.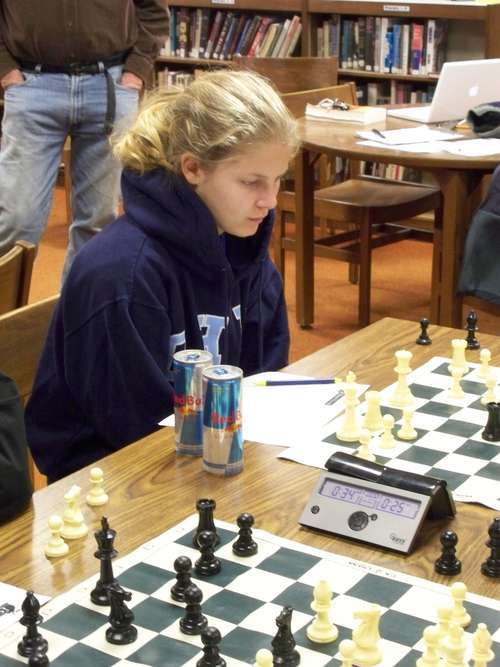 What kids drink: Hampden's Kaitlyn Haase stockpiles the Red Bull while others imbibe...

soda...

and more soda...

and still more soda!

Ah, finally a liter of water!
The next match is scheduled for Monday, December 17th at John Bapst High School but the forecast is calling for at least 12 inches of snow in Bangor. See the full PVC schedule below.
The 2007 - 2008 Penobscot Valley Conference High School Chess League Schedule
Each player will play two games, one with each color. Board one for the home team will play the white pieces with colors alternating through board numbers. Time control is Game in 45 and all games will begin at 3:00 p.m.
Monday, October 29th @ Hampden Academy
Monday, November 5th @ John Bapst Memorial High School
Monday, November 19th @ Orono High School
Monday, November 26th @ Bangor High School
Monday, December 3rd @ Hampden Academy
Monday, December 17th @ John Bapst Memorial High School
Monday, January 7th @ Orono High School
Monday, January 14th @ Bangor High School
Monday, January 28th @ Hampden Academy
Saturday, February 2nd PVC Tournament @ John Bapst Memorial High School
Saturday, February, 9th Snow Date for PVC Tournament @ John Bapst Memorial High School
John Bapst Memorial High School
---