The PVC League Heads to Orono for Match 3
11.20.07 John Bapst High School faced off against Orono and Bangor High School took on Hampden Academy in the third match of the PVC League season. Orono increased its lead over John Bapst to 6.5 points and Bangor is closing in on second. The current standings are: Orono 1st with 32 points, John Bapst 2nd with 25.5, Bangor 3rd with 21 and Hampden 4th with 5.5. The only players with six points are Fritz Eyerer (John Bapst) and Keji Xu (Bangor). Here's the illustrated report from the third match of the PVC League, played at Orono High School on Monday, November 19, 2007.
Orono High School hosted the third match in the PVC High School Chess League '07 - '08 season.
Thanks to Ben Johnson for contributing this report.
You'll find Team Standings on sheet 1, Match Results on sheet 2 and Individual Standings on sheet 3 on the Individual and Team Results page in Microsoft Excel. If you don't have Excel you can download a free version of Excel Viewer here.
This week we have chosen two Games of the Week. The first is an interesing clash featuring a material imbalance and some interesting tactical possibilities. Unfortunately, the notation petered out towards the end of the game because of mutual time trouble. Nevertheless, it's a good game and we hope you enjoy it. The second is an experiment in queenside expansion that paid off for Black.
Nikolai Renedo (Orono) - Zach Smith (John Bapst) 0-1
PVC League Match 3
November 19, 2007
PVC 2007 - 2008 Match 3 Game One of the Week
Scott Dennis (Bangor) - Billy Chase (Hampden Academy) 0-1
PVC League Match 3
November 19, 2007
PVC 2007 - 2008 Match 3 Game Two of the Week

The two front runners: John Bapst (playing on the interior vs. Orono playing on the perimeter)

One of Orono High School's Students of the Month for November, 2007: Nikolai Renedo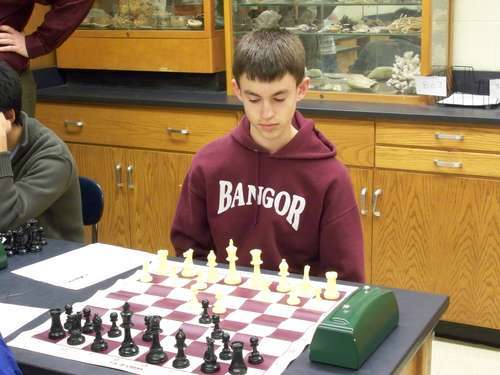 Andrew Audibert plays the white pieces in round two.

Kaila Smith keeps a good attitude as Hampden Academy coach Ben Johnson reviews her loss in round two.

Ryan Vienneau (left) of Orono and Fritz Eyerer of John Bapst played two tense, interesting games. In this one, both players are short on time hence the notation takers Zach Smith (left) for Eyerer and Cullen Edes for Vienneau.

Avery Cole sporting his Orono colors.

The great Cuban World Champion, Jose Raul Capablanca, stated that he learned more from one loss than from many wins. John Bapst coach, Bob Solinger, tries to tap into that learning with his student, Jesse Lancaster.

Bangor High School's Shashank Samala is on the move with the black pieces vs. Hampden Academy's Grant Aylword.

Bangor coach, Jon Dearing, watches his student Jaime VerLe play the black pieces vs. Brad Melanson of Hampden Academy.

Chess anyone?
The 2007 - 2008 Penobscot Valley Conference High School Chess League Schedule
Each player will play two games, one with each color. Board one for the home team will play the white pieces with colors alternating through board numbers. Time control is Game in 45 and all games will begin at 3:00 p.m.
Monday, October 29th @ Hampden Academy
Monday, November 5th @ John Bapst Memorial High School
Monday, November 19th @ Orono High School
Monday, November 26th @ Bangor High School
Monday, December 3rd @ Hampden Academy
Monday, December 17th @ John Bapst Memorial High School
Monday, January 7th @ Orono High School
Monday, January 14th @ Bangor High School
Monday, January 28th @ Hampden Academy
Saturday, February 2nd PVC Tournament @ John Bapst Memorial High School
Saturday, February, 9th Snow Date for PVC Tournament @ John Bapst Memorial High School
John Bapst Memorial High School
---