PVC High School Chess League Match 2
11.07.07 After two matches, Orono High School, led by Ryan Vienneau and Nikolai Renedo, holds onto a slight lead with twenty-two points over John Bapst with nineteen-and-a-half. Bangor High School is in third place with eleven and Hampden Academy is bringing up the rear with one-and-a-half. Updated standings, photos from match two and the Game of the Week await you.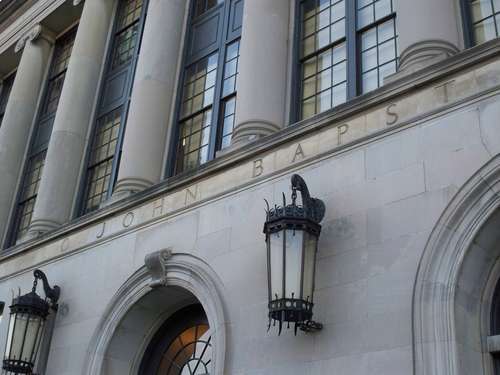 John Bapst Memorial High School in Bangor hosted the second match of the 2007 - 2008 PVC High School Chess League season.
The two front runners have clearly established themselves after the second match of the season. The leader, Orono High School outscored Bangor nine points to five to hold onto first place while John Bapst handed Hampden Academy a serious drubbing with the crushing score of thirteen-and-one-half to one-half.
You'll find Team Standings on sheet 1, Match Results on sheet 2 and Individual Standings on sheet 3 on the Individual and Team Results page in Microsoft Excel. If you don't have Excel you can download a free version of Excel Viewer here.
Not without errors, this week's Game of the Week was an instructive clash between Hampden's Tao Mason and Bapst's Maggie Bryan. After a Scotch Four Knights Opening, the players exchanged a number of blunders in a roller coaster battle that had onlookers holding onto their hats. It could have gone either way right down to the endgame, but, as Dr. Tarrasch stated, "The winner is the one who makes the next to last blunder." Sure enough, that turned out to be Maggie Bryan. A disappointed but still positive Tao Mason commented after the game, "I didn't realize her Knight would do such a good job restraining my pawn.
PVC 2007 -2008 Match 2 Game of the Week

Chess amongst the books: The Bapst Library doubled as the tournament room.

Try as he might, Jacob Cravens of Hampden Academy couldn't hold the wily Fritz Eyerer who extended his winning streak to 4-0 this week.

Max Winter (left) kicked in a point for Orono from this game with Jamie VerLe.

Red Bull and Dentyne weren't enough to pull Andrew Deighan (right) through this game with Bapst's Patrick Hall.

Shoulder to shoulder for John Bapst: (from left) Zach Smith, Maggie Bryan and Gillian Anderson

Gabe Borland, playing top board for Orono High School, meditates on his position vs. Bangor's top gun, Henry Chai.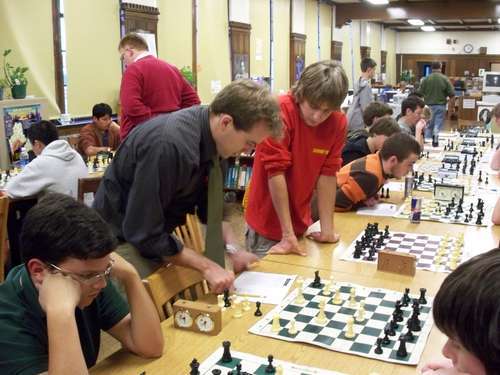 Hampden Academy coach Ben Johnson fits in some pointers between rounds.

Let's not forget the coaches who volunteer so much of their time and energy to make these opportunities possible for Maine's scholastic players.
The 2007 - 2008 Penobscot Valley Conference High School Chess League Schedule
Each player will play two games, one with each color. Board one for the home team will play the white pieces with colors alternating through board numbers. Time control is Game in 45 and all games will begin at 3:00 p.m.
Monday, October 29th @ Hampden Academy
Monday, November 5th @ John Bapst Memorial High School
Monday, November 19th @ Orono High School
Monday, November 26th @ Bangor High School
Monday, December 3rd @ Hampden Academy
Monday, December 17th @ John Bapst Memorial High School
Monday, January 7th @ Orono High School
Monday, January 14th @ Bangor High School
Monday, January 28th @ Hampden Academy
Saturday, February 2nd PVC Tournament @ John Bapst Memorial High School
Saturday, February, 9th Snow Date for PVC Tournament @ John Bapst Memorial High School
John Bapst Memorial High School
---