World Championship starts with four draws
09.13.07 The first round of the 2007 World Championship was a placid affair with all games ending in draws and none of the games lasting longer than twenty-eight moves. This result was more or less expected as players typically feel each other out in the early stages of such a long tournament. Here are games and images from round one.

The 2007 World Chess Championship will be played from September 12 - October 1, 2007 at the Sheraton Centro Histˆ"rico Hotel in Mexico City, Mexico. Eight of the world's strongest players will face each other in a double round robin tournament to determine the new World Champion. All games begin at 3:00 p.m. EST
Official site of the 2007 World Chess Championship
Watch LIVE chess games from the World Championship here.
Round 1: Thursday, Sept. 13th 2007, 15:00h EST
Vladimir Kramnik ¬‡-¬‡ Peter Svidler
Alexander Morozevich ¬‡-¬‡ Levon Aronian
Viswanathan Anand ¬‡-¬‡ Boris Gelfand
Alexander Grischuk ¬‡-¬‡ Peter Leko
Round 1 Games

Alexander Grischuk

Vladimir Kramnik vs. Peter Svidler

Man in Black: Peter Svidler playing the black pieces in round one.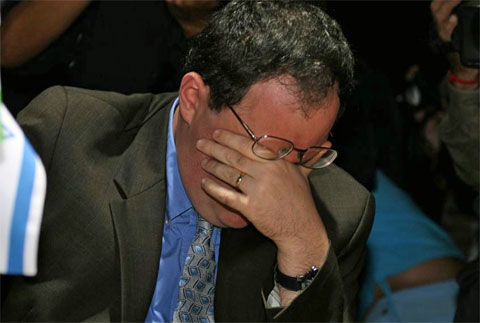 Boris Gelfand getting ready to face Anand.

The one to watch: Levon Aronian.

Alexander Morozevich

Vladimir Kramnik and Peter Svidler analyzing.
Full Schedule and Results (first half)
Round 1: Thursday, Sept. 13th 2007, 15:00h EST
Vladimir Kramnik 1/2-1/2 Peter Svidler
Alexander Morozevich 1/2-1/2 Levon Aronian
Viswanathan Anand 1/2-1/2 Boris Gelfand
Alexander Grischuk 1/2-1/2 Peter Leko
Round 1 Games
Round 2: Friday, Sept. 14th 2007, 15:00h EST
Peter Svidler--Peter Leko
Boris Gelfand--Alexander Grischuk
Levon Aronian--Viswanathan Anand
Vladimir Kramnik--Alexander Morozevich

Round 3: Saturday, Sept. 15th 2007, 15:00h EST
Alexander Morozevich--Peter Svidler
Viswanathan Anand--Vladimir Kramnik
Alexander Grischuk--Levon Aronian
Peter Leko--Boris Gelfand
Round 4: Sunday, Sept 16th 2007, 15:00h EST
Peter Svidler--Boris Gelfand
Levon Aronian--Peter Leko
Vladimir Kramnik--Alexander Grischuk
Alexander Morozevich--Viswanathan Anand

Free day: Monday, Sept. 17th 2007
Round 5: Tuesday, Sept. 18th 2007, 15:00h EST
Viswanathan Anand--Peter Svidler
Alexander Grischuk--Alexander Morozevich
Peter Leko--Vladimir Kramnik
Boris Gelfand--Levon Aronian

Round 6: Wednesday, Sept. 19th 2007, 15:00h EST
Peter Svidler--Levon Aronian
Vladimir Kramnik--Boris Gelfand
Alexander Morozevich--Peter Leko
Viswanathan Anand--Alexander Grischuk
Round 7: Thursday, Sept. 20th 2007, 15:00h EST
Alexander Grischuk--Peter Svidler
Peter Leko--Viswanathan Anand
Boris Gelfand--Alexander Morozevich
Levon Aronian--Vladimir Kramnik
Images courtesy www.chessbase.com
---