Mexico City Round 3: It's Morozevich
09.16.07 All games in round three began with1.e4, there were two Petroffs, a Scotch and a new fangled Marshall Gambit. Alexander Morozevich was the only player to win with a victory over Peter Swidler. Kramnik had a one pawn advantage in a rook and pawn endgame vs. Anand but just couldn't squeeze enough out of the position and settled for a stalemate. Peter Leko vs. Boris Gelfand went on for six hours and one hundred moves until the players threw in the towel and agreed to a draw. Included in this report is a video impression of the start of round three courtesy of ChessBase.
The 2007 World Chess Championship will be played from September 12 - October 1, 2007 at the Sheraton Centro Histˆ"rico Hotel in Mexico City, Mexico. Eight of the world's strongest players will face each other in a double round robin tournament to determine the new World Champion. All games begin at 3:00 p.m. EST
Official site of the 2007 World Chess Championship
Watch LIVE chess games from the World Championship here.
Round 3: Saturday, Sept. 15th 2007, 15:00h EST
Alexander Morozevich 1-0 Peter Svidler
Viswanathan Anand 1/2-1/2 Vladimir Kramnik
Alexander Grischuk 1/2-1/2 Levon Aronian
Peter Leko 1/2-1/2 Boris Gelfand
Round 3 Games

Standings after Third Round


Alexander Morozevich, the only player to post a win in round three, signs a chessboard.

Alexander Grischuk also gives an autograph.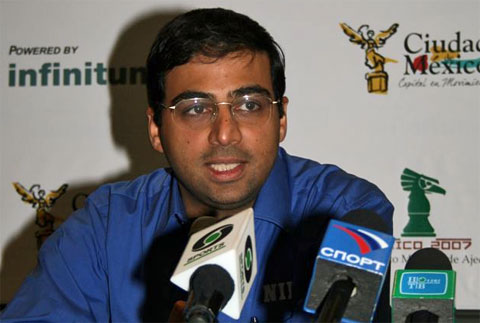 Anand managed a third round draw with Kramnik.



Alexander Grischuk and Levon Aronian discuss their draw.

Peter Svidler

Video of the start of round three.
Full Schedule and Results (first half)
Round 1: Thursday, Sept. 13th 2007, 15:00h EST
Vladimir Kramnik 1/2-1/2 Peter Svidler
Alexander Morozevich 1/2-1/2 Levon Aronian
Viswanathan Anand 1/2-1/2 Boris Gelfand
Alexander Grischuk 1/2-1/2 Peter Leko
Round 1 Games
Round 2: Friday, Sept. 14th 2007, 15:00h EST
Peter Svidler 1/2-1/2 Peter Leko
Boris Gelfand 1/2-1/2 Alexander Grischuk
Levon Aronian 0-1 Viswanathan Anand
Vladimir Kramnik 1-0 Alexander Morozevich
Round 2 Games

Round 3: Saturday, Sept. 15th 2007, 15:00h EST
Alexander Morozevich 1-0 Peter Svidler
Viswanathan Anand 1/2-1/2 Vladimir Kramnik
Alexander Grischuk 1/2-1/2 Levon Aronian
Peter Leko 1/2-1/2 Boris Gelfand
Round 3 Games
Round 4: Sunday, Sept 16th 2007, 15:00h EST
Peter Svidler--Boris Gelfand
Levon Aronian--Peter Leko
Vladimir Kramnik--Alexander Grischuk
Alexander Morozevich--Viswanathan Anand

Free day: Monday, Sept. 17th 2007
Round 5: Tuesday, Sept. 18th 2007, 15:00h EST
Viswanathan Anand--Peter Svidler
Alexander Grischuk--Alexander Morozevich
Peter Leko--Vladimir Kramnik
Boris Gelfand--Levon Aronian

Round 6: Wednesday, Sept. 19th 2007, 15:00h EST
Peter Svidler--Levon Aronian
Vladimir Kramnik--Boris Gelfand
Alexander Morozevich--Peter Leko
Viswanathan Anand--Alexander Grischuk
Round 7: Thursday, Sept. 20th 2007, 15:00h EST
Alexander Grischuk--Peter Svidler
Peter Leko--Viswanathan Anand
Boris Gelfand--Alexander Morozevich
Levon Aronian--Vladimir Kramnik
Images and video courtesy www.chessbase.com
---