Mexico City Round 14: Viswanathan Anand is world champion!
09.29.07 With a final round draw vs. Peter Leko, Vishy Anand has clinched the world championship title. Undefeated in this fourteen round tournament, Anand turned in a performance rating of 2848 to take his place amongst the lineage of world chess champions beginning with Wilhelm Steinitz in 1886. Congratulations Vishy! Kramnik fought back in the last round to beat Aronian and tie for second place with Boris Gelfand who drew with Morozevitch.
The 2007 World Chess Championship will be played from September 12 - October 1, 2007 at the Sheraton Centro Histˆ"rico Hotel in Mexico City, Mexico. Eight of the world's strongest players will face each other in a double round robin tournament to determine the new World Champion. All games begin at 3:00 p.m. EST
Official site of the 2007 World Chess Championship
Watch LIVE chess games from the World Championship here.
Round 14: Friday, Sept. 28th, 2007, 15:00h EST
Peter Svidler 1-0 Alexander Grischuk
Viswanathan Anand 1/2-1/2 Peter Leko
Alexander Morozevich 1/2-1/2 Boris Gelfand
Vladimir Kramnik 1-0 Levon Aronian
Round 14 Games
Final Standings

Leko and Anand begin their last round game.

Anand playing a safe and sound variation of the Ruy Lopez with white.

Leko decides there is nothing there and takes the draw.

Anand is world champion!

The new champ speaks to the press.

Vishy and his wife Aruna share a celebratory drink after the game.

Throngs of fans and reporters swarm the newly crowned king.

Meanwhile Kramnik moved into shared second place with his win vs. Aronian.

Beating Morozevitch with the black pieces is a tall order. Gelfand plays it safe, does not over extend himself, takes the draw and secures shared second with Kramnik.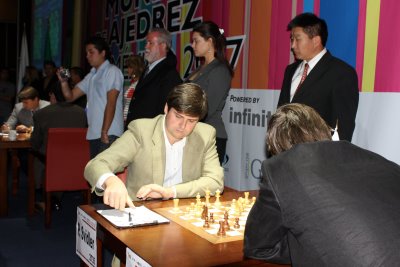 Better late than never: Peter Svidler wins his first game of the tournament in the last round vs. Alexander Grischuk to finish in fifth place.

A final look at the new world champion Viswanathan Anand.
Full Schedule and Results (second half)
Round 8: Friday, Sept. 21st 2007, 14:00h
Peter Svidler 1/2-1/2 Vladimir Kramnik
Levon Aronian 1/2-1/2 Alexander Morozevich
Boris Gelfand 1/2-1/2 Viswanathan Anand
Peter Leko 1-0 Alexander Grischuk
Round 8 Games
Free day: Saturday, Sept. 22nd 2007

Round 9: Sunday, Sept. 23rd 2007, 15:00h EST
Peter Leko 1/2-1/2 Peter Svidler
Alexander Grischuk 1-0 Boris Gelfand
Viswanathan Anand 1/2-1/2 Levon Aronian
Alexander Morozevich 1-0 Vladimir Kramnik
Round 9 Games
Round 10: Monday, Sept. 24th 2007, 15:00h EST
Peter Svidler 1/2-1/2 Alexander Morozevich
Vladimir Kramnik 1/2-1/2 Viswanathan Anand
Levon Aronian 1-0 Alexander Grischuk
Boris Gelfand 1/2-1/2 Peter Leko
Round 10 Games
Round 11: Tuesday, Sept. 25th 2007, 15:00h EST
Boris Gelfand--Peter Svidler
Peter Leko--Levon Aronian
Alexander Grischuk--Vladimir Kramnik
Viswanathan Anand--Alexander Morozevich
Round 11 Games
Free day: Wednesday, Sept. 26th 2007

Round 12: Thursday, Sept 27th 2007, 15:00h EST
Peter Svidler 1/2-1/2 Viswanathan Anand
Alexander Morozevich 1-0 Alexander Grischuk
Vladimir Kramnik1-0 Peter Leko
Levon Aronian 0-1 Boris Gelfand
Round 12 Games
Round 13: Friday, Sept. 28th 2007, 15:00h EST
Levon Aronian 1/2-1/2 Peter Svidler
Boris Gelfand 1/2-1/2 Vladimir Kramnik
Peter Leko 1-0 Alexander Morozevich
Alexander Grischuk 1/2-1/2 Viswanathan Anand
Round 13 Games

Round 14: Saturday, Sept. 29th 2007, 15:00h EST
Peter Svidler 1-0 Alexander Grischuk
Viswanathan Anand 1/2-1/2 Peter Leko
Alexander Morozevich 1/2-1/2 Boris Gelfand
Vladimir Kramnik 1-0 Levon Aronian
Round 14 Games
Sunday, Sept. 30th 2007
Possible tiebreaks, closing ceremony
All 2007 World Championship Games

Images courtesy of www.chessbase.com, www.susanpolgar.com and chessmexico.com
---