Maine Championship Tournament Report
04.25.07 Joseph St. Pierre three-peats as state champion but has to share this year's title with Bowdoin College student Jason Spector. With this victory, St. Pierre joins an elite group of only three other state champions who have won the title three or more consecutive times including: Harlow B. Daly, Stanley Elowitch and Graham Cooper. Spector breaks into the list of state champions with this his first Maine state title.
Co-Champion Joseph St. Pierre (right) plays Alan Schalk in a key fifth round match-up. St. Pierre won this game to finish with 4.5 points and tie for the state title with Jason Spector.
Thanks to Phil Lowell and Dan Fishbein for contributing to this report.
The 50th Maine Championship was held on April 21 - 22, 2007 at Southern Maine Community College in South Portland. The tournament came down to the wire as these state championships have a tendency to do with two crucial games in Round 5: Alan Schalk vs Joseph St. Pierre on Board 1 and Jason Spector vs Jason Hopkins on Board 3. A win for Schalk on Board 1 against the two-time state champion would have sewed up a perfect score of 5.0 points in as many rounds and the state title. That win however, was not meant to be. St. Pierre, again exhibiting his steel-blue nerves and fighting spirit, took the game to Schalk and in the end scored the full point with the black pieces. On Board 3, Bowdoin College student Jason Spector won his game vs Hopkins to insure himself at least a tie for first. Fittingly when the two co-champions played each other in Round 4 the result was a draw. An interesting sidebar about these two expert-rated players is that St. Pierre is a Maine resident attending college in Massachusetts (University of Massachusetts Dartmouth) and Spector is a Massachusetts resident attending college in Maine (Bodoin College). It seems like a case could be made for Newton's Fourth Law of Motion: the Law of Conservation of Chess Momentum.
As there were no Class A players (other than tournament director Phill Lowell who played one game to avoid having to assign a one point bye in Round 1) the class prizes consisted of Class B (USCF 1600 -1799), Class C (USCF 1400 - 1599), Class D (USCF 1200- 1399) and Under USCF 1200.
Of the Class B players, Nimrod Drizlikh well outperformed his 13th place seed to finish 5th overall and first in his section with 3.5 points. The Class C prize went to Curt Brock. His 3.5 points included wins over Lee Doucette (1491), Tom Sandford (1702) and S. Warren Lohr (1747) and a draw with former state champion Ghezai Menelik (1745). Class D honors went to Murray Bridges who must be studying the games of Tigran Petrosian and Carl Schlecter as he seems to have an uncanny ability to keep the draw in hand. He did so again in this tournament only giving up one loss to expert Adam Schaff while scoring two wins and two draws. The U1200 prize was won by Scott Overlock with two wins and a draw vs some very challenging opposition.
Thanks to Maine Chess Association President Phil Lowell for organizing and directing this Golden Anniversary Maine Championship.

Co-Champion Jason Spector (right) won this game vs Jason Hopkins to earn himself a share of first place.

Ruben Babayan (right) plays the black pieces vs Jerry Boucher.

Nimrod Drizlikh (right) gave up only one loss in this tournament to Ruben Babayan in the second round. He won this game vs Derrick Crocker to clinch the Class B prize.

Curt Brock (right) managed a draw in this game vs Ghezai Menelik to win the Class C prize with 3.5 points.

S. Warren Lohr (right) on his way to beating Frank DiRenzo to finish with 3.0 points.

University of Maine Engineering Professor and George Cunningham Chess Club Advisor, Tom Sandford (right) plays Nicholas Scott in Round 5.

Andrey Savov (left) battles Cape Elizabeth player John Soong.

Hot off the heels of his strong performance at the National High School Championship, Murray Bridges (right) plays 2006 Maine Chess Player of the Year, Lee Doucette. Murray scored 3.0 points to take the Class D prize.

Scott Overlock (left) scored 2.5 points to win the U1200 prize.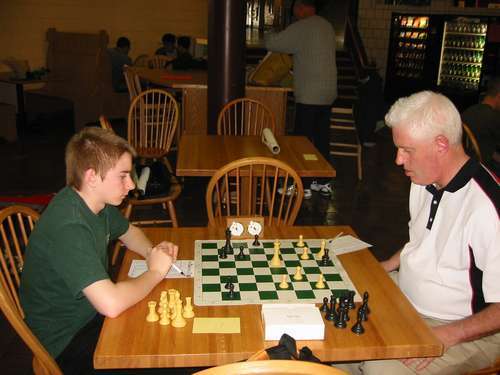 Bruce Sherwood (right) plays Ben Morgan. Bruce scored a very respectable 2.5 points in this his first USCF-rated tournament.

Cheverus High School Chess Coach, Dan LaValle (right) would win this game vs Steve Kaluzynski to finish the tournament with 2.0 points.
Past Maine State Champions
1942 Carleton Fenley
1959 Harlow B. Daly
1960 Harlow B. Daly
1961 Harlow B. Daly
1962 Harlow B. Daly
1963 Harlow B. Daly
1964 Harlow B. Daly
1965 Harlow B. Daly
1966 Stanley J. Elowitch
1967 Stanley J. Elowitch
1968 Stanley J. Elowitch
1969 Harlow B. Daly
1970 Harlow B. Daly, Stanley J. Elowitch
1971 Stanley J. Elowitch
1972 Gary L. White
1973 Bill Edwards, Stanley J. Elowitch
1974 Stanley J. Elowitch
1975 John J. Morrill
1976 Graham Cooper, Erik Pearson
1977 Duane Mercier, Gary L. White
1978 Gary L. White
1979 Stanley J. Elowitch
1980 Mike Kaplan, Roger Morin, Scott Carter, Stanley J. Elowitch, Joel Malis
1981 Scott Carter
1982 Kerry P. Coffin
1983 Stanley J. Elowitch, Kerry P. Coffin
1984 Graham Cooper, Tim Bishop
1985 Graham Cooper
1986 Graham Cooper, Michael Lalikos
1987 Johan "Skip" Hansen, Kerry P. Coffin
1988 Jarod J. Bryan
1989 Danny Kopec
1990 Danny Kopec
1991 Anthony Gross, Guy Moreau
1992 Graham Cooper
1993 Chandler Yergin
1994 Chandler Yergin, Tim Bishop
1995 Aaron Lewis
1996 Chandler Yergin
1997 Ruben Babayan
1998 Jarod J. Bryan
1999 Stanley J. Elowitch
2000 Ruben Babayan
2001 Tim Bishop
2002 Ralph Townsend, Ghezai Menelik
2003 Jarod J. Bryan
2004 Jarod J. Bryan, Ruben Babayan
2005 Joseph St. Pierre
2006 Joseph St. Pierre
---