State Team Championships *Flash Report*
03.10.07 Scholastic chess players from across the state descended on the University of Maine, Orono to compete in the Maine State Scholastic Team Championships on Saturday, March 10, 2007. Awards were given in numerous sections including: High School Championship, High School Reserve and Novice, Junior High School Championship and Novice, K-6 Championship and Novice and K-3 Championship. A gigantic illustrated report is on the way but in the meantime, here's the Flash Report.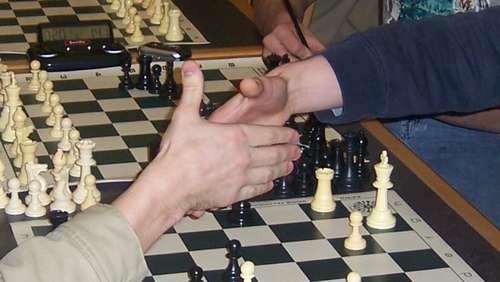 This is the handshake between Bryant Ciomei (left) of Deer Isle - Stonington High School and Fritz Eyerer of John Bapst Memorial High School that gave Eyerer the point and clinched the state high school title for John Bapst.

High School Championship
1st Place John Bapst
2nd Place Deer Isle - Stonington and Bangor High School
High School Reserve
1st Place Orono High School
2nd Place Maranatha Homeschool Fellowship
High School Novice
1st Place Dexter High School
2nd Place Deer Isle - Stonington
Junior High School Championship
1st Place Deer Isle - Stonington and Orono Middle School
3rd Place Airline Community School
Junior High School Novice
1st Place Bucksport Middle School
2nd Place Troy Howard Middle School
K-6 Championship
1st Place Cape Elizabeth and Deer Isle - Stonington
3rd Place All Saints School
K-6 Novice
1st Place Stillwater Montessori
2nd Place Drinkwater Elementary
K-3 Championship
1st Place Airline Community School
2nd Place Deer Isle - Stonington
---