Hampden Harvest Tournament Report
11.12.06 Thirty-nine players turned out for the Hampden Harvest Tournament at Hampden Academy on Saturday, November 11, 2006. The top of the Open section was a four-way gridlock tie for first between Ghezai Menelik, Cullen Edes, Tom Sandford and Bryant Ciomei each scoring three points in this four round contest. In the K-12 section it was Zachary Smith all alone at the top with a perfect four. Also lonely at the top of the K-8 section was Gianluca Pane, this year's K-6 state champion, who blanked the field with four points. The massively illustrated tournament report with final results crosstables is here.
Click here for the USCF crosstable of this event.
Of the four players at the top of the Open section only one--Bryant Ciomei--was rated under 1600. For his outstanding efforts Bryant took the first place U1600 prize. The top K-8 player in the K-12 section was Paul Rudnicki who started with a loss to Nathaniel Simpson and then scored three consecutive wins over Kaitlyn Haase(who took the top female award in the K-12 section), Tao Mason and Alex Bethony. Janelle Ciomei took the top female trophy home for scoring two points in the K-8 section. Highest scoring players in the K-5 breakout group were Alessandro Pane, Isaac Robinson and Laddy DeLuca Lowell who took first, second and third respectively.
The Hampden Harvest Tournament was a four-round, swiss-style event contested in three sections. Time controls were G/45 in the Open and K-12 sections and G/40 in the K-8 section. Thanks go to Chief Tournament Director Andy Bryan, Assistant Tournament Director Ben Johnson and Tournament Coordinator Fred Irons.
The Hampden Academy Bronco

Ghezai Menelik

Cullen Edes

Tom Sandford

Bryant Ciomei

Zachary Smith

Gianluca Pane

Mark Maynard, Collin Ciomei, Fred Irons

Shane Eaton, Aaron Spencer, Margaret Bryan

Gary Robinson, Bob Solinger, Henry Chai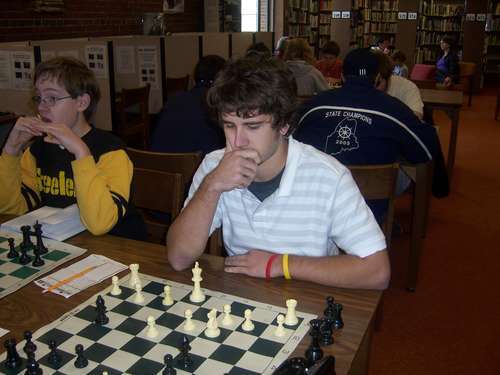 Nick Dunn, Aaron Gillio, Paul Rudnicki

Nathaniel Simpson, Drew Eaton, Kurt Eyerer

Nick McKenney, Alex Bethony, Patrick Hall

Tao Mason, Ken Ginn, Kaitlyn Haase

Jeff Golding, Jiawei Zou, Sam Grindle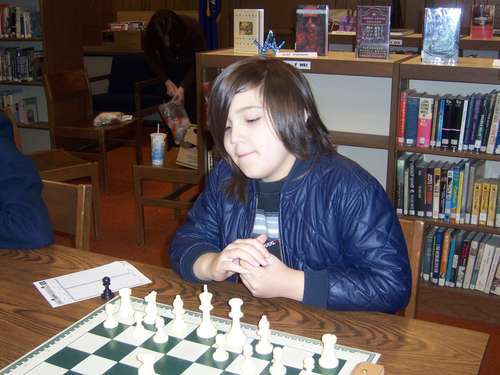 Alessandro Pane, Janelle Ciomei, Reid Horton

Hayden Ciomei, Isaac Robinson, Laddy DeLuca Lowell

Derek Hoyt, John Paul Kenneway, Max DeLuca Lowell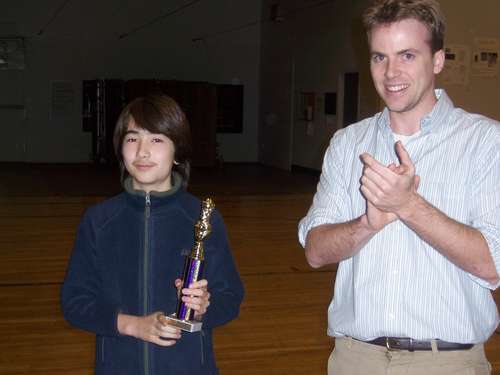 Tournament Director Andy Bryan, Assistant TD Ben Johnson with K-8 winner Gianluca Pane, Thanks to Hampden Academy!

Final Results Open Section
| | | | | | | | |
| --- | --- | --- | --- | --- | --- | --- | --- |
| Place | Name | Rating | Rd 1 | Rd 2 | Rd 3 | Rd 4 | Total |
| ¬Ý1 | Ghezai Menelik | 1689 | W8 | W7 | W2 | L3 | 3.0 |
| ¬Ý2 | Cullen Edes | 1634 | W9 | W4 | L1 | W7 | 3.0 |
| ¬Ý3 | Tom Sandford | 1712 | L6 | W10 | W5 | W1 | 3.0 |
| ¬Ý4 | Bryant Ciomei | 1573 | W11 | L2 | W6 | W8 | 3.0 |
| ¬Ý5 | Mark Maynard | 1508 | D10 | W6 | L3 | W9 | 2.5 |
| ¬Ý6 | Collin Ciomei | 1404 | W3 | L5 | L4 | W11 | 2.0 |
| ¬Ý7 | Fred Irons | 1526 | W12 | L1 | W11 | L2 | 2.0 |
| ¬Ý8 | Shane Eaton | 1350 | L1 | D9 | W10 | L4 | 1.5 |
| ¬Ý9 | Aaron Spencer | 813 | L2 | D8 | W12 | L5 | 1.5 |
| ¬Ý10 | Margaret Bryan | 1086 | D5 | L3 | L8 | W12 | 1.5 |
| ¬Ý11 | Gary Robinson | Unr | L4 | W12 | L7 | L6 | 1.0 |
| 12 | Bob Solinger | 1320 | L7 | L11 | L9 | L10 | 0.0 |
Final Results K-12 Section
| | | | | | | | |
| --- | --- | --- | --- | --- | --- | --- | --- |
| Place | Name | Rating | Rd 1 | Rd 2 | Rd 3 | Rd 4 | Total |
| ¬Ý1 | Zachary Smith | 673 | B | W8 | W2 | W3 | 4.0 |
| ¬Ý2 | Henry Chai | 985 | W14 | W4 | L1 | W7 | 3.0 |
| ¬Ý3 | Nick Dunn | 859 | W11 | W9 | W6 | L1 | 3.0 |
| ¬Ý4 | Aaron Gilio | 1088 | W7 | L2 | W8 | W6 | 3.0 |
| ¬Ý5 | Paul Rudnicki | 1080 | L6 | W14 | W12 | W10 | 3.0 |
| ¬Ý6 | Nathaniel Simpson | 753 | W5 | W15 | L3 | L4 | 2.0 |
| ¬Ý7 | Drew Eaton | 777 | L4 | W13 | W9 | L2 | 2.0 |
| ¬Ý8 | Kurt Eyerer | 1005 | W13 | L1 | L4 | W12 | 2.0 |
| ¬Ý9 | Nick McKenney | 1060 | W10 | L3 | L7 | W13 | 2.0 |
| 10 | Alex Bethony | 371 | L9 | B | W15 | L5 | 2.0 |
| 11 | Patrick Hall | Unr | L3 | L12 | B | W15 | 2.0 |
| 12 | Tao Mason | Unr | L15 | W11 | L5 | L8 | 1.0 |
| 13 | Kenn Ginn | Unr | L8 | L7 | W14 | L9 | 1.0 |
| 14 | Kaitlyn Haase | Unr | L2 | L6 | L10 | B | 1.0 |
| 15 | Jeff Golding | 1040 | W12 | L6 | L10 | L11 | 1.0 |
Final Results K-8 Section
| | | | | | | | |
| --- | --- | --- | --- | --- | --- | --- | --- |
| Place | Name | Rating | Rd 1 | Rd 2 | Rd 3 | Rd 4 | Total |
| ¬Ý1 | Gianluca Pane | 995 | W4 | W2 | W5 | W7 | 4.0 |
| ¬Ý2 | Jiawei Zou | 774 | W11 | L1 | W9 | W6 | 3.0 |
| ¬Ý3 | Sam Grindle | 824 | W9 | L6 | W8 | W5 | 3.0 |
| ¬Ý4 | Alessandro Pane | 403 | L1 | W10 | D12 | W9 | 2.5 |
| ¬Ý5 | Janelle Ciomei | 623 | W8 | W7 | L1 | L3 | 2.0 |
| ¬Ý6 | Reid Horton | 482 | W10 | W3 | L7 | L2 | 2.0 |
| ¬Ý7 | Hayden Ciomei | 907 | W12 | L5 | W6 | L1 | 2.0 |
| ¬Ý8 | Isaac Robinson | Unr | L5 | W12 | L3 | W10 | 2.0 |
| ¬Ý9 | Laddy DeLuca Lowell | 441 | L3 | W11 | L2 | L4 | 1.0 |
| 10 | Derek Hoyt | Unr | L6 | L4 | W11 | L8 | 1.0 |
| 11 | John Paul Kenneway | Unr | L2 | L8 | L10 | W12 | 1.0 |
| 12 | Max DeLuca Lowell | 480 | L7 | L8 | D4 | L11 | 0.5 |
---